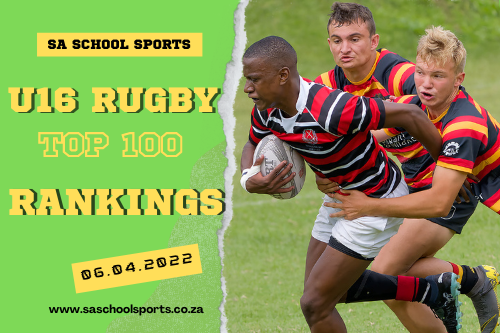 In this very early stage of the 2022 season the first U16 School Rugby Rankings has a familiar look to it with many of the usual suspects occupying the top positions.
With still plenty of rugby to be played Paul Roos Gym takes the top spot this week followed by Grey College. Both teams have been in prolific form heaping huge points against the opposition so far and look to be formidable opponents.
Please bear in mind that only teams that have played 3 matches have been included for this week on the U16 School Rugby Rankings. So, if your team is not there that is most likely the reason. We should expect plenty of movement in the weeks ahead as some of the traditionally strong teams get to make an appearance at the top end of the table and more matches are played. 
Please send your teams results to [email protected]
U16 RUGBY RANKINGS 6 APRIL, 2022

RANK

TEAM

PLAYED

AVG BONUS POINTS

1

 PAUL ROOS GYM

4

9.275

2

GREY COLLEGE

5

8.860

3

 GARSFONTEIN

3

7.767

4

EG JANSEN

4

7.650

5

RONDEBOSCH

4

7.600

6

QUEENS COLLEGE

5

6.960

7

HTS DROSTDY

4

6.775

8

DHS

6

6.633

9

STELLENBERG

4

6.575

10

ST JOHNS COLLEGE

3

6.467

11

PAARL BOYS HIGH

3

6.421

12

KEARSNEY COLLEGE

6

6.350

13

WELKOM GYM

7

6.214

14

JEPPE

4

6.025

15

PAARL GIM

3

5.930

16

NORTHWOOD

4

5.900

17

AFFIES

5

5.880

18

HUDSON PARK

5

5.700

19

WESTVILLE

5

5.580

20

OAKDALE

3

5.500

21

SACS

3

5.433

22

MARITZBURG COLLEGE

5

5.360

23

OUTENIQUA

4

4.830

24

HANS MOORE

6

4.620

25

MONTANA PTA

4

4.225

26

WITTEBERG

4

4.025

27

CAMBRIDGE

3

4.000

29

HOPEFIELD

5

3.920

30

WATERKLOOF

3

3.867

31

MONUMENT

4

3.850

32

HTS MIDDELBURG

4

3.800

33

POTCH VOLKIES

5

3.680

34

ST ANDREWS COLLEGE

4

3.580

35

ERMELO

5

3.500

36

GLENWOOD

6

3.450

37

DIE ANKER

4

3.425

38

LEEUWENHOF

5

3.420

39

RIEBEECKRAND

4

3.400

40

 NOORDHEUWEL

7

3.280

41

PIETERSBURG

4

3.125

42

OTTO DU PLESSIS

3

3.000

43

SELBORNE COLLEGE

3

2.730

44

MERENSKY

5

2.640

45

JEUGLAND

5

2.580

46

BERGSIG

3

2.578

47

 KRUGERSDORP

3

2.500

48

SECUNDA

4

2.250

49

 ELDORAIGNE

4

2.125

50

BOLAND LANDBOU

4

1.950

51

FRAMESBY

3

1.430

52

CHARLIE HOFMEYR

3

1.067

53

PRETORIA NOORD

3

1.067

54

GRAEME COLLEGE

3

1.033

55

LINDEN

3

1.000

56

TRANSVALIA

3

0.967

57

ST STITHIANS

4

0.880

58

WESVALIA

3

0.833

59

ZWARTKOP

4

0.675

60

ALBERTON HS

3

0.333

61

 MARAIS VILJOEN 

3

0.167

62

CLIFTON

5

0.140

63

HEIDELBERG VOLKIES

4

0.125

64

MIDDELBURG HS

6

-0.033

65

BELLVILLE

3

-0.267

66

 NICO MALAN

4

-0.500

67

PARKTOWN

3

-0.833

68

 NELSPRUIT

3

-0.833

69

ALBERTON HS

3

-1.733

70

ALEXANDER ROAD

3

-1.733

71

SASOLBURG HS

3

-1.733

72

SENTRAAL

3

-1.933

73

BRITS

3

-1.933

74

KINGSWOOD COLLEGE

4

-2.700

75

PIONIER

3

-3.567
Photo: Justin Waldman Photography