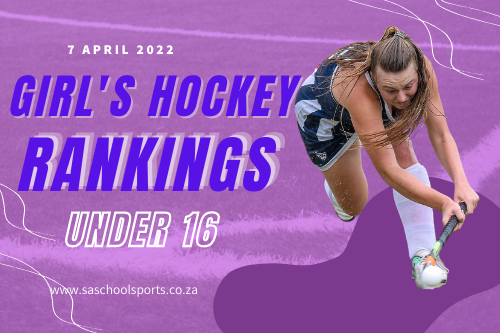 This week's Girl's U16 Hockey Rankings.
With the season now well and truly on the go our first look at the Girl's U16 Hockey Rankings has Paarl Gim taking the early lead from Oranje Meisies and Menlopark.
However there is still plenty of hockey to be played and plenty of outstanding results still to be submitted.
Why is it so important to send through the results? Once again Paarl Gim will be hosting their prestigious Girls & Boys U16 Top Schools Tournament this year and
As usual the 12 teams that get invited to the tournament will be based on the Top 12 on the SA School Sports Hockey Rankings.
So save the date! 5-9 August 2022. Make sure you get all your U16 hockey results sent into [email protected]
GIRL'S U16 HOCKEY RANKINGS 7 APRIL, 2022

RANK

TEAM

PLAYED

AVG  BONUS PTS

1

PAARL GIM

9

3.74

2

ORANJE MEISIES

6

3.32

3

MENLOPARK

15

3.13

4

BLOEMHOF

12

3.06

5

PAARL GIRLS HIGH

13

2.93

6

SOMERSET

12

2.84

7

COLLEGIATE

9

2.82

8

WATERKLOOF

3

2.80

9

HERSCHEL

4

2.78

10

CURRO DURBANVILLE

5

2.74

11

RHENISH

13

2.71

12

MONUMENT

3

2.67

13

DURBAN GC

8

2.54

14

PEARSON

9

2.50

15

ST CYPRIANS

14

2.21

16

DF MALAN

9

2.16

17

SASOLBURG

6

2.08

18

CORNWALL HILL

7

2.03

19

GARSFONTEIN

11

2.00

20

ST JOHNS DSG

8

1.99

21

KINGSMEAD

3

1.97

22

ST ANNES

8

1.90

23

EUNICE

5

1.82

24

FAIRMONT

4

1.65

25

CLARENDON

10

1.64

26

ELDORAIGNE

3

1.63

27

HUGENOTE SPRINGS

9

1.63

28

SPRINGFIELD

12

1.59

29

ST ANDREWS GIRLS

4

1.58

30

CAMBRIDGE

3

1.43

31

THOMAS MORE

5

1.38

32

POTCH VOLKSKOOL

5

1.34

33

BRESCIA

4

1.30

34

VOORTREKKER BETH

3

1.27

35

ROEDEAN

3

1.23

36

EPWORTH

4

1.08

37

TRANSVALIA

10

0.95

38

BEAULIEU COLLEGE

3

0.83

39

HTS DROSTDY

9

0.66

40

PAREL VALLEI

4

0.53

41

WESVALIA

5

0.22

42

HERMANUS

8

0.21

43

WITTEBERG

3

0.03

44

WORCESTER GYM

7

-0.53