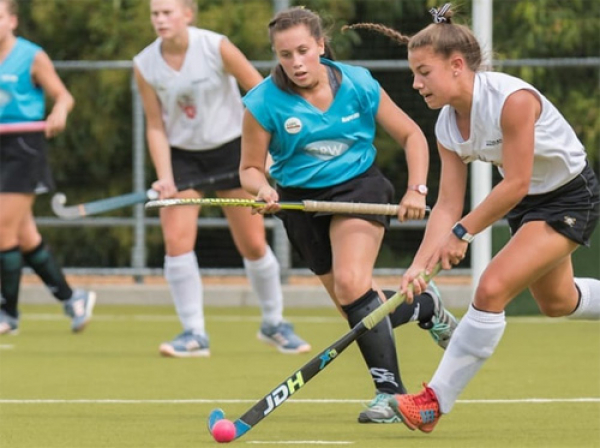 With many matches getting played this week by several teams across the country, this is how the Girl's U16 Hockey Rankings stand for this week.
Menlopark finish this month as the leading U16 team in the country with a couple of good results to keep them on an unbeaten streak at this stage of the season.
St Mary's Waverley is into the top 10 zone as a spate of outstanding results flooded in during the week which has served to tighten up the field.
However a look down the list of the top teams reveals that it is all very close and those that are invited to the Paarl Gim Top Schools U16 Tournament will most likely make up one of the strongest fields of U16 teams in the country.
Please continue to send through your results as the season progresses to [email protected]
GIRL'S U16 HOCKEY RANKINGS 31 MAY, 2019

RANK

TEAM

PLAYED

AVG BONUS PTS

1

MENLOPARK

17

3.971

2

DURBAN GC

15

3.893

3

ST CYPRIANS

12

3.675

4

DSG

20

3.620

5

PAARL GIM

15

3.607

6

HERSCHEL

14

3.450

7

ST MARYS WAVERLEY

13

3.415

8

ST ANNES

23

3.391

9

ORANJE MEISIES

11

3.364

10

BLOEMHOF

21

3.286

11

COLLEGIATE

18

3.267

12

ST JOHNS DSG

20

3.255

13

GARSFONTEIN

19

3.205

14

FAIRMONT

15

2.953

15

EUNICE

17

2.935

16

WOODRIDGE

24

2.913

17

SPRINGFIELD

14

2.850

18

HUDSON PARK

11

2.827

19

SOMERSET

19

2.679

20

ST MARYS KLOOF

20

2.620

21

PEARSON

17

2.541

22

LADY FATIMA

11

2.527

23

VOORTREKKER BETH

9

2.456

24

ST STITHIANS

7

2.429

25

EG JANSEN

8

2.250

26

TRANSVALIA

15

2.240

27

MARAGON RUIMSIG

12

2.117

28

PAREL VALLEI

12

2.058

29

CRAWFORD LA LUCIA

10

2.040

30

WESTERFORD

9

1.989

31

LICHTENBURG

16

1.944

32

STELLENBERG

12

1.933

33

STIRLING

12

1.900

34

WYNBERG GH

10

1.890

35

HELPMEKAAR

14

1.843

36

NELSPRUIT

11

1.782

37

CORNWALL HILL

13

1.746

38

HUGENOTE SPRINGS

16

1.713

39

WITTEBERG

15

1.707

40

CAMBRIDGE

12

1.667

41

NOORDHEUWEL

18

1.528

42

ALEXANDER ROAD

11

1.491

43

MONUMENT

13

1.446

44

PIETERSBURG

17

1.441

45

REDDAM CONSTAN

10

1.370

46

FRAMESBY

12

1.292

47

RHENISH

11

1.136

48

RUSTENBURG WC

10

1.100

49

DR MALAN

7

0.943

50

KINGSWOOD

9

0.922

51

PENRYN

9

0.900

52

DF MALAN

6

0.767

53

WATERKLOOF

9

0.678

54

CURRO DURBANVILLE

14

0.614

55

AFFIES

9

0.611

56

SENTRAAL

7

0.600

57

THOMAS MORE

7

0.529

58

WYKEHAM COLLEGIATE

6

0.317

59

ROEDEAN

8

-0.175