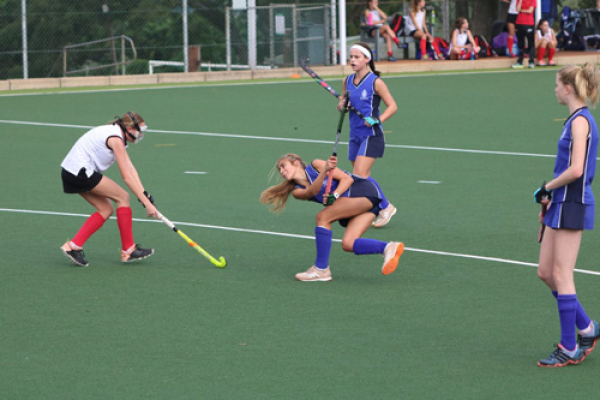 Collegiate are the only team amongst the front runners on this week's U16 Girls Top 50 Rankings that manage to make up some ground and move up a place.
Collegiate enjoyed a comfortable win over Union HS to edge ahead of Oranje Meisies on the table and will be hoping to get within striking distance of a top 5 finish this year.
However further down the table there is a tussle going on to see who will get invited to the Paarl Gim U16 Top Schools Tournament with St Mary's Kloof moving upwards to challenge for a place in the prestigious event.
Herchel, Woodridge and St Annes are all in the mix for a top 10 finish so please send through all your seasons' results to [email protected]
GIRL'S U16 HOCKEY RANKINGS 3 MAY, 2019

RANK

TEAM

PLAYED

AVG BONUS PTS

1

MENLOPARK

11

4.18

2

DURBAN GC

10

3.81

3

ST CYPRIANS

9

3.73

4

DSG

17

3.69

5

PAARL GIM

13

3.59

6

BLOEMHOF

20

3.41

7

FAIRMONT

10

3.31

8

COLLEGIATE

15

3.19

9

ORANJE MEISIES

8

3.16

10

GARSFONTEIN

12

3.10

11

WOODRIDGE

19

2.94

12

ST MARYS KLOOF

13

2.92

13

HERSCHEL

9

2.91

14

ST ANNES

7

2.83

15

SPRINGFIELD

13

2.79

16

PEARSON

14

2.59

17

HUDSON PARK

8

2.44

18

SOMERSET

15

2.37

19

CRAWFORD LONEHILL

5

2.20

20

STELLENBERG

11

2.14

21

PAREL VALLEI

10

2.13

22

TRANSVALIA

11

2.02

23

WYNBERG GH

9

2.00

24

WESTERFORD

9

1.99

25

MARAGON RUIMSIG

10

1.97

26

STIRLING

9

1.93

27

ALEXANDER ROAD

9

1.76

28

HELPMEKAAR

13

1.74

29

HUGENOTE SPRINGS

11

1.69

30

WITTEBERG

14

1.67

31

LICHTENBURG

11

1.60

32

REDDAM CONSTAN

9

1.57

33

CAMBRIDGE

9

1.54

34

MONUMENT

10

1.50

35

RHENISH

8

1.41

36

CORNWALL HILL

5

1.38

37

KINGSWOOD

6

1.33

38

FRAMESBY

7

1.31

39

PIETERSBURG

15

1.26

40

RUSTENBURG WC

9

1.12

41

UNION HIGH

2

1.10

42

WATERKLOOF

6

1.05

43

DF MALAN

4

1.05

44

DR MALAN

7

0.94

45

SENTRAAL

5

0.78

46

THOMAS MORE

6

0.72

47

AFFIES

6

0.70

48

CURRO DURBANVILLE

12

0.58

49

PAARL GIRLS HIGH

4

0.55

50

ROEDEAN

5

-0.18