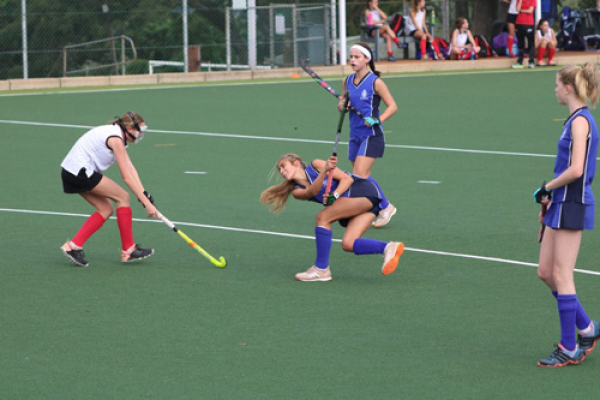 As we enter into the final straight for automatic qualification to the U16 Top Schools Tournament there has been frenetic activity from many teams playing matches and sending through outstanding results during the past week.
Naturally this has had a bearing on this week's U16 Girls Hockey Rankings with several teams making some important movement.
Menlopark recapture the No.1 spot for this week thanks to a comfortable win over Waterkloof with Durban Girls College going to second position despite wins over some weaker opposition.
However with a plethora of back dated results streaming in teams like St John's DSG have risen through the field to occupy the valuable 11th position with Fairmont who narrowly avoided a banana peel in 12th spot.
With the prize of an automatic invitation for the leading 12 teams on the rankings to the U16 Top Schools Tournament hosted by Paarl Gim on the line, many are striving gallantly to qualify.
Invitations to the U16 Tops Schools Boys & Girls Tournament will be based on the SA School Sports Ranking with the Top 12 teams getting invited.
The U16 Top Schools Tournament will take place at Paarl Gym between the 8th-11th August 2019. So make sure all your U16 results are sent through to us at [email protected] by the cut off date of 31 May 2019.
GIRL'S U16 HOCKEY RANKINGS 23 MAY, 2019

RANK

TEAM

PLAYED

AVG BONUS PTS

1

MENLOPARK

15

3.99

2

DURBAN GC

15

3.89

3

ST CYPRIANS

9

3.73

4

DSG

19

3.65

5

PAARL GIM

14

3.56

6

HERSCHEL

12

3.38

7

ORANJE MEISIES

11

3.36

8

ST ANNES

14

3.31

9

BLOEMHOF

21

3.29

10

COLLEGIATE

18

3.27

11

ST JOHNS DSG

17

3.25

12

FAIRMONT

14

3.19

13

GARSFONTEIN

17

3.12

14

EUNICE

17

2.94

15

WOODRIDGE

22

2.86

16

SPRINGFIELD

14

2.85

17

HUDSON PARK

11

2.83

18

SOMERSET

18

2.63

19

PEARSON

17

2.54

20

LADY FATIMA

11

2.53

21

ST MARYS KLOOF

18

2.51

22

VOORTREKKER BETH

9

2.46

23

EG JANSEN

8

2.25

24

TRANSVALIA

13

2.24

25

CRAWFORD LA LUCIA

9

2.18

26

PAREL VALLEI

11

2.16

27

MARAGON RUIMSIG

11

2.07

28

STIRLING

11

1.99

29

WESTERFORD

9

1.99

30

STELLENBERG

12

1.93

31

WYNBERG GH

10

1.89

32

LICHTENBURG

15

1.87

33

HELPMEKAAR

14

1.84

34

NELSPRUIT

11

1.78

35

HUGENOTE SPRINGS

16

1.71

36

WITTEBERG

15

1.71

37

CAMBRIDGE

12

1.67

38

REDDAM CONSTAN

9

1.57

39

NOORDHEUWEL

18

1.53

40

ALEXANDER ROAD

11

1.49

41

CORNWALL HILL

11

1.49

42

MONUMENT

13

1.45

43

PIETERSBURG

16

1.36

44

FRAMESBY

11

1.34

45

RHENISH

11

1.14

46

RUSTENBURG WC

10

1.10

47

DR MALAN

7

0.94

48

KINGSWOOD

8

0.93

49

PENRYN

8

0.91

50

DF MALAN

6

0.77

51

AFFIES

8

0.74

52

WATERKLOOF

9

0.68

53

CURRO DURBANVILLE

13

0.60

54

SENTRAAL

7

0.60

55

THOMAS MORE

7

0.53

56

ELDORAIGNE

5

-0.14

57

ROEDEAN

5

-0.18