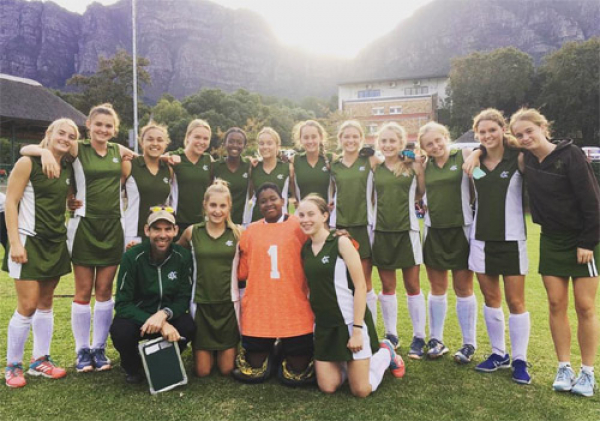 A gallant effort by DSG at the Champions Cup hosted by Rustenburg has seen the Grahamstown team rocket into the top 5 of this week's Girls U16 Hockey Rankings.
DSG saw off the challenge of Woodridge in the final match, which after been locked at 0-0 was settled by 8 second shoot-outs which DSG narrowly won.
Paarl Gym took care of business in their match against Pretoria Girls High to keep them alive in the top five zone and Fairmont make their first appearance in the top 10 after a strong showing at the Champions Cup.
A close look at the rankings table for this week will reveal that several teams have entered the race with Menlopark now commanding the top spot followed by Durban Girls College and St Cyprian's.
Important reminder:
In 2018 Paarl Gym embarked on an exciting plan to host a competitive hockey tournament for boys and girls in the U16 age group that would showcase the best talent in the country.
The tournament was a massive hit with the players and schools producing some excellent hockey. Once again Paarl Gym are poised to host the 2019 edition of the U16 Top Schools Boys & Girls Hockey Tournament and it promises to be even better!
Invitations to the U16 Tops Schools Boys & Girls Tournament will be based on the SA School Sports Ranking with the Top 12 teams getting invited.
The U16 Top Schools Tournament will take place at Paarl Gym between the 8th-11th August 2019. So make sure all your U16 results are sent through to us at [email protected] by the cut off date of 31 May 2019.
GIRL'S U16 HOCKEY RANKINGS 16 APRIL, 2019

RANK

TEAM

PLAYED

AVG BONUS PTS

1

MENLOPARK

7

4.73

2

DURBAN GC

7

4.03

3

ST CYPRIANS

9

3.73

4

DSG

17

3.69

5

PAARL GIM

11

3.64

6

BLOEMHOF

13

3.43

7

FAIRMONT

10

3.31

8

ORANJE MEISIES

5

3.16

9

COLLEGIATE

14

3.15

10

GARSFONTEIN

11

3.11

11

WOODRIDGE

19

2.94

12

HERSCHEL

9

2.91

13

SPRINGFIELD

13

2.79

14

ST ANNES

6

2.45

15

HUDSON PARK

8

2.44

16

PAREL VALLEI

9

2.42

17

SOMERSET

15

2.36

18

PEARSON

11

2.30

19

STELLENBERG

11

2.14

20

STIRLING

7

2.03

21

WYNBERG GH

9

2.00

22

WESTERFORD

9

1.99

23

RHENISH

6

1.83

24

MARAGON RUIMSIG

8

1.83

25

ALEXANDER ROAD

7

1.77

26

HELPMEKAAR

13

1.74

27

HUGENOTE SPRINGS

11

1.69

28

REDDAM CONSTAN

9

1.57

29

LICHTENBURG

10

1.47

30

KINGSWOOD

6

1.33

31

CAMBRIDGE

8

1.29

32

PIETERSBURG

15

1.26

33

RUSTENBURG

9

1.12

34

MONUMENT

6

0.98

35

AFFIES

6

0.70

36

CURRO DURBANVILLE

12

0.58

37

SENTRAAL

4

0.23

38

ROEDEAN

5

-0.18