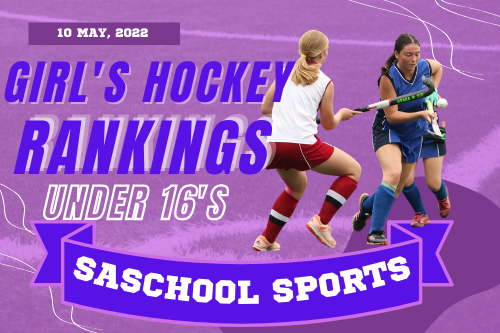 This Week's Girls' U16 Hockey Rankings has a very stable look to it with minor changes. Paarl Gim still head the field at this important stage of the season.
The annual U16 Top Schools Boy's and Girls' Tournament hosted by Paarl Gim is fast approaching and the cut off for qualification is only weeks away.
The 31st of May is the cut off date and as the criteria dictates the top 10  teams on the rankings on that day will gain automatic invitations to this prestigious tournament.
Here are more details about how to qualify for the U16 Top 12 Tournament.
Don't delay get your U16 Girls hockey results to us by emailing them to [email protected]
GIRL'S U16 HOCKEY RANKINGS 11 MAY, 2022

RANK

TEAM

PLAYED

AVG  BONUS PTS

1

PAARL GIM

16

3.82

2

ORANJE MEISIES

11

3.46

3

MENLOPARK

17

3.18

4

DSG

11

3.06

5

PAARL GIRLS HIGH

16

3.00

6

BLOEMHOF

15

2.77

7

RHENISH

20

2.77

8

HERSCHEL

13

2.72

9

VOORTREKKER BETH

10

2.70

10

SOMERSET COLLEGE

17

2.66

11

WATERKLOOF

5

2.60

12

DURBAN GC

9

2.59

13

COLLEGIATE

14

2.54

14

MONUMENT

12

2.51

15

ST MARYS KLOOF

10

2.32

16

SASOLBURG

8

2.30

17

PEARSON

13

2.29

18

ST CYPRIANS

15

2.27

19

CURRO DURBANVILLE

8

2.25

20

ST ANNES

10

2.24

21

GARSFONTEIN

15

2.23

22

CAMBRIDGE

7

2.19

23

DF MALAN

11

2.18

24

HANS MOORE

16

2.08

25

DIE BRANDWAG

6

1.98

26

EUNICE

18

1.98

27

ST JOHNS DSG

15

1.91

28

STELLENBERG

6

1.82

29

CLARENDON

11

1.79

30

PMB GIRLS

13

1.72

31

CORNWALL HILL

9

1.71

32

HUGENOTE SPRINGS

15

1.71

33

PIETERSBURG

13

1.69

34

THOMAS MORE

7

1.63

35

ELDORAIGNE

5

1.54

36

SPRINGFIELD

21

1.52

37

FAIRMONT

9

1.41

38

MERENKSY

12

1.13

39

AFFIES

5

1.10

40

WITTEBERG

5

1.08

41

TRANSVALIA

17

0.97

42

PAREL VALLEI

12

0.95

43

POTCH VOLKSKOOL

9

0.84

44

EPWORTH

5

0.80

45

HTS DROSTDY

9

0.66

46

HUDSON PARK

5

0.45

47

WESVALIA

5

0.22

48

HERMANUS

8

0.21

49

WORCESTER GYM

11

0.18

50

CURRO HILLCREST

8

-0.13