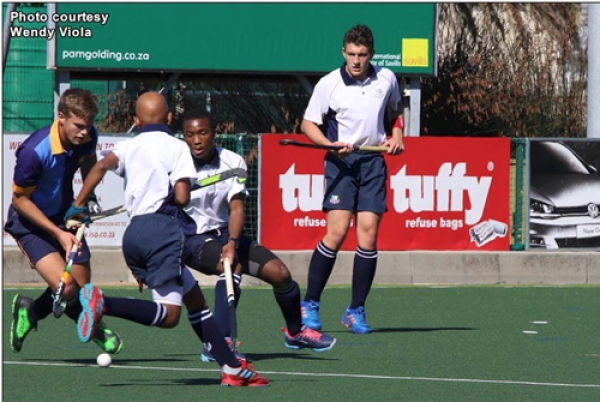 As more results steadily trickle in we are looking at a fairly stable top half of the Boys U16 Hockey Rankings with Hilton College leading the field.
Hilton College enjoyed their 9th victory of the season with a clinical win over Northwood and certainly are looking like the makings of a formidable outfit.
Pretoria Boys High also recorded a solid win over Garsfontein to help the Pretoria team to get into this week's Top 10 zone for the first time this season.
The table is very cluttered between positions 10-20 with anyone of these teams still capable of moving upward and finishing amongst the leading group.
Please remember that invitations to the Paarl Gim Top Schools Tournament will depend on the top 12 rankings so please get your result through to us by sending them to [email protected]
BOY'S   U16 HOCKEY RANKINGS 3 MAY, 2019

Rank

TEAM

PLAYED

AVG   BONUS     PTS

1

HILTON COLLEGE

9

5.01

2

MARITZBURG COLLEGE

9

4.24

3

WESTVILLE BH

8

4.08

4

KEARSNEY COLLEGE

15

3.96

5

SACS

14

3.53

6

GREY COLLEGE

10

3.52

7

PAARL BOYS HIGH

7

3.34

8

JEPPE

9

3.27

9

ST ANDREWS COLLEGE

3

3.23

10

PRETORIA BOYS HIGH

7

3.20

11

HUDSON PARK

12

3.10

12

MENLOPARK

18

3.06

13

PAARL GIM

11

3.05

14

CLIFTON

13

3.03

15

PAREL VALLEI

7

3.03

16

GREY HIGH SCHOOL

7

3.03

17

MICHAELHOUSE

11

3.02

18

KES

6

2.85

19

RONDEBOSCH

4

2.85

20

CORNWALL HILL

9

2.77

21

WYNBERG BH

9

2.68

22

WATERKLOOF

11

2.67

23

PAUL ROOS GYM

4

2.58

24

WOODRIDGE

6

2.25

25

PIETERSBURG

10

2.24

26

ST JOHNS COLLEGE

13

2.22

27

TRANSVALIA

12

2.22

28

BISHOPS

15

2.12

29

ST STITHIANS

4

2.08

30

SELBORNE COLLEGE

4

2.00

31

RUSTENBURG

10

2.00

32

ST ALBANS COLLEGE

8

1.96

33

YORK HIGH

6

1.95

34

ALEXANDER ROAD

8

1.88

35

CURRO DURBANVILLE

12

1.86

36

PEARSON

9

1.71

37

DF MALAN

11

1.70

38

KINGSWOOD

6

1.65

39

GARSFONTEIN

13

1.62

40

NELSPRUIT

5

1.60

41

WITTEBERG

9

1.59

42

LANGA

6

1.58

43

STIRLING

12

1.43

44

ST CHARLES COLLEGE

8

1.41

45

STELLENBERG

7

1.23

46

MERRIFIELD

5

1.16

47

AFFIES

5

1.06

48

GLENWOOD

4

1.00

49

CAMBRIDGE

8

0.93

50

DALE COLLEGE

7

0.90

51

FAIRMONT

12

0.88

52

ELDORAIGNE

4

0.80

53

ST BENEDICTS

6

0.78

54

HELPMEKAAR

10

0.75

55

QUEENS COLLEGE

6

0.65

56

DHS

6

0.65

57

SOMERSET COLLEGE

6

0.62

58

PARKTOWN

5

0.50

59

ST DAVIDS

10

-0.05

60

OUTENIQUA

8

-0.10