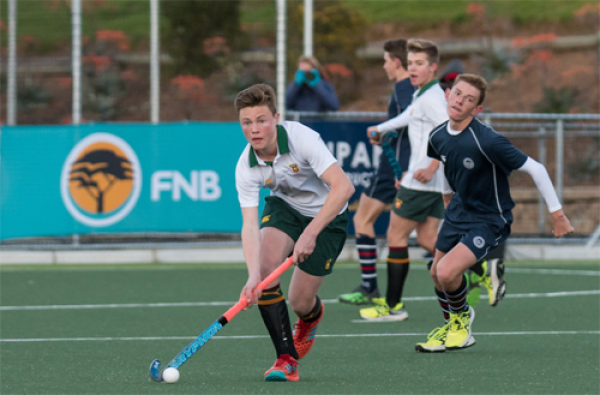 This Week's Boys U16 Hockey Rankings presents a very congested top section of the table with several teams that have made inroads into the leading group.
Although Hilton College still reigns at the head of the rankings following their win over Pretoria Boys High last week a few teams have climbed places.
Paarl Boys High reaches their highest place in history as they enter the top 5 zone for the first time and look like a highly competent side at this level and their win over Grey College underlines their ability.
Hudson Park have also doggedly stuck to their task and moved into the top 10 with a long line of wins behind their name.
With the prize of an automatic invitation for the leading 12 teams on the rankings to the U16 Top Schools Tournament hosted by Paarl Gim on the line, several teams seem to be timing their run perfectly in order to qualify for this prestigious tournament.
Invitations to the U16 Tops Schools Boys & Girls Tournament will be based on the SA School Sports Ranking with the Top 12 teams getting invited.
The U16 Top Schools Tournament will take place at Paarl Gym between the 8th-11th August 2019. So make sure all your U16 results are sent through to us at [email protected] by the cut off date of 31 May 2019.
BOY'S U16 HOCKEY RANKINGS 16 MAY, 2019

Rank

TEAM

PLAYED

AVG BONUS PTS

1

HILTON COLLEGE

10

5.02

2

MARITZBURG COLLEGE

11

4.30

3

KEARSNEY COLLEGE

17

3.53

4

PAARL BOYS HIGH

9

3.50

5

JEPPE

11

3.46

6

WESTVILLE BH

10

3.44

7

SACS

16

3.43

8

MICHAELHOUSE

13

3.25

9

HUDSON PARK

14

3.20

10

GREY COLLEGE

12

3.20

11

MENLOPARK

19

3.18

12

RONDEBOSCH

6

3.13

13

GREY HIGH SCHOOL

9

3.13

14

PRETORIA BOYS HIGH

10

3.11

15

CLIFTON

14

3.09

16

PAARL GIM

11

3.05

17

WATERKLOOF

15

2.90

18

WYNBERG BH

10

2.81

19

KES

9

2.72

20

PAUL ROOS GYM

6

2.68

21

SELBORNE COLLEGE

6

2.67

22

CORNWALL HILL

10

2.64

23

NORTHWOOD

5

2.64

24

PAREL VALLEI

10

2.57

25

ALEXANDER ROAD

10

2.30

26

PIETERSBURG

10

2.24

27

TRANSVALIA

14

2.20

28

RUSTENBURG

12

2.13

29

ST JOHNS COLLEGE

15

2.09

30

BISHOPS

17

2.14

31

WOODRIDGE

8

2.00

32

CURRO DURBANVILLE

13

1.86

33

YORK HIGH

7

1.80

34

JIM FOUCHE

3

1.77

35

WITTEBERG

10

1.73

36

ST ALBANS COLLEGE

9

1.71

37

DF MALAN

11

1.70

38

NELSPRUIT

5

1.60

39

AFFIES

7

1.60

40

LANGA

6

1.58

41

GARSFONTEIN

14

1.56

42

STIRLING

13

1.55

43

ST STITHIANS

5

1.54

44

STELLENBERG

9

1.26

45

PEARSON

11

1.45

46

ST CHARLES COLLEGE

8

1.41

47

MERRIFIELD

6

1.35

48

KINGSWOOD

8

1.26

49

ST BENEDICTS

7

1.03

50

HELPMEKAAR

12

1.00

51

FAIRMONT

14

0.92

52

CAMBRIDGE

10

0.90

53

DALE COLLEGE

9

0.89

54

MILNERTON

5

0.52

55

MONUMENT

5

0.48

56

QUEENS COLLEGE

7

0.47

57

OUTENIQUA

12

0.47

58

PARKTOWN

7

0.41

59

DHS

8

0.38

60

SOMERSET COLLEGE

9

0.36

61

POTCHGIM

5

0.00

62

ST DAVIDS

11

-0.10