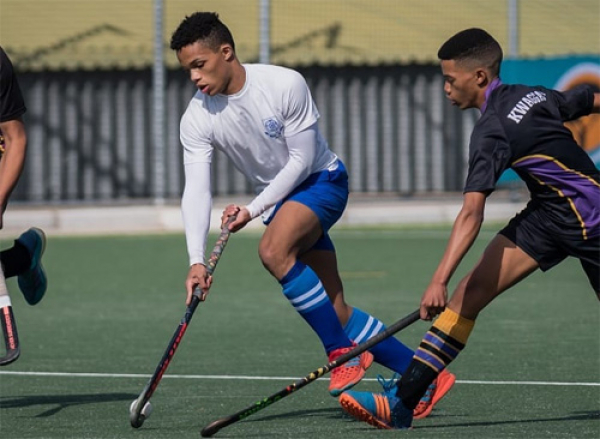 This week's Boys U16 Hockey Rankings are top heavy with KZN teams with a spattering of Eastern and Western Cape teams enveloping the sole Gauteng team in the form of Jeppe.
Hilton College are currently the No.1 team in the division after going unbeaten so far in the season against some of the strongest teams in the country. Perennial powerhouse of school hockey, Maritzburg College narrowly held onto a 1-0 win over Pretoria Boys High over the weekend to keep them still in hot pursuit of the top spot.
However the season is still in its early stages with several teams still to hit their stride in the coming weeks. What is notable is that the two Paarl teams are playing some impressive hockey with Boishaai enjoying life on their new turf with only a narrow loss against Kearsney spoiling an otherwise untarnished record.
Paarl Gim are also proving to be serious contenders with several high scoring victories and just the narrow 1 goal loss to Bishops so far.
Important reminder:
In 2018 Paarl Gym embarked on an exciting plan to host a competitive hockey tournament for boys and girls in the U16 age group that would showcase the best talent in the country.
The tournament was a massive hit with the players and schools producing some excellent hockey. Once again Paarl Gym are poised to host the 2019 edition of the U16 Top Schools Boys & Girls Hockey Tournament and it promises to be even better!
Invitations to the U16 Tops Schools Boys & Girls Tournament will be based on the SA School Sports Ranking with the Top 12 teams getting invited.
The U16 Top Schools Tournament will take place at Paarl Gym between the 8th-11th August 2019. So make sure all your U16 results are sent through to us at [email protected] by the cut off date of 31 May 2019.
BOY'S U16 HOCKEY RANKINGS 16 April, 2019

Rank

TEAM

PLAYED

AVG BONUS PTS

1

HILTON COLLEGE

8

5.08

2

MARITZBURG COLLEGE

8

4.28

3

WESTVILLE BH

7

4.09

4

KEARSNEY COLLEGE

9

3.69

5

GREY COLLEGE

8

3.43

6

PAARL BOYS HIGH

6

3.30

7

JEPPE

8

3.24

8

PAARL GIM

10

3.10

9

HUDSON PARK

12

3.10

10

PAREL VALLEI

7

3.03

11

WYNBERG BH

8

2.91

12

SACS

11

2.86

13

PRETORIA BOYS HIGH

5

2.76

14

MENLOPARK

7

2.74

15

WATERKLOOF

10

2.74

16

GREY HIGH SCHOOL

6

2.68

17

CORNWALL HILL

6

2.67

18

PAUL ROOS GYM

4

2.58

19

KES

5

2.50

20

YORK HIGH

4

2.48

21

WOODRIDGE

6

2.25

22

PIETERSBURG

9

2.16

23

CURRO DURBANVILLE

8

2.10

24

ST STITHIANS

4

2.08

25

BISHOPS

10

1.87

26

CLIFTON

7

1.83

27

ST ALBANS COLLEGE

5

1.80

28

LANGA

5

1.72

29

ALEXANDER ROAD

7

1.71

30

KINGSWOOD

6

1.65

31

PEARSON

7

1.54

32

STIRLING

10

1.54

33

RUSTENBURG

6

1.52

34

ST JOHNS COLLEGE

8

1.50

35

AFFIES

4

1.43

36

DF MALAN

9

1.42

37

GARSFONTEIN

8

1.21

38

MICHAELHOUSE

4

1.05

39

STELLENBERG

5

0.96

40

MERRIFIELD

4

0.95

41

CAMBRIDGE

7

0.93

42

HELPMEKAAR

9

0.87

43

SOMERSET COLLEGE

6

0.62

44

QUEENS COLLEGE

5

0.60

45

DALE COLLEGE

6

0.57

46

FAIRMONT

9

0.54

47

PARKTOWN

5

0.50

48

OUTENIQUA

8

-0.10

49

ST DAVIDS

7

-0.24