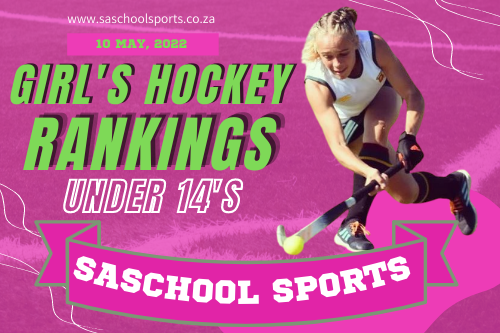 This Week's Girls U14 Hockey Rankings shows some important movement with Eunice breaking into the top three after a good run of form.
As we draw closer to the cut off date (31st May, 2022) for qualification to the prestigious Rhenish U14 Top 12 Tournament many teams are anxiously hoping they gain an automatic invitation to the tournament. The next couple of weeks are there going to be vital for several teams.
The Criteria for the Rhenish U14 Girls Top 12 Tournament can be found here.
Please ensure all your U14 hockey results are with us be sending them to [email protected]
GIRL'S U14 HOCKEY RANKINGS 12 MAY, 2022

RANK

TEAM

PLAYED

AVG  BONUS PTS

1

PAARL GIM

10

3.61

2

HERSCHEL

9

3.51

3

EUNICE

10

3.05

4

ORANJE MEISIES

7

3.02

5

BLOEMHOF

9

2.89

6

RHENISH

19

2.88

7

PEARSON

14

2.88

8

COLLEGIATE

15

2.85

9

WYKEHAM COLLEGIATE

5

2.84

10

VOORTREKKER BETH

9

2.82

11

HELPMEKAAR

9

2.76

12

PAARL GIRLS HIGH

11

2.73

13

MENLOPARK

12

2.57

14

GARSFONTEIN

12

2.45

15

HUGENOTE SPRINGS

15

2.41

16

CLARENDON

6

2.40

17

ST JOHNS DSG

8

2.29

18

ST MARYS KLOOF

5

2.28

19

ST MARYS WAVERLEY

7

2.17

20

SPRINGFIELD

15

2.15

21

BRYANSTON

6

1.90

22

MONUMENT

13

1.89

23

ST CYPRIANS

5

1.78

24

PAREL VALLEI

16

1.75

25

PIETERSBURG

13

1.72

26

EPWORTH

4

1.70

27

DSG

4

1.53

28

TRANSVALIA

4

1.48

29

FAIRMONT

7

1.46

30

RUSTENBURG NW

4

1.43

31

CURRO DURBANVILLE

8

1.35

32

RUSTENBURG

6

1.33

33

DF MALAN

5

1.28

34

THOMAS MORE

5

1.22

35

CURRO HILLCREST

7

1.04

36

POTCH VOLKSKOOL

13

1.00

37

HTS DROSTDY

6

0.88

38

STELLENBERG

5

0.84

39

MERENKSY

7

0.79

40

JIM FOUCHE

4

0.73

41

PMB GIRLS

7

0.71

42

WITTEBERG

5

0.50

43

SOMERSET

9

0.40

44

AFFIES

5

0.40

45

CAMBRIDGE

9

0.11

46

WYNBERG GH

7

-0.16

47

WESTERING

4

-0.35

48

CAMBRIDGE

5

-0.76