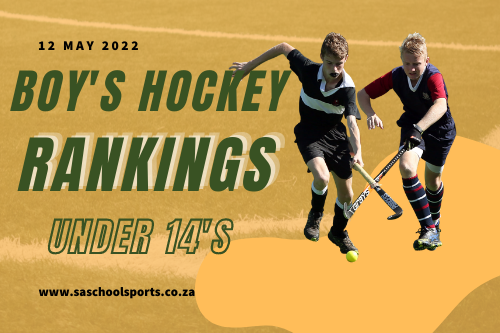 This Week's Boys U14 Hockey Rankings shows a new leader with Maritzburg College claiming the No.1 spot and this crucial stage of the season.
As we draw closer to the cut off date (31st May, 2022) for qualification to the prestigious Paarl Boys' High U14 Top 12 Tournament many teams will be  hoping they gain an automatic invitation to the tournament. The next couple of weeks will decide who goes to Paarl and who doesn't
The Criteria for the Paarl Boys' High  U14 Boys Top 12 Tournament can be found here.
Please ensure all your U14 hockey results are with us be sending them to [email protected]
BOY'S U14 HOCKEY RANKINGS 12 May, 2022

Rank

TEAM

PLAYED

AVG  BONUS     PTS

1

MARITZBURG COLLEGE

9

4.14

2

DHS

6

3.80

3

 PAUL ROOS GYM

15

3.78

4

SACS

8

3.65

5

ST ANDREWS COLLEGE

7

3.64

6

RONDEBOSCH

9

3.43

7

JEPPE

12

3.35

8

WATERKLOOF

6

3.20

9

CLIFTON

8

3.18

10

KES

14

3.02

11

PAARL BOYS HIGH

7

2.91

12

GARSFONTEIN

14

2.86

13

ST STITHIANS

16

2.79

14

KEARSNEY COLLEGE

9

2.68

15

NELSPRUIT

7

2.66

16

MICHAELHOUSE

10

2.61

17

GREY COLLEGE

6

2.60

18

GREY HIGH SCHOOL

8

2.60

19

ST CHARLES COLLEGE

12

2.55

20

FAIRMONT

12

2.48

21

STELLENBERG

16

2.28

22

WESTVILLE BH

9

2.28

23

AFFIES

14

2.17

24

WYNBERG BH

9

2.10

25

HILTON COLLEGE

9

2.06

26

NORTHWOOD

11

2.04

27

ZWARTKOP

15

2.01

28

PRETORIA BOYS HIGH

15

1.95

29

PAREL VALLEI

6

1.92

30

MIDSTREAM

13

1.84

31

ST JOHNS COLLEGE

12

1.83

32

BISHOPS

6

1.80

33

CURRO DURBANVILLE

9

1.78

34

ST BENEDICTS

9

1.78

35

CORNWALL HILL

14

1.74

36

PAARL GIM

12

1.68

37

PIETERSBURG

12

1.58

38

CAMBRIDGE

8

1.56

39

ST ALBANS COLLEGE

9

1.47

40

SOMERSET COLLEGE

5

1.32

41

ST DAVIDS

14

1.19

42

HTS DROSTDY

5

1.18

43

MENLOPARK

9

1.16

44

PARKTOWN

8

1.00

45

ASHTON

5

0.98

46

BRYANSTON

6

0.83

47

GLENWOOD

9

0.81

48

MONUMENT

8

0.78

49

ELDORAIGNE

6

0.55

50

ST ANDREWS SCHOOL

4

0.43

51

HELPMEKAAR

9

0.38

52

KINGSWOOD

4

0.23

53

QUEENS COLLEGE

4

0.20

54

DALE COLLEGE

4

0.13

55

DF MALAN

5

-0.18

56

NORTHCLIFF

5

-0.36

57

KINGSWOOD

3

0.00

58

DF MALAN

4

-0.05

59

NORTHCLIFF

4

-0.18

60

CENTURION

1

-0.30

61

DALE COLLEGE

3

-0.33

62

MONTANA

3

-0.80