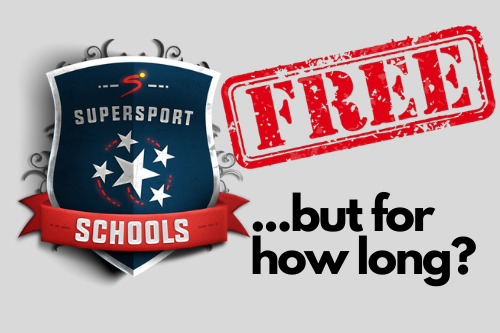 Having now broadcast over 5000 live matches across 16 sporting codes in just 1-year, SuperSport Schools has quickly become a fixture in South Africa, with thousands of people tuning in from all over the world to watch their favorite team.
Whether it is a school's U14 C team or the top school rugby teams in the country, SuperSport Schools has shone a much-needed spotlight on the pulse of school sport that beats strongly in the country.
However, will all these matches, be it rugby festivals, cricket matches, hockey, rowing, and the many other codes that SuperSport Schools covers, always be free to view?
Why has SuperSport School decided to broadcast even the lesser-known sports? What is their real motive behind bringing school sports to our screens and devices? Does televising school sport not rob schools of spectators at their events?

SA School Sports chatted with the General Manger of Super Sport Schools, Gerhard Steyn who gave some interesting insight to these and other questions.
Why no cost to the viewer?
During the Easter Festivals which was broadcast from six different venues, SuperSport Schools were manning 30 simultaneous live streams which attracted tens of thousands of viewers. Many of those viewers simply turned-on YouTube, or logged into the Super Sport Schools App and watched whatever match they wanted to. They didn't have to pay a cent, to see, record or analyse their chosen team or school athlete. All totally free of charge!
Is this just a ploy to reel us in and then hit the public with some charge later? Gerhard Steyn is quick to answer that, "That is certainly not our intention. We hope obviously that by creating more sports lovers more people will become future subscribers to Multichoice. But our angle is that if sport is healthy at the foundation level, then the professional sporting codes will do well, our Olympic team will do well.  Whilst I am the GM of SuperSport Schools it is never going go behind a paywall or there is never going to be the expectation for a school to pay for the coverage."
Is Super Sports Schools robbing schools of their traditional spectators?
It is not uncommon in South Africa for literally thousands of parents, alumni and fans to turn up to watch a particular sport at a school. That kind of fan base is the lifeblood of the school who rely on them to keep the school's traditions and ethos alive. Has the televising of so much school sport affected the involvement of these spectators?
Gerhard Steyn believes that just the opposite has happened. "To be honest, we want people to attend the game, its far better to have spectators at the match because it creates a better vibe, and a better vibe enhances the production. You simply cannot create that kind of authentic vibe without people cheering for their team. What is interesting is that we have a 40% live and 60% VOD split in our viewership. Which means that 60% of our audience is watching the match after the match has been played, many of them were at the live game and now have come home to watch it again.
As an aggregator of school sport content, we are not chasing content that is going to generate 100 000 views and only concentrating on those matches. We are only interested in providing a solution for the people that care about that school, that team and that game."
Why focus so much attention on lesser-known sports?
With the recent Easter festivals that have taken place, which chiefly featured the rugby, hockey, netball, and soccer codes, one would imagine that this is only where SuperSport Schools will be focusing their attention. Yet lesser profiled sports like, rowing, primary schools' athletics and squash also are receiving their fair share of coverage.
Gerhard explains that the SuperSport School model is to attract a minimum of 250 views for an event which makes it viable for them.  "Take for example rowing, we were blown away, it's a very dedicated, sports specific community but they are passionate about the sport. And those numbers for rowing were much more than we expected. So, we are prepared to do all the sports, boxing, judo, wrestling and any school sport content. We don't have to differentiate between sporting codes. The broader the audience on our platform the better the data can be used to identify trends in sport. For example, if suddenly we see that basketball is a growing sport with the youth, in 5 years' time they will be the future subscribers to Multichoice and they might want to watch basketball on one of the channels."
It does seem like any reservations that schools may have had, have now disappeared. School teams are now able to analyse 4 or 5 games of their opposition and visa versa which can serve to level the playing fields. New disciplines can be implemented, and weaknesses exposed. Which as Gerhard Steyn suggests, "increases the quality of the various sports codes right through to the national level."
The real motive behind SuperSport Schools?
If the future of school sport broadcasting is going to be free to view, South Africa's youth have plenty to be grateful for. Footage of future stars can now be used to market their skills at home and abroad that was hitherto not possible. Relatives and friends all over the world can watch their nephew or granddaughter playing the purest form of sport and many more thousands can preserve and create school sport traditions that can last.
This is what SuperSport Schools appears to be aiming for. "We have a target of 20 000 games for the next 12 months. The idea is that we want to be the platform where you can watch your home and away games in one place. We want to be able to identify talent so that we don't miss someone. When you think of it, there is a risk if selectors are only using a Craven Week or an IPT to identify a national team. Now suddenly you have content for the full year and talent can be identified earlier and followed throughout the year," says Gerhard Steyn.
There are a staggering 6000 High Schools in South Africa, however only 1500 of those schools play school sport. It is an astounding statistic! 75% of High Schools and their learners are not exposed to sport in any way. Fortunately, this is a fact that has not escaped SuperSport Schools attention.
"We need to find ways to identify talent throughout the country and at a young age in these schools that have nothing. And then channel them to a high-performance environment in different regions. This is the future type of initiative that hopefully we can play a role in the future," adds Gerhard.
School sports events, matches, tournaments, and festivals have a range of benefits that go far beyond the games themselves. They can transform the image of a community, a country, or a continent. They bring people together and reveal new possibilities to a nation's youth. They allow the youth to aspire, to create memories and to dream.
SuperSport Schools has allowed us all to capture, record and store thousands of special moments, not of some famous global superstar, but of people who are far more special: Our sons, daughters, friends and team mates who have played for free the purest form of sport.
Congratulations to SuperSport Schools for a great first year. We look forward to many more!