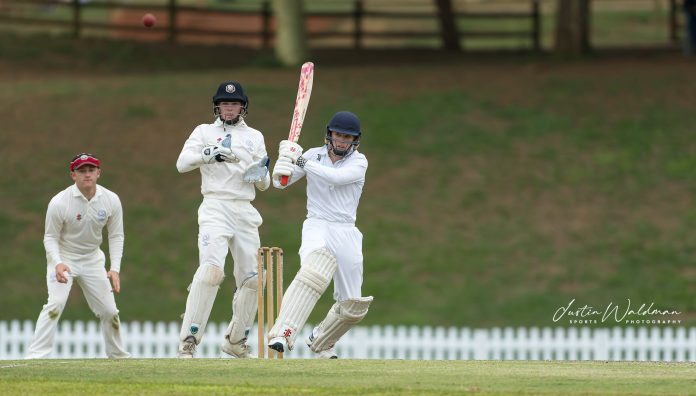 1st XI Cricket St Charles College vs Maritzburg College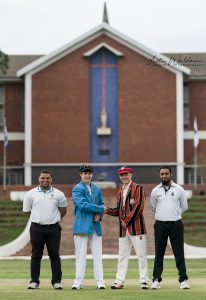 With the Saints playing at home, opening batsmen, Daniel Wassenaar and Nathan Buhr withstood some fine fast bowling by South African U19 all-rounder, Andile Simelane, to see out the first 10 overs. However, after a planned conservative start, the Saints were never able to click into second gear and were pegged back even further in the following overs, unable to rotate the strike and apply some pressure on the fielding team. More than that, wickets were falling at regular intervals, and at the halfway stage, Saints found themselves at 75/4 after 25 overs. After the break and a further two quick wickets, matric pupil and all-rounder, Jens Lutge, joined his captain and batting stalwart, Hayden Raw, at the crease with St Charles College reeling at 86/6. The Saints needed a partnership from their two senior players, and they provided just that. A 94-run stand, Hayden Raw 81 off 94 balls and Lutge, 23 off 50 balls, got the total up to 188/9 off 50 overs and provided the Saints with some much-needed impetus going into the second innings. Raw was at his very best once again and showed his true class. Unfortunately, inclement weather thwarted any chance of playing much cricket after the lunch break and with Maritzburg College on 42/1, the covers were called and the game abandoned. Both teams look forward to their rematch in the last official schoolboy game of the year in mid-November.
Cricket Results vs Westville:
2nd XI     SCC won by 29 runs
3rd XI      SCC won by 1 wicket
4th XI      SCC won by 9 wickets
U15A     SCC won by 1 wicket
U14A     SCC lost by 7 wickets
1st Team Basketball St Charles College vs Westville
After having lost their previous two fixtures the St Charles College 1st team went into the Westville game with a lot to prove. Saints set the tone early playing tough aggressive defence and were able to build an 11-point lead going into the second quarter. Both teams settled down just before the half and consistently traded baskets. The 3rd quarter however belonged to Westville who managed to tie the game with some outstanding 3-point shooting against what appeared to be a tiring Saints team. Once the 4th quarter started the St Charles College boys dug deep and re-established their defensive dominance to pull away from Westville for a comfortable 62-45 win. Although it was an outstanding team effort from the entire Saints team, two players – Benson Makenge and Patrick De Villiers deserve a special mention for their efforts both on the offensive and defensive ends of the court.
Basketball Results vs Westville
2nd Team              SCC 46 – 34 Westville
3rd Team              SCC 34 – 25 Westville
4th Team              SCC 55 – 22 Westville
U16A                     SCC 35 – 19 Westville
U14A                     SCC 33 – 23 Westville
Compiled by Rowan Irons Director of Sport at St Charles
Pic credits: Justin Waldman.
Pic quartet: At the coin toss on The Oval: Umpire Jayden Knipe, Saints 1st XI captain Hayden Raw, Maritzburg College 1st XI captain Caleb Hibbert, and umpire, Dawood Mather.
Pic (3): Saints 1st XI captain and top scorer on Saturday, Hayden Raw, pulls one to the boundary on The Oval