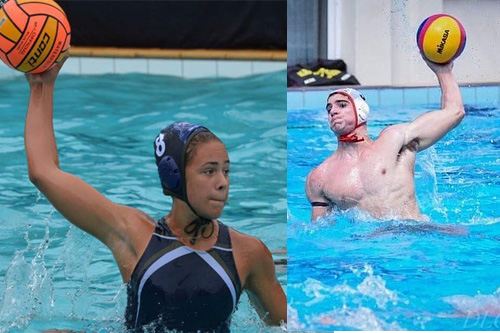 School Water Polo has grown considerably during the past decade with many schools now offering it as a competitive summer sport. Looking at the School Water Polo rankings for boys and girls down through the decade we have put together the top Rankings for the Decade.
In the Boys' Water Polo Rankings, the decade has been dominated by Clifton, SACS and St John's College. However, Bishops in recent years have been a formidable team and have enjoyed some incredible years in the past decade.
Amongst the Girls' Water Polo Rankings, Reddam Constantia and St Stithians have slugged it out and there is virtually nothing to choose between these two powerhouses. Saints have of late been the dominant team but Reddam enjoyed some huge years and marginally pip Saints at the post.
There is sure to be some objections, but please bear in mind that these school water polo rankings have been compiled with a 10 year view and aim to try and reward consistency during this time period.
BOYS WATER POLO RANKINGS FOR THE DECADE

RANK

TEAM

AVG BONUS PTS 2012-2020

1

CLIFTON

33.29

2

SACS

31.56

3

ST JOHNS COLLEGE

29.59

4

BISHOPS

29.04

5

GREY HIGH SCHOOL

26.81

6

ST ANDREWS COLLEGE

26.74

7

ST STITHIANS

26.48

8

RONDEBOSCH

25.23

9

REDDAM

24.41

10

SELBORNE COLLEGE

23.09

11

HILTON COLLEGE

22.78

12

GLENWOOD

22.14

13

WESTVILLE

21.45

14

PRETORIA BOYS HIGH

20.52

15

WESTERFORD

19.45

16

ST DAVIDS

19.01

17

PEARSON

18.90

18

KES

18.85

19

ST ALBANS COLLEGE

18.65

20

AFFIES

18.26

21

JEPPE

17.65

22

DHS

17.36

23

STIRLING

16.45

24

ST BENEDICTS

16.09

25

KEARSNEY COLLEGE

15.70

26

PAUL ROOS GYM

15.63

27

PORT REX

15.03

28

GREY COLLEGE

14.98

29

CRAWFORD LONEHILL

14.90

30

SOMERSET COLLEGE

14.87

31

MICHAELHOUSE

14.13

32

NORTHWOOD

12.75

33

ST PETERS

12.57

34

THOMAS MORE COLLEGE

12.52

35

GLENWOOD HOUSE

12.46

36

KINGSWOOD

12.28

37

HUDSON PARK

11.66

38

PAARL BOYS HIGH

11.48

39

WYNBERG

11.43

40

ALEX ROAD

11.42

41

FOURWAYS

9.06

43

MARITIZBURG COLLEGE

8.56

44

YORK

7.12

45

ST CHARLES COLLEGE

7.04

46

PARKTOWN

7.01

47

DALE COLLEGE

6.30

48

GRAEME

4.90

49

QUEENS COLLEGE

3.24
GIRLS WATER POLO RANKINGS FOR THE DECADE

RANK

TEAM

AVG BONUS PTS 2012-2020

1

REDDAM Constan

30.39

2

ST STITHIANS

30.15

3

PEARSON

29.18

4

STIRLING

27.03

5

ST MARYS WAVERLEY

25.02

6

ROEDEAN

24.46

7

WESTERFORD

24.09

8

HERSCHEL

23.21

9

CLARENDON

22.49

10

CRAWFORD

22.17

11

DURBAN GC

20.73

12

ST PETERS

19.92

13

ST DOMINICS

18.13

14

KINGSWOOD

17.84

15

COLLEGIATE

17.49

16

DSG

16.61

17

ST ANNES

15.28

18

THOMAS MORE

14.97

19

ST MARYS KLOOF

14.95

20

SPRINGFIELD

14.87

21

DURBAN GHS

14.53

22

BEAULIEU

12.57

23

RUSTENBURG

11.73

24

ALEXANDER ROAD

11.63

25

WYNBERG GH

11.13

26

SOMERSET

10.61

27

FOURWAYS

10.44

28

KINGSMEAD

10.32

29

RANDPARK

10.23

30

PRETORIA GIRLS

10.17

31

GLENWOOD HOUSE

9.35

32

KRUGERSDORP

8.94

33

BLOEMHOF

7.74

34

RHENISH

7.53

35

WESTVILLE GH

7.12

36

HUDSON PARK

6.93
Click here to see which team's have dominated Cricket in the past decade
Click here to see which team as been to top Rugby team in the past decade
Please consider subscribing to our YouTube Channel here