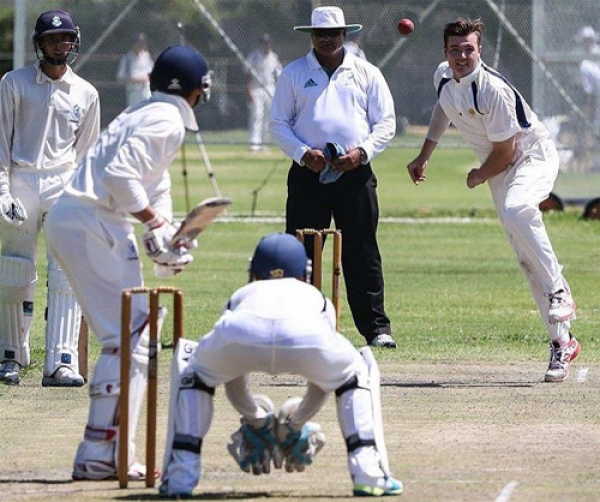 As the decade draws to a close, it seems the right time to reflect on the school cricket rankings since they began in 2012. From this perspective, it provides for interesting reading to see which schools have been the top-performing sides over the past decade. We obtained an average for each school by taking their final position in the respective years, adding them together and dividing by nine. 
Rondebosch Stand Out from the Pack
Looking closely at the results, the gap between third and tenth place is a relatively close affair with only a few points separating them. Few will argue that Grey High, KES, Grey College, St Andrew's College, Hilton, Wynberg, Glenwood and Affies have been major players on the schools' cricket scene, but all of them have suffered as a result of finishing in the 30's once or twice, which has pushed their averages out. St Stithians have been remarkably consistent with only two years where they finished outside of the top 10. They are a nearly 5  points ahead of third place, Grey High, with an average of 6.30 and thoroughly deserve their position of number two. However, it is Rondebosch Boys' High that stand out from the rest of the pack and claim the top position in the country.
The boys from Cape Town have enjoyed a phenomenal run and have ended no lower than ninth on the school cricket rankings lists, twice claiming the top position during the eight-year period. Their worst performance is in the abbreviated 2020 season and could well have done better if Covid-19 hadn't been around. Their average of 3.71 is 2.6 points better than their closest contender. 
We look forward to the 2021 season!
| | | | | |
| --- | --- | --- | --- | --- |
| RANK | TEAM | PERIOD 2012-2020 | TOTAL | AVG |
| 1 | RONDEBOSCH | 4,1,6,1,4,3,2,3,9 | 33 | 3.70 |
| 2 | ST STITHIANS | 10,5,2,2,1,1,15,5,16 | 57 | 6.30 |
| 3 | GREY HIGH SCHOOL | 24,30,7,19,6,4,4,4,3, | 101 | 11.20 |
| 4 | KES | 11,7,10,9,115,39,3,7,10 | 111 | 12.30 |
| 5 | GREY COLLEGE | 6,27,4,17,5,34,6,9,13 | 121 | 13.40 |
| 6 | HILTON COLLEGE | 34,36,5,16,28,2,1,2,4 | 128 | 14.20 |
| 7 | GLENWOOD | 12,15,13,7,3,30,20,28,5 | 133 | 14.80 |
| 8 | AFFIES | 5,6,23,32,10,33,9,16,8 | 142 | 15.80 |
| 9 | WYNBERG | 1,13,8,11,32,10,28,22,21 | 146 | 16.20 |
| 10 | ST ANDREWS SCHOOL | 36,22,3,8,11,12,8,18,33, | 151 | 16.80 |
| 11 | ST ANDREWS COLLEGE | 22,16,20,37,17,7,27,8,6, | 160 | 17.80 |
| 12 | SACS | 29,9,31,29,20,32,12,1,1, | 164 | 18.20 |
| 13 | ST JOHNS COLLEGE | 9,24,34,5,7,20,36,17,28, | 180 | 20.00 |
| 14 | MARITZBURG COLL | 28,28,15,13,35,21,5,12,23, | 180 | 20.00 |
| 15 | PAARL GIM | 36,31,21,10,8,42,23,10,37 | 181 | 20.10 |
| 16 | HUDSON PARK | 17,17,11,4,16,11,38,34,34, | 182 | 20.20 |
| 17 | WATERKLOOF | 36,2,1,3,21,65,14,29,12, | 183 | 20.30 |
| 18 | PAUL ROOS GYM | 19,10,28,38,25,9,16,20,24 | 189 | 21.00 |
| 19 | SELBORNE COLLEGE | 8,38,19,24,51,6,10,24,11, | 191 | 21.20 |
| 20 | PRETORIA BOYS HIGH | 11,38,44,22,2,27,17,11,26, | 198 | 22.00 |
| 21 | MENLOPARK | 20,4,22,15,27,46,11,21,44, | 210 | 23.30 |
| 22 | MICHAELHOUSE | 30,8,30,25,50,5,29,25,19, | 221 | 24.60 |
| 23 | KEARSNEY COLLEGE | 21,21,40,30,19,49,22,23,2, | 227 | 25.20 |
| 24 | PAARL BOYS HIGH | 13,10,14,27,41,26,44,36,32 | 243 | 27.00 |
| 25 | WESTVILLE | 3,3,39,46,43,19,40,14,38, | 245 | 27.20 |
| 26 | BISHOPS | 15,26,36,47,9,38,41,15,18 | 245 | 27.20 |
| 27 | CLIFTON | 16,33,29,35,18,35,13,51,15, | 245 | 27.20 |
| 28 | JEPPE | 26,23,43,42,53,54,7,6,7, | 261 | 29.00 |
| 29 | FRAMESBY | 23, 16,32,30,15,32,53,38,52 | 291 | 32.33 |
| 30 | PEARSON | 25,19, 20,9,24,47,51,44,54, | 293 | 32.55 |
| 31 | CENTURION | 36,25,16,36,63,22,24,27,45, | 294 | 32.70 |
| 32 | ST ALBANS COLLEGE | 7,29,9,28,31,56,39,50,55, | 304 | 33.80 |
| 33 | KINGSWOOD | 36,19,37,6,40,55,48,30,36 | 307 | 34.10 |
| 34 | ST CHARLES COLLEGE | 35,38,42,45,48,44,25,13,17 | 307 | 34.10 |
| 35 | DHS | 9,37,31,51,45,58,56,40,31 | 313 | 34.77 |
| 36 | GARSFONTEIN | 36,38,46,39,38,43,33,35,14 | 322 | 35.80 |
| 37 | ST DAVIDS INANDA | 18,12,26,48,58,29,31,45,63 | 330 | 36.70 |
| 38 | NORTHWOOD | 31,37,51,55,47,45,26,31,20, | 343 | 38.10 |
| 39 | QUEENS COLLEGE | 25,14,48,49,44,60,57,37,30, | 364 | 40.40 |
| 40 | DALE COLLEGE | 36,38,41,33,48,51,63,42,70, | 422 | 46.90 |
Check who has dominated school rugby in the past decade here: