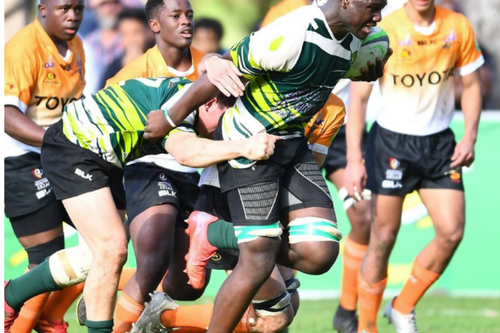 On the second day of the SA Rugby Under-18 Craven Week in Cape Town on Tuesday, attack prevailed over defence. Four exciting games kept spectators on the edge of their seats at Rondebosch Boys High School's Tinkie Heyns Field.
All four games featured entertaining rugby with plenty of tries scored as the teams tackled the return of this prestigious tournament after a two-year absence with a positive attitude and a will to entertain. The Pumas, Thepa Trading Motswako Griffons, SWD and Blue Bulls all recorded wins but had to work hard for their victories against the Limpopo Blue Bulls, Leopards, Free State and Golden Lions.
The Pumas opened the day with a solid 41-14 win over the Limpopo Blue Bulls, where a number runaway tries proved to be the difference between the two teams. The Lowvelders, who were not afraid to attack from all angles and where outside back Philasande Ntshapela posed a real threat, proved too quick and too clever for their Limpopo neighbours and ensured an emphatic victory, which set the scene for the teams to follow.
The Griffons came out of the starting blocks in a flash and built a 31-3 lead over the Leopards by the break. Their loose forwards were everywhere, making a wonderful connection between forwards and defenders and providing numerical advantages on offence to exploit.
In the second half, the Leopards had changed their defensive alignment and were now much more competitive and getting more possession. This allowed them to apply enough pressure and even outscore the Griffons in the second half, but after that first half there could only be one winner for the team from the Northern Free State. Free State led SWD 14-11 at the break, but then the team from the Southern Cape shifted gears and won at a canter (29-19). In the second half, the Southern Cape side took control of their game, and the Free State side found their set-piece play quickly slipping away. They were getting beaten in the scrums and their lineouts were not working enough to create momentum. Running at every opportunity the SWD backs proved very difficult to stop. Every time they were awarded a kickable penalty they took the points, slotting four penalty goals that helped them get the win.
The Golden Lions and Blue Bulls match was war of attrition with the Blue Bulls ultimately clinching the win 38-19. Although it looked as if the Blue Bulls would destroy the Golden Lions challenge early with a brace of tries early in the match. However, the Lions recovered with two tries of their own by halftime.
Throwing everything they had at the Blue Bulls the Lions attacked in the early part of the second half which saw them score a try and shrink the lead to 24-19. The Blue Bulls appeared to lift their game for the final 15 minutes and took the advantage with hooker Hanro Venter claiming a hattrick of tries and flyhalf Heymans slotting six kicks at goal.
Scoring summary, day two:
Pumas 41 (31), Limpopo Blue Bulls 14 (14)
Pumas  – Tries: Ben-Frederik Jansen van Vuuren, Danny van Staden, Drikus Greeff, Grant de Jager, Philasande Ntshapela, Francois Odendaal . Conversions: Hardus Visser (4). Penalty goal: Visser.
Limpopo – Tries: HJ Janse van Rensburg, Philippus Ludick. Conversions: Tristan Brits (2).
Thepa Trading Motswako Griffons 38 (31), Leopards 15 (3)
Griffons – Tries: Wian Fourie, Fano Linde, Julian Samuels, Curt Smith, Tiaan Malan, Jayleigh Arends. Conversions: Curt Smith (4).
Leopards – Tries: Jaden Fredericks, Dries Scheepers. Conversion: Grant Coetzee. Penalty goal: Coetzee
SWD 29 (11), Free State 19 (14)
SWD – Tries: Jamil Pretorius, Antonio Bruiners, Keith Syster. Conversion: John-Taylor Strydom.
Penalty goals: Strydom (2), Kobus Janse van Rensburg (2).
Free State – Tries: Lukas Meyer (2), Jermairon Ruiters. Conversions: Bradley Giddy (2).
Blue Bulls 38 (24), Golden Lions 19 (12)
Blue Bulls – Tries: Hanro Venter (3), Jayde Austin, De Wet Lottering. Conversions: Stehan Heymans (5). Penalty goal: Heymans.
Golden Lions – Try: Joel Leotlela (2), Sifiso Magwaza. Conversions: Tyler Sefoor (2).