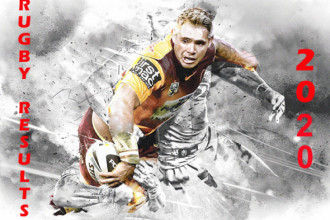 The school boy rugby results for this week for all the U14, U15, U16 and First XV's are here:
After a very busy weekend of high school boys rugby and some tough competition between the sports teams from schools across South Africa, the updated results can be viewed below.
Please remember to continue to send through all your U14, U15, U16 and First Team results to [email protected] or Twitter on @SASCHOOLSPORTS or on Whatsapp at 076 202 5503 to ensure they are included and published on time and to keep the rankings tables accurate. A big thank you to those already doing so.
---
 

Rugby Results for This Week: 7/03/2020

GAUTENG/

 
 
 
 
 

NOORDVAAL

 
 

V

 
 
 
 
 

V

 
 
 

AFFIES

27

v

17

HELPMEKAAR

 

ALBERTON HS

28

v

24

OVERKRUIN

 

BASTION

11

v

54

STANDERTON

 

BIRCHLEIGH

28

v

36

GEN HERTZOG

 

BRANDWAG

19

v

17

WAGPOS

 

DIE ANKER

27

v

14

POTCH GIM

 

FLORIDA

36

v

22

FLORIDA

 

HANS MOORE

25

v

19

HOOGENHOUT

 

JEUGLAND

19

v

54

RUSTENBURG

 

LEEUWENHOF

40

v

14

RIEBEEKRAND

 

MARAIS VILJOEN

41

v

14

HEIDELBERG VOLKIES

 

MIDSTREAM COLLEGE

21

v

14

CORNWALL HILL

 

MONTANA

59

v

3

OOSTERLIG

 

NOORDHUEWEL

36

v

12

POTCH VOLKIES

 

OOS MOOT

30

v

12

LICHTENBURG

 

RANDPARK

31

v

5

BENONI

 

SUTHERLAND

52

v

0

HTS TUINE

 

WATERKLOOF

28

v

15

TRANSVALIA

 

WESVALIA

18

v

8

HUGENOTE

 

WONDERBOOM

22

v

10

HARTBEESPOORT

 

ZWARTKOP

25

v

22

MIDDELBURG HS

 
 
 

v

 
 

E CAPE

 
 
 
 
 
 
 
 

v

 
 
 

CAMBRIDGE HS

29

v

7

DE VOS MALAN

 

DESPATCH

29

v

15

WINTERBERG

 

DF MALHERBE

14

v

10

WOODRIDGE

 

GRAEME COLLEGE

64

v

7

DANIEL PIENAAR

 

HANGKLIP

50

v

0

BEACONHURST

 

HUDSON PARK

15

v

17

SELBORNE COLLEGE

 

MARLOW

22

v

3

JACOBSDAL LANDBOU

 

NICO MALAN

26

v

17

ST ANDREWS COLLEGE

 

OTTO DU PLESSIS

43

v

5

ZONDELELO

 

OTTO DU PLESSIS

16

v

5

NEWTON TECH

 

QUEENS COLLEGE

33

v

0

STIRLING

 

STIRLING

0

v

33

QUEENS COLLEGE

 

UNION HS

19

v

12

HUMANSDORP SEC

 

UNION HS

17

v

19

DF MALHERBE

 
 
 

v

 
 
 
 
 

v

 
 

KZN

 
 
 
 
 
 

CLIFTON

7

v

49

MICHAELHOUSE

 

KEARSNEY COLLEGE

24

v

24

NORTHWOOD

 

PIONIER

25

v

5

FERRUM

 
 
 

v

 
 
 
 
 

v

 
 
 
 
 

v

 
 
 
 
 

v

 
 
 
 
 

v

 
 

FREE STATE

 
 

v

 
 
 

GREY COLLEGE

69

v

33

WELKOM GIM

 

HTS SASOLBURG

17

v

7

HTS WITBANK

 

JIM FOUCHE

33

v

34

NOORD KAAP

 

LOUIS BOTHA

24

V

20

DUINEVELD

 

SASOLBURG

36

v

22

FLORIDA

 

SENTRAAL

3

v

60

DIAMANTVELD

 

UPINGTON

57

v

19

KLERKSDORP

 

VEREEINIGING GIM

24

v

12

BERGSIG

 
 
 

v

 
 

W CAPE

 
 

v

 
 
 

OUTENIQUA

38

v

5

DIE BRANDWAG

 
 
 

v

 
 
 
 
 

v

 
 
 
 
 

v

 
 
 
 
 

v

 
 
 
 
 

v

 
 
 
 
 

v

 
 
 
 
 

v

 
 
 
 
 

v

 
 
 
 
 

v

 
 
 
 
 

v

 
 
 
 
 

v

 
 
 
 
 

v

 
 
 
 
 

v

 
 
 
 
 

v

 
 
 
 
 

v

 
 
 
 
 

v

 
 

LIMPOPO

 
 

v

 
 
 

BEN VILJOEN

18

v

14

HTS WITBANK

 

PIETERSBURG

7

v

45

BEN VORSTER

 
 
 

v

 
 
 
 
 

v

 
 
 
 
 

v

 
 
 
 
 

v

 
 

NORTH WEST

 
 
 
 
 
 

KLERKSDORP

46

v

3

UPINGTON

 

VRYBURG

21

v

16

FOCHVILLE

 

VRYBURG

40

v

3

WOLMARANSTAD

 
 
 

v

 
 
 
 
 

v

 
 
 
 
 

v

 
 

MPUMA

 
 
 
 
 
 

HTS MIDDELBURG

74

v

7

ELDORAIGNE

 

SECUNDA

27

v

24

LINDEN

 

WITTEBERG

20

v

12

ELLISRAS

 
 
 

v

 
 
 
 
 

v

 
 
 
 
 

v

 
 
 
 
 

v

 
 
 
 
 

v

 
 
 
 
 

v

 
 
 
 
 

v

 
 

NOORD KAAP

 
 

v

 
 
 

NOORD KAAP

34

v

33

JIM FOURIE

 
 
 

v

 
 
 
 
 

v

 
 
 
 
 

v

 
 

U16A

 
 
 
 
 
 
 
 
v
 
 
 
AFFIES
20
v
10
HELPMEKAAR
 
BASTION
14
v
16
STANDERTON
 
BRITS
27
v
12
RANDBURG
 
CAMBRIDGE HS
13
v
12
PORT REX
 
CAMBRIDGE HS
12
v
31
DALE COLLEGE
 
CLIFTON
0
v
50
MICHAELHOUSE
 
DIAMANTVELD
22
v
10
SENTRAAL
 
DIE ANKER
51
v
0
POTCH GIM
 
GRAEME COLLEGE
25
 
34
DANIEL PIENAAR
 
GREY COLLEGE
50
V
0
WELKOM GIM
 
HANS MOORE
10
v
7
HOOGENHOUT
 
HTS MIDDELBURG
57
v
12
ELDORAIGNE
 
HTS MIDDELBURG
57
v
12
ELDORAIGNE
 
HUDSON PARK
63
v
0
WINTERBERG
 
JEUGLAND
0
v
48
RUSTENBURG
 
KEARSNEY COLLEGE
14
v
19
NORTHWOOD
 
KLERKSDORP
53
v
3
UPINGTON
 
LEEUWENHOF
66
v
0
RIEBEECKRAND
 
MARAIS VILJOEN
53
v
0
HEIDELBERG VOLKIES
 
MARLOW
63
 
5
JACOBSDAL LANDBOU
 
MIDSTREAM COLLEGE
10
v
5
CORNWALL HILL
 
NICO MALAN
17
V
19
ST ANDREWS COLLEGE
 
NOORD KAAP
27
v
35
SENTRAAL
 
NOORDHUEWEL
45
v
8
POTCH VOLKIES
 
OOS MOOT
49
v
17
LICHTENBURG
 
OTTO DU PLESSIS
5
v
10
VICTORIA PARK
 
OUTENIQUA
19
v
21
DIE BRANDWAG
 
OVERVAAL
65
v
0
BEKKER
 
PIET RETIEF
92
v
19
VOLKSRUST
 
PIONIER
31
v
24
FERRUM
 
RANDPARK
12
v
28
BENONI
 
SASOLBURG
19
v
35
FLORIDA
 
SECUNDA
15
v
17
HUGENOTE
 
SECUNDA
40
v
7
HARTBEESPOORT
 
SECUNDA
24
v
0
LINDEN
 
STIRLING
7
V
7
GRENS
 
STIRLING
0
V
14
QUEENS COLLEGE
 
SUTHERLAND
34
v
5
HTS TUINE
 
VRYBURG
31
v
29
WOLMARANSTAD
 
WATERKLOOF
38
v
12
TRANSVALIA
 
WESVALIA
20
v
5
HUGENOTE
 
WITTEBERG
20
V
12
ELLISRAS
 
ZWARTKOP
45
v
14
MIDDELBURG HS
 
 
 
v
 
 

U15A

 
 
 
 
 
 
 
 
v
 
 
 
AFFIES
40
v
0
HELPMEKAAR
 
BEKKER
27
v
7
OVERVAAL
 
CAMBRIDGE HS
32
v
12
GRENS
 
CAMBRIDGE HS
53
v
0
BEACONHURST
 
CBC BOKSBURG
27
v
21
SPRINGS
 
DIAMANTVELD
42
v
0
SENTRAAL
 
DIE ANKER
50
v
7
POTCH GIM
 
DR MALAN
50
v
0
DRIEHOEK
 
DUINEVELD
35
v
0
LOUIS BOTHA
 
FICHARDTPARK
43
v
5
GOUDVELD
 
GRAEME COLLEGE
24
v
19
DANIEL PIENAAR
 
GREY COLLEGE
50
v
5
WELKOM GIM
 
HANS MOORE
32
v
5
HOOGENHOUT
 
HTS MIDDELBURG
45
v
7
ELDORAIGNE
 
HUDSON PARK
27
v
8
DALE COLLEGE
 
JEUGLAND
25
v
14
RUSTENBURG
 
LEEUWENHOF
55
v
5
RIEBEECKRAND
 
MARAIS VILJOEN
24
v
28
HEIDELBERG VOLKIES
 
MARLOW
54
V
8
JACOBSDAL LANDBOU
 
MIDSTREAM COLLEGE
14
v
10
CORNWALL HILL
 
NOORD KAAP
19
v
17
SENTRAAL
 
NOORDHUEWEL
43
v
0
POTCH VOLKIES
 
NORTHWOOD
17
v
10
KEARSNEY COLLEGE
 
OOS MOOT
24
v
0
LICHTENBURG
 
OTTO DU PLESSIS
83
v
0
ZONDELELO
 
OTTO DU PLESSIS
54
v
0
GILL COLLEGE
 
OUTENIQUA
81
v
0
DIE BRANDWAG
 
PIET RETIEF
43
v
12
VOLKSRUST
 
PIONIER
14
v
5
FERRUM
 
RANDPARK
10
v
0
BENONI
 
SASOLBURG
0
v
46
FLORIDA
 
ST ANDREWS COLLEGE
14
v
19
NICO MALAN
 
STELLENBERG
50
v
0
FAIRMONT
 
STIRLING
19
V
10
LILYFONTEIN
 
STIRLING
0
V
41
QUEENS COLLEGE
 
SUTHERLAND
46
v
0
HTS TUINE
 
TUINE
17
v
10
JAN VILJOEN
 
VRYBURG
17
v
32
WOLMARANSTAD
 
WATERKLOOF
7
 
13
TRANSVALIA
 
WITTEBERG
15
 
10
ELLISRAS
 
WORCESTER GIM
42
 
0
BRACKENFELL
 
ZWARTKOP
3
v
45
MIDDELBURG HS
 
 
 
v
 
 

U14A

 
 
 
 
 
 
 
 
v
 
 
 
AFFIES
29
v
0
HELPMEKAAR
 
BRITS
3
v
32
RANDBURG
 
CAMBRIDGE HS
5
 
20
STIRLING
 
CLIFTON
0
v
46
MICHAELHOUSE
 
DIAMANTVELD
22
v
12
SENTRAAL
 
DIE ANKER
24
v
5
POTCH GIM
 
GRAEME COLLEGE
12
V
36
DANIEL PIENAAR
 
GREY COLLEGE
72
v
0
WELKOM GIM
 
HANS MOORE
47
v
0
HOOGENHOUT
 
HTS MIDDELBURG
74
v
0
ELDORAIGNE
 
HUDSON PARK
24
v
12
DALE COLLEGE
 
HUDSON PARK
34
v
10
CAMBRIDGE
 
JEUGLAND
12
v
15
RUSTENBURG
 
KEARSNEY COLLEGE
5
v
29
NORTHWOOD
 
LEEUWENHOF
0
v
70
RIEBEECKRAND
 
MARAIS VILJOEN
43
v
7
HEIDELBERG VOLKIES
 
MARLOW
22
 
10
JACOBSDAL LANDBOU
 
MIDSTREAM COLLEGE
30
v
10
CORNWALL HILL
 
NOORD KAAP
35
v
15
SENTRAAL
 
NOORDHUEWEL
31
v
0
POTCH VOLKIES
 
OOS MOOT
12
v
26
LICHTENBURG
 
OTTO DU PLESSIS
5
v
5
VOLKSKOOL
 
OUTENIQUA
29
v
14
DIE BRANDWAG
 
PIET RETIEF
55
v
0
VOLKSRUST
 
RANDPARK
10
v
5
BENONI
 
SASOLBURG
19
v
25
FLORIDA
 
ST ANDREWS COLLEGE
26
v
29
NICO MALAN
 
STIRLING
58
V
0
PORT REX
 
TRANSVALIA
21
v
27
WATERKLOOF
 
TUINE
59
v
0
JAN VILJOEN
 
WATERKLOOF
27
v
21
TUINE
 
WITTEBERG
17
 
19
ELLISRAS
 
WONDERBOOM
5
v
55
HARTBEESPOORT
 
WORCESTER GIM
64
 
0
BRACKENFELL
 
ZWARTKOP
32
v
5
MIDDELBURG HS