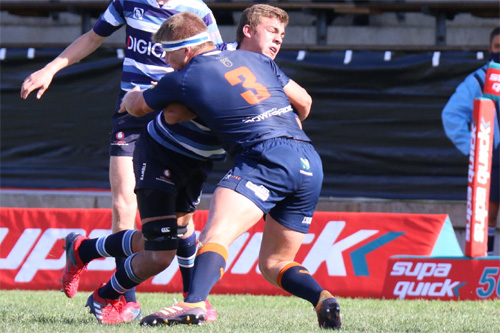 "They taught us a rugby lesson." That was how Boishaai coach Peter Engledow summed up his team's 37-3 loss to Grey College this past Saturday.
Only the Grey faithful would have expected Grey College to bounce back from their lacklustre performance a week earlier to dominate so completely one of the country's top school rugby teams.
Yet this is what the Bloemfonteiners did. As if by magic gone were all problems in the scrum, with prop Juann Else, who is built like a Russian vending machine, causing havoc in the front row for Boishaai who seemed to struggle to match the challenge.
Led by Captain Nelius Volschenk, who was faster than a buttered bullet at the break down, Grey College recycled the ball brilliantly to keep Boishaai retreating.
The win by Grey was greeted with pride by their Coach, Jannie Geldenhuys who was delighted with the type of rugby his charge played. "We eliminated a lot of the mistakes and the boys were really physical against Boishaai. They showed up for the game," he said.
With the score at 16-0 at halftime, Grey was in command which paved the way for their No.10 Jean Smith and his formidable backline free reign as they punched holes in the Boishaai defence which at times resembled the back wall of the shooting range.
On their last outing against EG Jansen, Grey College lost the services of two players who were yellow carded but this time their discipline was much improved.
"The password was to be patient," said Geldenhuys. "Also that we should look at our disciple so that we do not concede penalties."
With a more discipline approach, coupled with great defence which snuffed out most of Boishaai's backline attempts the victory was secured which has sent a warning message that the Grey College train is back on track and will be hard to stop.