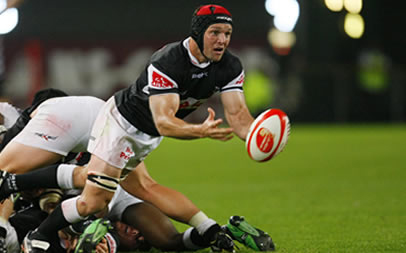 One of Potchefstroom Gim's favourite sons is returning to school after playing professional rugby for the past 20 years.
Jacques Botes who became a permanent fixture for the Sharks between 2005-2014 and managed to amass close on 300 Currie Cup and Super Rugby matches as a professional rugby player has decided to go back to where it all started for him. During that extended stay with the Sharks he became the first player to appear in 150 Currie Cup matches and increased that record to 156 matches before he retired.
With that kind of experience and pedigree Potch Gim has welcomed back Botes as the school's Director of Sport, the school where Jacques Botes started his rugby journey some 23 years ago.
The uphill struggle caused by COVID-19, that faces school sports directors all over the country, has not been lost on Botes who acknowledges that the road ahead is going to be tough.
"Children need to be encouraged to have an active lifestyle. You get tired of just exercising. So, the challenge is to get the kids active again and to make them play competitively. Take rugby, if a child does not play for almost two years, it becomes a case of out of sight, out of heart," says Jacque Botes.
It is an observation that many in school sport are worried about. How does a rugby player for example who last played rugby in primary school as an U13 player, suddenly play at the High school level at an U15 or U16 standard?
As Jacques says, "there is a big difference between primary school and high school. A 10 year old boy who has not been able to play rugby for two years now is missing an important phase of his skill development. The onus will rest on us to try and catch up with the backlog when we return to a degree of normalcy."
As Director of Sport, Jacque Botes will bring to Potch Gim loads of experience that he has gained as a professional athlete. Never one to give less than 100% effort when he played against the best in the world, we can expect his natural enthusiasm to be instilled in the school's athletes as they  look to become a force to be reckoned with not only in the North West but across the country.