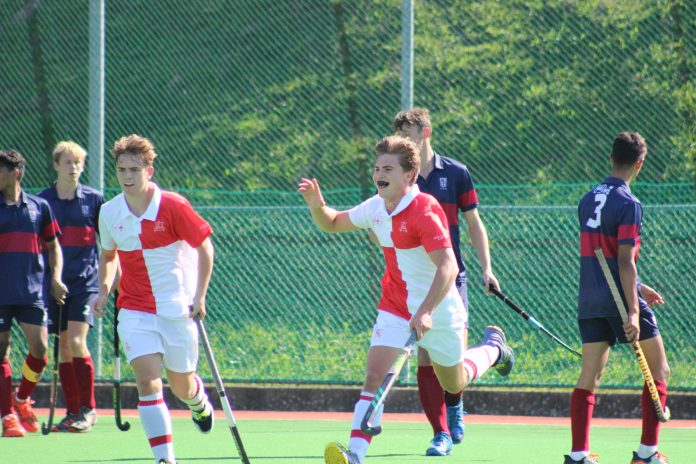 MICHAELHOUSE WINTER SPORTS ROUND UP
Michaelhouse squared up against Westville Boys' High for the 47th time on Saturday, where the host's recent hockey pedigree was evident on the scoreboard, winning three and drawing one of the open fixtures, including a thrilling win for Westville's first XI.
Michaelhouse exploded from the blocks in the first XI fixture with two fine goals from Josh White in the first quarter. The burly striker used his speed and power latch onto Ano Nzimande's cross for a fine deflection to open the account. The hosts turned the tide during the third quarter as the visitors weren't able to acclimatize themselves to the late morning heat and humidity; and two scrambled goals later, followed by a mediocre penalty corner flick, poorly dealt with by the boys in red and white, ensured that the boot was now firmly on the other foot for Westville. A frenzied final quarter of hockey with Michaelhouse's Nzimande producing some of his finest work of the season went unrewarded until a spear tackle on Nzimande offered a glimmer of hope for the equalizer. A series of four penalty corners awarded to Michaelhosue were thwarted by outstanding goalkeeping with three incredible saves ensuring Westville's win.
Much of the spoils went Westville's way in the U16 category too although House's B side managed a commanding 3-0 win with Westville's A team subjecting their opponents to the same score line as the firsts. The C and D sides dished up goal fests with a 4-4 C team result and a thumping 5-1 win for Westville's D side. Michaelhouse's U14A lads ground out a solid 1-1 draw, with the B side going down by a narrow margin and the C team evening things out in the age group with a 1-0 win.
Intensity was again the hallmark of the Michaelhouse brand of rugby and the Boys from Balgowan enjoyed another dominant day on the park winning 13 of the 17 scheduled fixtures. House's U14A and B lads endured a tough morning at the office against physically more imposing opposition and went down 5-22 and 13-28 respectively. Their C and D team contemporaries wreaked revenge though with 50-7 and 43-5 wins. Michaelhouse's Grade 9 boys took total control of the U15 age group winning all four fixtures with the A side going down early before responding and then doggedly defending a narrow lead for the remainder of the clash for their 13-8 win. House's U16D boys came unstuck, but the C and B sides enjoyed comprehensive 58-0 and 51-7 wins. Coach Ryan Strudwick's A team hammered out their second reversal of U14 losses in as many weekends, cruising to a 28-7 win.
House's sixth XV were the only open side not to pick up a win ahead of the main event, and Westville's seconds looked to make a strong statement in their first home match in well over two years. Some good decisions, a dash of good fortune, and a lot of conditioning saw Michaelhouse eventually swinging a ding-dong second XV battle, which saw the scores repeatedly leveled, in their favour with a full-time score of 29-21.
In a total contradiction of rugby logic Westville's first XV were able to defend their way into a 10-0 half time advantage. Michaelhouse controlled the possession and territory stakes, but organised and determined defense frustrated their precision at key points in the counter. The host's patience was rewarded when they were able to pounce on an opportunity presented by turnover ball to score against the run of play. The penalty which followed shortly afterward ensured the midway lead. In what has become characteristic form, Michaelhouse exploded onto the pitch after the interval with two quick fire tries by Ayabonga Zakwe (centre) and Jason Morby-Smith (flank) to square things up for a tense final quarter. Flashes of individual brilliance followed, but more dogged defense prevented a repeat of the previous week's second half comeback. Another chance was dished up for Westville which they accepted with open arms to dot down for the late decider. The full time whistle brought the curtain down on a belting performance of schoolboy rugby, and Westville's 17-10 win went down in the record books as their seventeeth against Michaelhouse.
Written by:Murray Witherspoon – Head of Marketing at Michaelhouse
Photo Credits: Grant von Mayer