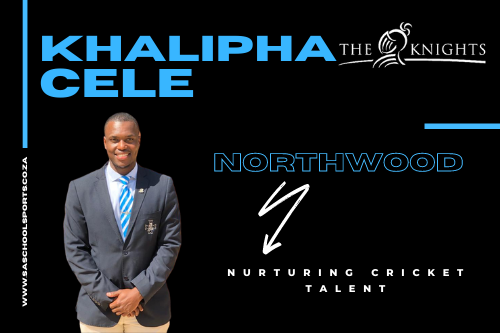 When he was just six years old a diminutive Khalipha Cele attended a Baker's Mini Cricket coaching event where he along with hundreds of youngsters were exposed to the sport of cricket armed with a plastic cricket bat, a tennis ball and loads of energy. At the end of that coaching session the coach, Ben Malamba, wrote a report on the Grade 1 Khalipha where he summed him up: "4/5 for ability and he hits the ball really well."
With that first introduction to cricket, Khalipha's young career as a cricketer blossomed. He would soon find himself playing hardball cricket in Grade 3, getting selected for the KZN U13 team, playing for the Northwood First XI, fulfilling a dream when he was chosen for the SA Schools and SA U19 teams and going along to captain the KwaZulu-Natal professional side for two years which included winning the national 3-day competition.
I only wore my KZN U13 Shirt
However, this was no fairy-tale cricketing career where everything just fell into place.  "When I made the KZN U13 side I was living in Port Shepstone, things were not easy for us as a family. I knew that if I was going to get noticed in cricket I had to move to a cricketing school, and so I decided on Northwood High School," Khalipha recalls.
As far as cricketing schools go Cele couldn't have made a better choice.  Northwood can boast among their cricketing alumni the legendary South African all-rounder Shaun Pollock, England Test players Robin and Chris Smith, SA Player of the Year (1987) Brian Whitfield and current Protea's player Keshav Maharaj as schoolboys who honed their skills at the school. However, arriving at one of South Africa's premier cricketing schools was not the most comfortable experience for the 13-year-old Khalipha Cele.
"When I first came here, I felt alone. I arrived 2 weeks' late, so not a great introduction to boarding school and on top of that I didn't have a school uniform. All I wore for the first two weeks was my KZN U13 cricket shirt and my shorts. That is all I had; I couldn't wash them so you can imagine I must have smelt a bit. The only way I made friends was through cricket. I wanted to go home many times but Mr. Mark Rich who was a teacher here kept telling me 'Hang tight, this is the best decision you can make to come here' and he was right" Khalipha recalls with a smile.
My Passion is in coaching
Yet the big move to Northwood would prove to be lifechanging for Cele who soon established himself as one of the leading cricketers in the province as he worked his way through the age groups culminating in his selection for the SA Schools team and a First-Class Career with KwaZulu-Natal after school.
Khalipha retired from professional cricket in 2019 but he had long known that his future lay in coaching cricket, so as a qualified teacher he found himself back at his Alma Mata where he transformed the Northwood U14's in 2021. He is currently the First XI coach and  the CSA TAP lead in KZN.
"It was while I was playing club cricket in England that the desire to coach cricket bit me. Part of my contract in England was to coach the men's senior team, the woman's team, and the youngsters from the age of six years and upwards. So, I started to realise that this is where my passion lies and something I would like to do after my playing days ended," says Cele.
For Northwood, having a former first-class player and KZN captain to be the coach and mentor for their U14 A team and now their First XI is a windfall. Not only does Khalipha bring years of experience of playing at a high level, but he has also been a pupil at the school and can relate to its ethos and the challenges the schoolboys face as well.
"Coaching the U14 A's (and now the First XI) is a big part of my life. For me it does not have so much to do with how many games the side wins. With cricket you can play a great game but still lose. So, my coaching style is more about changing lives. I know what it is like to really want to play but not have the kit for example. So, if a guy doesn't have pads for and I have a pair at home, I will give it to him. I guess that is why I am so emotional towards the kids because I always want them not to have to experience what I went through in the beginning, because those early days still haunt me. For me the most rewarding aspect of being a coach is when boys bump into you in the corridor and say, 'Sir thanks for the encouragement you gave me after the game' that is priceless for me."
It was hard work to get the U14's to where they are today
Khalipha's passion for coaching the Northwood U14 A side can be seen in the sides huge success that they have attained during 2021. Currently enjoying a win ratio of 78% they have managed to claim the scalps of some big names including Westville, Glenwood, Paul Roos Gym and DHS along the way. Through hard work Cele has been able to form the nucleus of a team that could well go on to dominate school cricket in the years to come.
Khalipha recalls however that it wasn't so easy to get the team to where they are today. "I was told by the then Director of Cricket, Divan van Wyk, that we had a very indifferent U14 A intake, with a mix of some good players and some not so good. So, I say 'yeah I'll take them'. It has been a lot of work. Many people see the team now and say they can't wait to see them in Matric, but if you had seen them when they arrived most wouldn't believe it. It's like chalk and cheese! Along with our MIC Alex van der Merwe and Sandile Caluza who has been crucial in the boy's development, we have been able to change this team to what we have now, and I'm really excited about them."
Play for the next guy
In Khalipha Cele, Northwood have been able to procure a coach who provides the perfect balance between the classroom and the cricket field. In addition, he is clearly loyal to the school that was instrumental in helping him on his path to cricketing success and he is eager to instil the values he has learnt with his young charges.
"For me one of the key values I want the players to learn is accountability. I want them to learn to play for the next guy. At the U14 level you will find that the talent is still raw and maybe one or two players will carry the team, but in our team, we try to spread that out so that all are sharing in the success. I also want the players to be honest with me. If we need a bowler to bowl the 50th over but he feels that he is not up to it, I want him to tell me 'Sir I'm not comfortable with that'. I've learnt with honesty and accountability in a team everything works better. We have a player for example who is not necessarily the most talented, sometimes bats at 11 and gets some runs, next game gets a duck, but this kid is the first to clean up after the team, first to volunteer to give other players throw downs, first to encourage and congratulate the other players. And he is the first guy that I am going to back because it's not about him, he is looking out for his team."
 Northwood has been regarded as a leading cricketing school in KwaZulu-Natal and South Africa for years. They have produced several current cricketers who are playing professionally for various teams around the country. Yet there is a feeling that in the past few years the school has started to make even bigger strides in school cricket. Khalipha puts it down to the good coaching structures that have been put in place at Northwood.
"In the last 5 years Northwood has been going north! We are on the up. Our headmaster Mr. Viljoen is an ex-cricketer, and he is very involved, he understands the game and he knows a good coach when he sees one. We had a very good Director of Cricket in Divan van Wyk and now we have Mr. Nantie Hayward as the Director, and all our A and B teams coaches are very good. So that is one area where the school has invested heavily which has helped us to make the progress we have."
Recently appointed as Cricket South Africa's TAP lead talent scout in KZN, Khalipha Cele is determined to ensure that as many talented cricketers as possible are given the opportunity to pursue their dream of playing professionally. Working with the various cricket directors and First Team coaches across the province his remit is to identify players who can firstly represent the province and SA U19 and to ensure there is a steady flow of high calibre players coming out of the KZN schools.
"My roles are also to ensure that nobody is lost in the system. I remember a player from Northwood Tshepho Moreki, he now plays for the Cape Cobras, but when he was at Northwood he was nowhere until Matric. He started as a spinner and played for the C teams most of his time at school. Suddenly in Matric he changes to a fast bowler, gets into the Northwood first team and now he is a professional cricketer. So hopefully it is players like that that I will be able to identify and ensure they don't fall through the cracks."
It has often been said that a good coach improves your game, but a great coach improves your life. Khalipha Cele seems driven to be not just an average coach or even a good coach, but to be the kind of coach that old men reflect on in years to come, nod and fondly say "Coach Cele was a great coach. He changed my life."