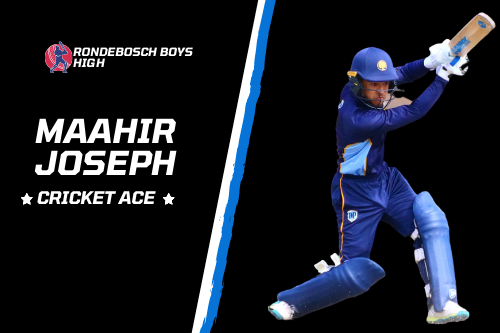 The Protea's run machine Gary Kirsten, along with Protea's batters HD Ackerman, Zubayr Hamza and England's Jonathan Trott all have one thing in common. They all refined their cricketing talent on fields of Rondebosch Boy's High School.
Since its establishment in 1897 Rondebosch has produced an ever-growing list of international and provincial cricketers and they are firmly placed as one of the leading cricketing schools in South Africa.
Maahir Joseph is one name that could soon be added to that list and has become one of the most prolific run getters in school cricket and an exciting prospect for the future.
Starting out his cricketing journey playing mini-cricket at club level, the young Maahir was drawn to the sport from an early age encouraged in those formative years by his devoted late grandfather who coached him relentlessly after school.
Rondebosch has an outstanding Cricket programme
When the time came to choose which high school to attend, cricket was very much a consideration and Rondebosch his school of choice.
"RBHS is a school that is renowned for its strong academics, discipline and prestige in the different sporting codes, so I chose it for its holistic offerings. I was also drawn to the school for its outstanding cricket programme and the legends of the game that it has produced. This inspired me to join the school and I am very pleased to be part of the RBHS family," says Maahir.
Maahir was soon proving that he possessed not only the skill but also the mental toughness to play cricket at a high level. He looks back with fondness to his most exciting moment on a cricket field when as a 14-year-old, playing for the Rondebosch U15 A team during their tour of Gqeberha and participating in the Grey High School Festival.
"The pitch was green. The sky was overcast. The ball was swinging around corners and my nerves were in tatters. I needed to get my head in a good mental space, and I battled through this tough period. The team only scored 178 runs, but I top scored with 64. Those were the toughest runs that I have ever had to score in very trying conditions. But it didn't stop there. Grey High were getting close to winning the match, I was given the ball and took the last two wickets to give Rondebosch the triumph. That was a massive personal achievement for me and a real stand out moment that is etched into my memory," Maahir recalls fondly.
Enthusiasm to play cricket never died during COVID
Like cricketers all over the world, the COVID-19 pandemic has also been felt by Joseph and his team as for close on 20 months the sport was virtually brought to a standstill. Not being able to practise and prepare as a team had an impact but ever the optimist Maahir sees the silver lining.
"On the flip side, this forced me to train on my own and build my strength to be ready for when we would be called back to train. The enthusiasm to play never died. In fact, I think everyone was so excited to get back onto the field that there was more enthusiasm to get back onto the playing field!"
That enthusiasm is seen in the numbers that Joseph has been able to produce whilst in the RBHS First XI. In 2020 he was averaging 52 runs which he was able to match during the Cape Schools' Festival scoring 208 runs in his 4 innings with a strike rate of 105. He then went on to hammer 172 runs against Graeme College at this year's Noord-Suid T20 Tournament and has now scored more than 1000 runs this season.
Having won his first cap for the Rondebosch U19 A side at the tender age of 15 in 2019, he has already enjoyed a couple of seasons at the highest level of school cricket and is determined to use all his experience in the 2022 season.
"I have been privileged and I am grateful to have had the experience of participating in cricketing tournaments and festivals. I have also been selected for various school and provincial representative teams throughout my school journey. At school cricket level, I was capped at the age of 15 to play in the Rondebosch U19A side in 2019. I am currently still a proud member of this team. I was selected to represent Western Province Youth cricket in the U13, U15 and U19 tournaments from 2017. There is always room for improvement, but I am really pleased that I have been able to contribute to the team's success of late."
The secret to success is to remain grounded and humble
Playing for a team that is currently enjoying a win ratio of 90 % could cause some players to approach a match with a feeling of over-confidence. Not so with Maahir who attributes Rondebosch's remarkable success to the fact that they play each opponent on merit regardless of who they are.
Maahir says that "over-confidence can have a disruptive effect on the functioning of a team. I think part of the success and the great wins that the team has had is that there has been no room for over-confidence. We put in a lot of continued effort and commitment and remain grounded and humble. These are some of the secrets to success, not only in cricket but in life."
Determined to follow in the footsteps of the famous cricketers that have attended RBHS, Maahir has set his sights on continuing his cricketing career once his school career is complete.
"One of my goals is to play cricket for one of the leading tertiary institutions in the Western Cape and I am striving to be consistent in my training and practicing to potentially reach that level. Ultimately, I want cricket to take me above and beyond and abroad. If all goes well, I would like to play cricket as a professional and to get involved at the community cricket level to empower and skill other budding cricketers to reach their optimal level."
Whether or not Maahir Joseph is able to fulfil his potential and become one of Rondebosch's cricketing legends remains to be seen. Yet based on determination, natural skill, and an unparalleled work ethic it is clear he has all the building blocks in place to etch his name alongside Kirsten, Trott and Hamza.
Quietly confident that he will succeed in the sport of cricket, Maahir points to his favourite sports quote which underlines his humility and determination:
 "When you fail, say nothing. When you succeed, say less"