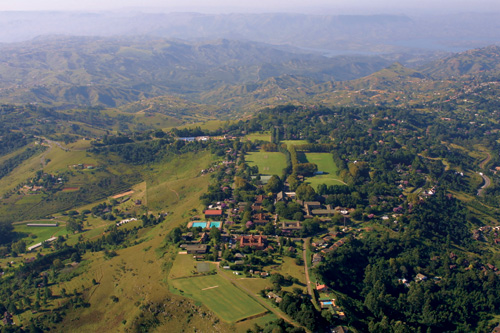 Founded in 1921 by Sir Liege Hulett at his family home on the KwaZulu-Natal north coast near Stanger, Kearsney College opened with 11 boarders and two day scholars. Eighteen years later the dangers of malaria initiated the move to the present site in Botha's Hill, on land donated by Clement Stott and JJ Crookes; and the new Kearsney College opened in 1939 with 78 boys and 10 staff.
Today, set on 125-acres on the edge of the Valley of a Thousand Hills, midway between Durban and Pietermaritzburg, Kearsney has over 640 boys and 130 staff.  It is recognised as one of the country's finest independent traditional boys' high schools and a leader in independent education.
"As the College moves confidently into its second century, we remain true to our founding ideals of being an extraordinary place of learning, empowering boys from all walks of life to achieve their full potential, and are passionately committed to producing young men of distinction," says Elwyn van den Aardweg, Kearsney's seventh headmaster.
"Our mission is to continue to produce outstanding men with enquiring minds and the knowledge, skills, values and character to succeed and contribute as ethical, responsible and capable citizens of South Africa and the world."
Kearsney values its unique history, traditions and heritage, balanced with its progressive and innovative approach to academic excellence, he said.
ACADEMICS
The school has an outstanding record of academic achievement in the IEB Matriculation Examinations, with a 100% pass rate for over a decade.  In last year's matric results, the average mark in five subjects, including Mathematics, was a distinction (80 percent and over); and over a quarter of Kearsney boys achieved five or more distinctions. Fifty-six percent of Maths and 52 percent of Science candidates achieved distinctions.
Kearsney's top priority is academics and the College has a long track record of academic excellence. Daily support classes, small class sizes, highly qualified and motivated staff, state-of-the-art technology in the classrooms and laboratories and a disciplined environment support the academic excellence programme, Van den Aardweg said.
In the wake of the rise of China as an economic powerhouse, Mandarin was introduced to the school's curriculum in 2006, further demonstrating the school's commitment to preparing boys for success in life.
SPORT
Kearsney believes that sports are an important part of a healthy lifestyle and a balanced education, and promotes a culture of fair play and respect. There are 14 sporting codes offered for the boys to enjoy.  
Kearsney has a proud track record of sporting excellence, consistently producing provincial and national sportsmen across the codes.  
 Its spacious campus boasts seven sports fields, a floodlit, water-based hockey Astroturf,six tennis courts, four squash courts and a mountain bike track through the conservancy.
 The world-class indoor SportZone has seven indoor cricket nets with four bowling machines, two basketball courts, an indoor hockey/soccer pitch, two swimming pools (one heated) and a 280 sq metre high performance weights gymnasium to complement the high-performance sports programme.
Boys on the high-performance programme have access to the expertise of a biokineticist, strength and conditioning coach, dietician, physiotherapists, sports psychologist, a gym instructor and medical professionals.
 CULTURAL FOCUS
Kearsney's internationally-renowned choir, vibrant drama scene and excellent fine arts programme are complemented by a dynamic club and cultural programme.  [email protected] is an exciting annual programme designed to celebrate the arts and promote cultural appreciation amongst the youth of KwaZulu-Natal.
Kearsney's choir has on four occasions been crowned Champions at the World Choir Games (Olympics for Choirs). Since 2000 it has amassed an impressive tally of 15 gold medals, seven silvers and one bronze medal at this biannual global competition. The Kearsney College Choir was ranked 17th in the world by the international organisation Interkultur in 2019. 
Through its international exchange programme, Kearsney offers its boys the opportunity to learn first-hand about other cultures and customs and to gain new perspectives on South Africa and the world.  Each year several Grade 10 boys are privileged to spend an academic term overseas broadening their horizons.
Kearsney College can look back on its past 100 years with pride. With a solid foundation in place as one of the premier schools in South Africa, they will no doubt continue to grow leaders for the next 100 years.
by Sue Miles