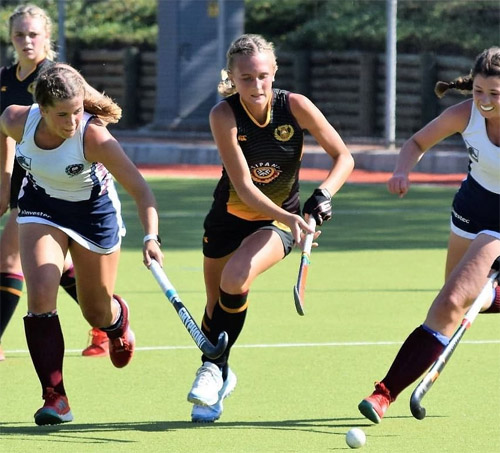 Herschel Girls continue their spectacular start to the 2021 season and close the gap on Oranje Meisies on this week's Girls School Hockey Rankings.
Facing a strong Bloemhof side, Herschel put together a clinical performance last week to record their third successive victory and move close to the premier position on the Girls School Hockey Rankings for first teams.
Collegiate and Paarl Gim move up a place with Clarendon moving into the top 5 zone on the table.
As more matches get played, we should notice some of the traditionally stronger teams gaining ground and can expect an ironing out of any current anomalies.
Please send your outstanding results to [email protected]
GIRL'S 1st HOCKEY RANKINGS 18 MAY, 2021

RANK

TEAM

PLAYED

AVG  BONUS PTS

1

ORANJE MEISIES

9

4.33

2

HERSCHEL

3

4.07

3

COLLEGIATE

6

3.62

4

PAARL GIM

6

3.35

5

CLARENDON

6

3.18

6

MENLOPARK

2

3.05

7

ST MARYS KLOOF

8

2.98

8

EUNICE

7

2.93

9

JIM FOUCHE

3

2.73

10

PAREL VALLEI

2

2.60

11

STELLENBERG

4

2.53

12

ST JOHNS DSG

3

2.50

13

TRANSVALIA

10

2.24

14

ST MARYS WAVERLEY

9

2.20

15

PEARSON

7

2.16

16

PIETERSBURG

10

2.08

17

PAARL GIRLS HIGH

3

2.07

18

BLOEMHOF

5

1.88

19

SPRINGFIELD

5

1.88

20

ST ANNES

3

1.77

21

VOORTREKKER BETH

6

1.75

22

HUDSON PARK

6

1.55

23

CURRO DURBANVILLE

7

1.54

24

CRAWFORD LA LUCIA

6

1.53

25

KINGSWOOD

2

1.45

26

DURBAN GC

3

1.43

27

FAIRMONT

3

1.37

28

LADY FATIMA

2

1.35

29

CAMBRIDGE

7

1.11

30

WITTEBERG

5

1.08

31

CURRO HILLCREST

5

1.00

32

DANVILLE

2

1.00

33

WORCESTER GYM

3

1.00

34

HUGENOTE SPRINGS

2

0.90

35

THOMAS MORE

5

0.88

36

MONUMENT

4

0.60

37

STIRLING

4

0.58

38

SASOLBURG

12

0.53

39

DF MALAN

3

0.47

40

RHENISH

3

0.47

41

BRIDGEHOUSE

2

0.35

42

RUSTENBURG

2

0.20

43

FRAMESBY

2

0.20

44

STRAND

3

-0.10

45

POTCH VOLKSKOOL

4

-1.13