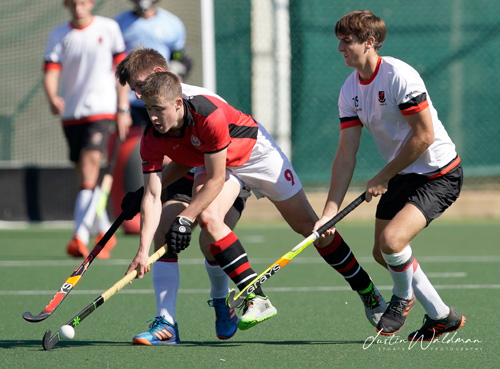 Jeppe have sprung into life with three successive victories to launch their 2021 challenge on the Boys School Hockey First Team Rankings.
However, we are still looking at Maritzburg College at the top of the rankings following their hard-fought for win over Clifton which keeps them unbeaten so far this season.
Jeppe are looking in good form recording some high scoring wins and it will be interesting to see how their season pans out.
Although still early in the season, the Boys School Hockey First Team Ranking table is very fluid and as more matches are played expect some gains being made by the stronger teams.
Please send through your results to [email protected] to ensure inclusion.
BOY'S 1sts HOCKEY RANKINGS 18/05/2021

Rank

TEAM

PLAYED

AVG  BONUS     PTS

1

MARITZBURG COLLEGE

7

3.91

2

JEPPE

3

3.90

3

KES

2

3.80

4

RONDEBOSCH

2

3.75

5

HILTON COLLEGE

9

3.60

6

SACS

7

3.36

7

GREY COLLEGE

4

3.30

8

GREY HIGH SCHOOL

5

3.18

9

 PAUL ROOS GYM

9

2.92

10

HUDSON PARK

3

2.90

11

ST STITHIANS

2

2.80

12

WESTVILLE BH

7

2.61

13

KEARSNEY COLLEGE

8

2.59

14

NORTHWOOD

8

2.54

15

CLIFTON

8

2.51

16

WYNBERG BH

8

2.36

17

SELBORNE COLLEGE

5

2.20

18

ST ANDREWS SCHOOL

3

2.07

19

AFFIES

2

1.90

20

GLENWOOD

9

1.81

21

JIM FOUCHE

3

1.80

22

ST DAVIDS

4

1.78

23

PAARL GIM

11

1.74

24

PEARSON

4

1.73

25

WITTEBERG

4

1.65

26

PAREL VALLEI

3

1.60

27

MICHAELHOUSE

6

1.60

28

FAIRMONT

2

1.55

29

PIETERSBURG

5

1.54

30

CURRO DURBANVILLE

7

1.47

31

REDDAM UMHLANGA

2

1.35

32

BRIDGEHOUSE

2

1.35

33

QUEENS COLLEGE

4

1.28

34

MENLOPARK

4

1.23

35

ST ANDREWS COLLEGE

3

1.20

36

CRAWFORD LA LUCIA

3

1.20

37

PAARL BOYS HIGH

7

1.16

38

CORNWALL HILL

2

1.10

39

ZWARTKOP

4

1.03

40

POTCHGIM

5

1.02

41

GARSFONTEIN

2

1.00

42

CURRO HILLCREST

4

1.00

43

DHS

6

0.92

44

EDGEMEAD

2

0.90

45

NORTHCLIFF

3

0.90

46

KINGSWOOD

2

0.90

47

STELLENBERG

3

0.90

48

WORCESTER GYM

8

0.88

49

LINDEN

5

0.84

50

BISHOPS

2

0.60

51

MILNERTON

3

0.57

52

ST CHARLES COLLEGE

9

0.48

53

MERRIFIELD

4

0.08

54

DALE COLLEGE

3

-0.07

55

HUGENOTE WELL

2

-0.10

56

DF MALAN

3

-0.70
CHECK OUT THE SCHOOL HOCKEY RESULTS FROM LAST WEEK
photo: Justin Waldman