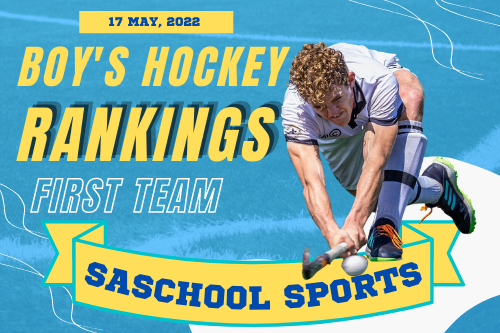 With only days to go before the qualification deadline for the U19 Top 12 School Tournament, Hilton College are firmly entrenched at the top of the rankings this week.
Hilton dealt with the challenge from Pretoria Boys High last week with a confident 4-2 victory and with only the one loss in the books look to have a firm grasp on the No.1 spot.
However, SACS are not far behind and will be determined to end 2022 as the leading team in the country.
Only the 12 top teams on the rankings by the 31st of May, 2022 gain an automatic invite to the Boys U19 Top 12 Tournament. For more detail check here.
Send your results to [email protected]
BOY'S 1sts HOCKEY RANKINGS 16 MAY, 2022

Rank

TEAM

PLAYED

AVG  BONUS     PTS

1

HILTON COLLEGE

15

3.93

2

SACS

16

3.83

3

RONDEBOSCH

9

3.74

4

BISHOPS

21

3.44

5

JEPPE

24

3.35

6

PRETORIA BOYS HIGH

21

3.18

7

PAARL GIM

15

3.17

8

GREY HIGH SCHOOL

20

3.11

9

 PAUL ROOS GYM

21

2.90

10

GREY COLLEGE

22

2.75

11

ST STITHIANS

24

2.70

12

ST JOHNS COLLEGE

18

2.67

13

PAARL BOYS HIGH

20

2.66

14

MARITZBURG COLLEGE

14

2.63

15

NORTHWOOD

19

2.62

16

ST ALBANS COLLEGE

14

2.58

17

SOMERSET COLLEGE

14

2.51

18

WESTVILLE BH

6

2.45

19

GARSFONTEIN

16

2.41

20

YORK HIGH

27

2.36

21

ST DAVIDS

12

2.33

22

PEARSON

27

2.28

23

KINGSWOOD

16

2.28

24

NOORDHEUWEL

12

2.25

25

CLIFTON

14

2.21

26

MENLOPARK

17

2.18

27

KEARSNEY COLLEGE

16

2.17

28

BEAULIEU COLLEGE

10

2.08

29

POTCHGIM

12

2.08

30

SASOLBURG

16

2.06

31

FAIRMONT

20

2.06

32

WYNBERG BH

11

1.96

33

SELBORNE COLLEGE

17

1.96

34

NELSPRUIT

13

1.95

35

CURRO DURBANVILLE

18

1.94

36

PAREL VALLEI

17

1.85

37

MICHAELHOUSE

10

1.84

38

TRIO

13

1.82

39

MONUMENT

34

1.79

40

AFFIES

22

1.79

41

DHS

10

1.79

42

ASHTON

8

1.79

43

ZWARTKOP

23

1.79

44

WORCESTER GYM

22

1.78

45

PIETERSBURG

16

1.78

46

CHARLIE HOFMEYR

9

1.71

47

OUTENIQUA

12

1.67

48

WATERKLOOF

17

1.65

49

DR MALAN

9

1.62

50

FOURWAYS

5

1.60

51

TRANSVALIA

13

1.59

52

KES

16

1.57

53

LINDEN

18

1.54

54

HTS DROSTDY

18

1.48

55

MERRIFIELD

6

1.47

56

BERGSIG

16

1.46

57

OUDTSHOORN

7

1.43

58

HUDSON PARK

11

1.42

59

NORTHCLIFF

7

1.41

60

ST DOMINICS

13

1.41

61

MIDDELBURG

9

1.34

62

CURRO AURORA

14

1.34

63

ST ANDREWS COLLEGE

12

1.33

64

MONTANA

15

1.33

65

BRYANSTON

14

1.29

66

BRACKENFELL

5

1.22

67

STIRLING

13

1.22

68

SETTLERS

4

1.18

69

OAKHILL

4

1.18

70

CORNWALL HILL

21

1.15

71

CURRO LANGEBAAN

11

1.13

72

HELPMEKAAR

18

1.12

73

DF MALAN

17

1.05

74

EDGEMEAD

9

1.02

75

DURBANVILLE

8

1.01

76

WATERSTONE

12

0.98

77

WATERSTONE

12

0.98

78

THOMAS MORE COLLEGE

8

0.95

79

CURRO HILLCREST

9

0.94

80

GLENWOOD

5

0.92

81

STELLENBERG

10

0.86

82

KRUGERSDORP

7

0.79

83

WITTEBERG

7

0.76

84

STELLENBOSCH

10

0.74

85

KEMPTON PARK

7

0.73

86

CAMBRIDGE

12

0.72

87

HUGENOTE WELL

9

0.64

88

QUEENS COLLEGE

17

0.53

89

MILNERTON

12

0.53

90

PINELANDS

11

0.52

91

ST BENEDICTS

10

0.49

92

PARKTOWN

19

0.46

93

ELDORAIGNE

15

0.31

94

ST CHARLES COLLEGE

10

0.26

95

DALE COLLEGE

8

0.23

96

LANGENHOVEN GIM

6

0.22

97

ST ANDREWS SCHOOL

11

-0.09

98

WESTERING

5

-0.12

99

CRAWFORD LONEHILL

5

-0.24

100

FRAMESBY

5

-0.50