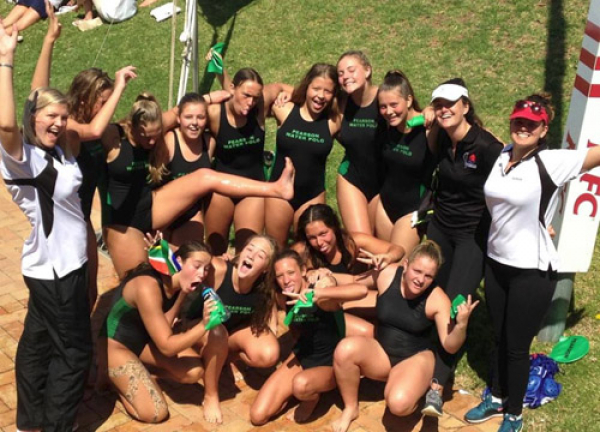 Pearson maintain a firm grip on this week's No.1 spot on the SA School Sports Water Polo Top 30 Rankings after a dominant display at the recent Co-Ed Tournament.
Facing a motivated Crawford Lonehill side in the final match, Pearson faced perhaps their biggest test of the tournament but at the end their class was enough to give them the title.
Pearson have certainly proved to be the team to beat in the 2018 season and save for a single narrow defeat have enjoyed more victories than any other team and they have underlined their dominance by beating their closest rivals Reddam and St Stithians during the year.
Please ensure your results are with us by sending them to [email protected]
GIRLS WATER POLO RANKINGS, 11 October, 2018

RANK

TEAM

PLAYED

AVG BONUS PTS

1

PEARSON

28

5.11

2

REDDAM

22

5.00

3

ST STITHIANS

47

4.99

4

DURBAN GC

28

4.27

5

ROEDEAN

40

3.98

6

ST DOMINICS

38

3.82

7

HERSCHEL

18

3.62

8

ST MARYS WAVERLEY

42

3.56

9

CRAWFORD

40

3.49

10

STIRLING

29

3.39

11

WESTERFORD

22

3.12

12

KINGSWOOD

26

2.96

13

ST PETERS

36

2.84

14

CLARENDON

19

2.38

15

THOMAS MORE

6

2.36

16

COLLEGIATE

22

2.31

17

ST ANNES

11

2.30

18

RANDPARK

34

2.25

19

FOURWAYS

18

2.12

20

DSG

22

1.97

21

GLENWOOD HOUSE

21

1.97

22

KINGSMEAD

28

1.72

23

RUSTENBURG

14

1.57

24

WYNBERG GH

16

1.55

25

ALEXANDER ROAD

22

1.41

26

PRETORIA GIRLS

27

1.19

27

DURBAN GHS

6

1.09

28

SOMERSET

15

0.85

29

HUDSON PARK

21

0.56

30

RHENISH

7

0.32

31

SPRINGFIELD

7

0.23