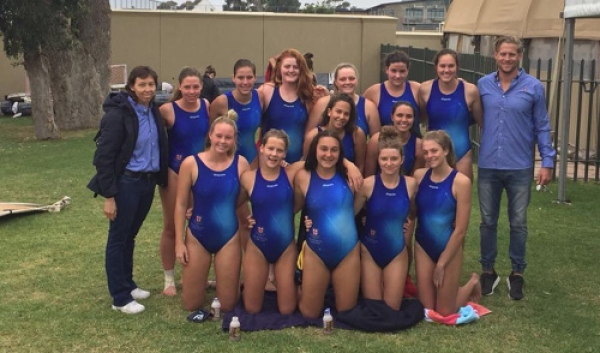 St Stithians became the first team from Gauteng to win the prestigious Reddam Tournament when they faced the hosts in the final which they won 7-5 in what goes down as one of the matches of the year.
The Saints team have had a terrific year winning nine gold medals out of 12 tournaments they have played together and deservedly head this week's SA School Sports Rankings. Thriving under the coaching of Pierre le Roux, St. Stithians have peeled off the victories and with a team filled with younger players who could well be occupying the top spot for 2018.
Stirling have also been in great form winning the Co-Ed Tournament where they were only really tested in the final against Pearson who failed to make good of the opportunity to lift the title.
Please ensure your outstanding results are sent to [email protected]
GIRLS WATER POLO RANKINGS 10 October, 2017

RANK

TEAM

PLAYED

AVG PTS

1

ST STITHIANS

46

5.33

2

PEARSON

25

4.49

3

STIRLING

29

4.46

4

REDDAM

22

4.20

5

CRAWFORD

50

4.09

6

DURBAN GC

21

3.81

7

ST MARYS WAVERLEY

37

3.77

8

DURBAN GHS

16

3.76

9

ST DOMINICS

43

3.44

10

HERSCHEL

24

3.39

11

ROEDEAN

40

3.27

12

ST PETERS

41

2.76

13

KINGSWOOD

17

2.74

14

CLARENDON

11

2.72

15

WESTERFORD

26

2.69

16

ST ANNES

16

2.68

17

ST MARYS KLOOF

17

2.60

18

BEAULIEU

15

2.35

19

DSG

32

2.18

20

GLENWOOD HOUSE

14

1.88

21

COLLEGIATE

18

1.81

22

RUSTENBURG

10

1.81

23

THOMAS MORE

18

1.68

24

RANDPARK

40

1.55

25

KINGSMEAD

30

1.52

26

SPRINGFIELD

18

1.49

27

FOURWAYS

18

1.41

28

PRETORIA GIRLS

33

1.32

29

WYNBERG GH

22

1.29

30

ALEXANDER ROAD

16

1.19

31

BLOEMHOF

8

1.09

32

HUDSON PARK

16

1.03

33

PMB GIRLS

9

0.56

34

RHENISH

10

0.12

35

WESTVILLE GH

8

0.09