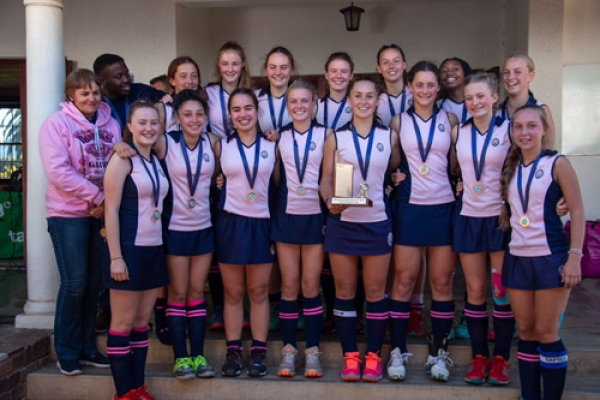 A frenetic scramble to get outstanding results in by the deadline of midnight 31st May, 2018 in order to qualify to get invited to Paarl Gym's inaugural U16 Top Schools Tournament has resulted in a closely contested top half of the table.
What a wonderful initiative it has been by Paarl Gym to host this upcoming tournament that will feature the leading 12 teams in the country in what promises to raise the level of school hockey even higher.
Herschel are currently the number one U16 Girls team in the country with a great record that must surely put them amongst the favourites to win the U16 Top Schools. Already winners of the Rustenburg U16 Tournament and the Bloemhof Tournament, could Herschel crown on their season with the Top Schools? Time will tell, however some teams have just started to peak and at the end of the day any team that gets the golden ticket to compete in the Top Schools Tournament will need little motivation to give of their best.
Many thanks to all the coaches, supporters and schools that have expressed their enthusiasm for the tournament and tirelessly sent through their results. The 12 teams that get invited will undoubtedly participate in one of this year's school sports highlights.
There is still plenty of hockey to be played in 2018 and we encourage you to please send through your results to [email protected]
GIRL'S U16 HOCKEY RANKINGS 31 May, 2018

RANK

TEAM

PLAYED

AVG BONUS PTS

1

HERSCHEL

23

4.33

2

ST MARYS KLOOF

12

4.03

3

COLLEGIATE

15

4.00

4

PAARL GIM

21

3.86

5

GARSFONTEIN

20

3.76

6

ST MARYS WAVERLEY

10

3.75

7

ST ANNES

14

3.71

8

ST JOHNS DSG

15

3.63

9

DSG

25

3.60

10

DURBAN GC

10

3.49

11

MENLOPARK

14

3.47

12

ORANJE MEISIES

11

3.46

13

WOODRIDGE

12

3.38

14

BLOEMHOF

26

3.36

15

PAREL VALLEI

16

3.33

16

EUNICE

18

3.24

17

PEARSON

11

3.22

18

RUSTENBURG

13

3.19

19

STELLENBERG

12

3.12

20

SOMERSET

15

2.99

21

RHENISH

24

2.98

22

HUDSON PARK

7

2.96

23

NELSPRUIT

7

2.90

24

PAARL GIRLS HIGH

23

2.75

25

CLARENDON

7

2.71

26

WATERKLOOF

11

2.58

27

GOUDVELD

8

2.45

28

SASOLBURG

10

2.40

29

SPRINGFIELD

17

2.33

30

DF MALAN

11

2.33

31

FAIRMONT

17

2.31

32

CRAWFORD LA LUCIA

11

2.24

33

CAMBRIDGE

13

2.04

34

WESTERFORD

13

1.95

35

STRAND

10

1.78

36

EPWORTH

7

1.24

37

AFFIES

11

1.21

38

HELPMEKAAR

13

1.12

39

WYNBERG GH

8

0.61

40

ROEDEAN

10

0.18