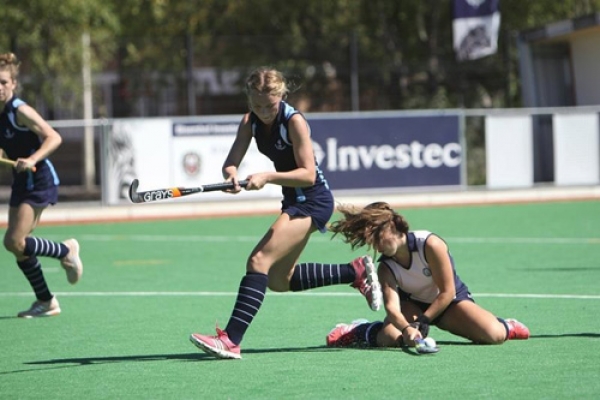 Herschel stamp their authority on the Girl's U16 Rankings with a classy performance at the Rustenburg Champions Cup during the past week and deservedly lay claim to the leading position for this week.
Playing a motivated Paarl Gym in the final match, Herschel was stretched to the limit as they defended their goal. When the opportunity came to strike Herschel did needing just a single chance to score and take the cup.
The good run by Paarl Gym has also paid dividends as they march up the table into the top 10 and with the form they displayed we can expect further improvement upwards.
There is a sudden surge amongst the U16 Teams who are vying to qualify for the U16 TOP SCHOOLS HOCKEY TOURNAMENT that will be hosted by Paarl Gym. Check out how your team can qualify for this prestigious tournament here: Click here to find out more.
GIRL'S U16 HOCKEY RANKINGS 3 MAY, 2018

RANK

TEAM

PLAYED

AVG PTS

1

HERSCHEL

17

4.54

2

COLLEGIATE

9

4.51

3

ST MARYS KLOOF

8

4.35

4

PAREL VALLEI

11

4.12

5

ST JOHNS DSG

8

4.11

6

GARSFONTEIN

15

3.93

7

PAARL GIM

18

3.78

8

MENLOPARK

10

3.78

9

ST ANNES

10

3.63

10

EUNICE

15

3.53

11

DSG

19

3.52

12

WOODRIDGE

9

3.36

13

RUSTENBURG

11

3.20

14

BLOEMHOF

21

3.17

15

SOMERSET

12

3.15

16

STELLENBERG

12

3.12

17

ORANJE MEISIES

9

3.09

18

PEARSON

9

3.04

19

RHENISH

19

2.99

20

WATERKLOOF

8

2.93

21

GOUDVELD

5

2.74

22

PAARL GIRLS HIGH

19

2.68

23

DF MALAN

9

2.61

24

FAIRMONT

13

2.58

25

HUDSON PARK

5

2.54

26

SASOLBURG

10

2.40

27

CRAWFORD LA LUCIA

6

2.37

28

SPRINGFIELD

16

2.21

29

WESTERFORD

11

2.11

30

STRAND

8

2.01

31

CAMBRIDGE

8

1.81

32

AFFIES

9

0.98

33

EPWORTH

5

0.88

34

WYNBERG GH

7

0.76

35

ROEDEAN

8

0.35