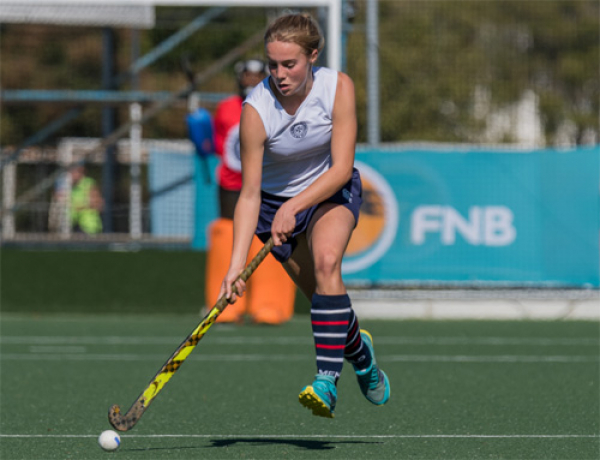 Perhaps the highlight of the U16 season was the introduction of the Paarl Gym U16 Top Schools Tournament for the first time and the huge success the event achieved which further enhanced the profile of the sport.
Herschel was the big casualties at the U16 Top Schools Tournament where they failed to bring their early season form to the event and struggled to show how good a side they are.
Herschel who had stamped their authority on the U16 Rankings after winning the Rustenburg Champions Cup suffered several defeats which results in a huge slide down the table although they hang on to a top 10 finish as it stands.
However it was Menlopark, who have been playing competitive hockey all through the season that hit the front and timed their run to the top to perfection. Clearly the form team at the Top Schools Tournament, Menlo went on to win the event and they take the top position by the narrowest of margins.
Oranje also profit from a good showing at the Top Schools Tournament and we look forward to seeing how they progress next year in the First team ranks.
With the season all but over please send through your U16 hockey results to [email protected]
GIRL'S U16 HOCKEY RANKINGS 30 AUGUST, 2018

RANK

TEAM

PLAYED

AVG BONUS PTS

1

MENLOPARK

23

4.02

2

ST MARYS KLOOF

13

4.01

3

ORANJE MEISIES

20

3.86

4

COLLEGIATE

27

3.66

5

DURBAN GC

18

3.64

6

ST ANNES

23

3.61

7

PAARL GIM

30

3.61

8

PEARSON

17

3.58

9

HERSCHEL

35

3.57

10

ST MARYS WAVERLEY

20

3.42

11

GARSFONTEIN

29

3.41

12

BLOEMHOF

32

3.33

13

DSG

33

3.29

14

SOMERSET

18

3.22

15

HUDSON PARK

10

3.21

16

ST JOHNS DSG

22

3.19

17

STELLENBERG

16

3.12

18

RHENISH

25

3.06

19

WOODRIDGE

21

2.98

20

PAARL GIRLS HIGH

27

2.96

21

NELSPRUIT

7

2.90

22

PAREL VALLEI

25

2.89

23

EUNICE

26

2.87

24

MIDDELBURG

22

2.76

25

RUSTENBURG

17

2.65

26

GOUDVELD

10

2.64

27

SASOLBURG

10

2.40

28

SPRINGFIELD

17

2.33

29

DF MALAN

11

2.33

30

WATERKLOOF

12

2.33

31

CLARENDON

11

2.29

32

DURBANVILLE

8

2.29

33

FAIRMONT

27

2.24

34

CRAWFORD LA LUCIA

11

2.24

35

CAMBRIDGE

20

2.16

36

WESTERFORD

15

1.86

37

STRAND

10

1.78

38

MONTANA PTA

26

1.61

39

STIRLING

8

1.54

40

CURRO DURBANVILLE

10

1.44

41

HELPMEKAAR

20

1.41

42

EPWORTH

7

1.24

43

AFFIES

11

1.21

44

WYNBERG GH

10

0.80

45

ROEDEAN

11

0.49