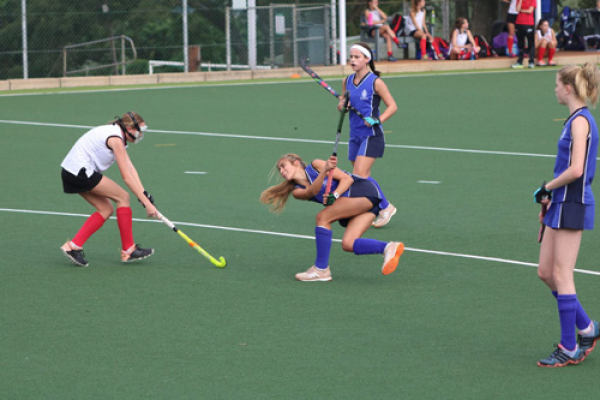 Collegiate put in a good performance in their match against DSG to boost them into the second position on this week's Girl's U16 Hockey Rankings.
Although St.Mary's Kloof also was victorious during the past week, the victory by Collegiate against a quality team was enough to edge them upwards and place some pressure on the current leaders Herschel.
Herschel will be happy with their form of late thanks to two good wins which keeps them just ahead of the chasing pack.
DSG are temporarily stunned with back to back defeats against Collegiate and Pearson which sees them tumbling out of the top 10 but they will be determined to bounce back and get amongst the leading group.
Please send through your U16 Girl's results to [email protected]
GIRL'S U16 HOCKEY RANKINGS 14 JUNE, 2018

RANK

TEAM

PLAYED

AVG BONUS PTS

1

HERSCHEL

25

4.32

2

COLLEGIATE

16

4.07

3

ST MARYS KLOOF

13

4.01

4

PAARL GIM

22

3.84

5

GARSFONTEIN

22

3.76

6

ST MARYS WAVERLEY

10

3.75

7

ST ANNES

15

3.69

8

ST JOHNS DSG

15

3.63

9

MENLOPARK

15

3.51

10

DURBAN GC

10

3.49

11

ORANJE MEISIES

11

3.46

12

PEARSON

13

3.45

13

DSG

27

3.40

14

WOODRIDGE

13

3.39

15

BLOEMHOF

26

3.36

16

EUNICE

18

3.24

17

RUSTENBURG

13

3.19

18

STELLENBERG

12

3.12

19

PAREL VALLEI

17

3.10

20

SOMERSET

15

2.99

21

RHENISH

24

2.98

22

HUDSON PARK

7

2.96

23

NELSPRUIT

7

2.90

24

PAARL GIRLS HIGH

23

2.75

25

CLARENDON

8

2.75

26

GOUDVELD

8

2.45

27

SASOLBURG

10

2.40

28

FAIRMONT

18

2.34

29

SPRINGFIELD

17

2.33

30

DF MALAN

11

2.33

31

WATERKLOOF

12

2.33

32

CRAWFORD LA LUCIA

11

2.24

33

CAMBRIDGE

15

2.07

34

WESTERFORD

13

1.95

35

STRAND

10

1.78

36

FRAMESBY

6

1.53

37

EPWORTH

7

1.24

38

AFFIES

11

1.21

39

HELPMEKAAR

15

1.08

40

WYNBERG GH

10

0.80

41

ROEDEAN

11

0.49