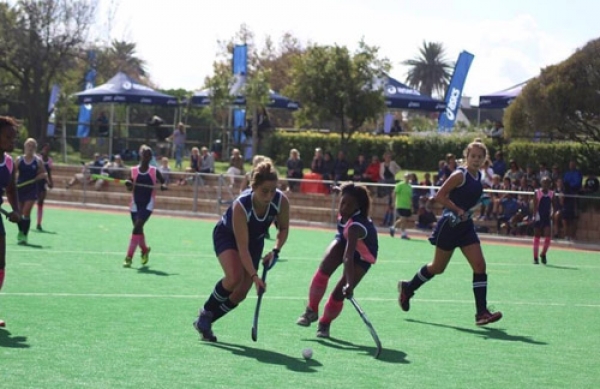 DSG make it into the important top 10 zone on this week's Girl's U16 Hockey Rankings after a couple of wins last week helped their cause.
However it is still Herschel who are leading the group and look likely to remain in pole position for some time to come.
It is getting very tight from positions 10-20 with any one of those teams capable of leap-frogging a few positions if the results go their way. Rhenish made up some ground after a series of wins and they are looking to make a serious challenge to get amongst the top tier of the table in the next few weeks.
With submission of results vital to gain an invitation to the Top Schools Tournament hosted by Paarl Gym please send your team's results to [email protected]
GIRL'S U16 HOCKEY RANKINGS 10 MAY, 2018

RANK

TEAM

PLAYED

AVG BONUS PTS

1

HERSCHEL

17

4.54

2

COLLEGIATE

9

4.51

3

ST MARYS KLOOF

9

4.29

4

ST JOHNS DSG

8

4.11

5

GARSFONTEIN

15

3.93

6

PAREL VALLEI

12

3.84

7

PAARL GIM

19

3.77

8

ST ANNES

10

3.63

9

DSG

22

3.53

10

EUNICE

15

3.53

11

MENLOPARK

12

3.37

12

WOODRIDGE

9

3.36

13

SOMERSET

13

3.25

14

BLOEMHOF

23

3.24

15

RUSTENBURG

12

3.20

16

RHENISH

22

3.17

17

STELLENBERG

12

3.12

18

ORANJE MEISIES

9

3.09

19

PEARSON

9

3.04

20

NELSPRUIT

5

3.02

21

CLARENDON

5

3.00

22

WATERKLOOF

8

2.93

23

GOUDVELD

5

2.74

24

PAARL GIRLS HIGH

21

2.68

25

DF MALAN

9

2.61

26

FAIRMONT

13

2.58

27

HUDSON PARK

5

2.54

28

CRAWFORD LA LUCIA

9

2.43

29

SASOLBURG

10

2.40

30

SPRINGFIELD

16

2.21

31

CAMBRIDGE

10

2.17

32

WESTERFORD

11

2.11

33

STRAND

9

1.88

34

AFFIES

10

1.24

35

HELPMEKAAR

12

0.92

36

EPWORTH

5

0.88

37

WYNBERG GH

7

0.76

38

ROEDEAN

8

0.35