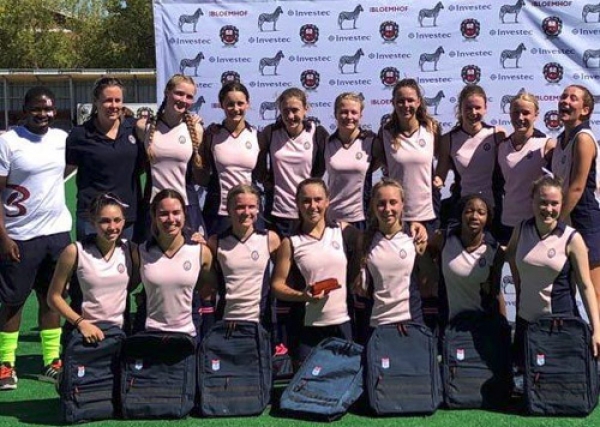 The first Girl's U16 Hockey Rankings are out and it promises to be a great season for the U16's as we find out who are the leading teams in the country.
What will make the U16 Rankings even more interesting is the inaugural U16 TOP SCHOOLS HOCKEY TOURNAMENT for Boys and Girls that will take place at Paarl Gymnasium High School.
Will your school team qualify to play in this prestigious tournament? Here are more details regarding this unique opportunity for the U16 teams:
What you need to do:
What you need to know:
The Tournament Committee will apply the following criteria before inviting teams to the Tournament:
The top 10 teams as per rankings on

31 May 2018

will be invited to compete in the Tournament;
Official Rankings of SA School Sports Magazine ONLINE will be used to invite teams.

The scores of ALL games played since 1 January 2018 must be submitted to SA School Sports Magazine, to qualify. Proof of such must be available on request.

Only teams ranked no 1- 10 on the SA School Sports Magazine ranking as mentioned above, automatically qualify to be invited. This is subject to all Tournament criteria being adhered to.

Should any of the mentioned 10 teams not be able to participate, the 11th or 12th team etc. automatically qualify to be invited.

The Tournament Committee has the discretion to invite any 2 other teams to participate in the Tournament. No correspondence will be entered into regarding this aspect and their decision will be regarded as final.

A team may have a maximum of 16 players.
Details of the Tournament are as follows:

Venue:

Dates:

Website:

Contact:

Paarl Gymnasium High school – Paarl

9 – 11 August 2018 [Arrive 8th & depart 12th]


Will be live during June with all the details including fixtures, accommodation and tourist packages! All games to be webcast.

Please contact Danelle van Zyl for any queries – [email protected]
All games and accommodation to be hosted at the
Paarl Gymnasium premises in Paarl, Western Cape!
WE HOPE TO SEE YOU THERE!
This week we see Herschel take the No.1 spot followed by Collegiate and St.Mary's Kloof. However there are many results still outstanding so please ensure you are sent them all through to us on a weekly basis.
GIRL'S U16 HOCKEY RANKINGS 13 APRIL, 2018

RANK

TEAM

PLAYED

AVG PTS

1

HERSCHEL

8

4.93

2

COLLEGIATE

8

4.54

3

ST MARYS KLOOF

6

4.35

4

GARSFONTEIN

8

4.33

5

ST JOHNS DSG

8

4.11

6

MENLOPARK

6

4.03

7

DSG

9

3.98

8

NELSPRUIT

3

3.90

9

BLOEMHOF

9

3.64

10

ST ANNES

9

3.53

11

EUNICE

14

3.49

12

PEARSON

7

3.13

13

RHENISH

8

3.11

14

ORANJE MEISIES

7

3.04

15

PAARL GIRLS HIGH

8

2.73

16

WATERKLOOF

4

2.70

17

SASOLBURG

5

2.68

18

DF MALAN

8

2.56

19

FAIRMONT

4

2.25

20

STRAND

8

2.01

21

CAMBRIDGE

6

1.90

22

SPRINGFIELD

7

1.47

23

AFFIES

7

1.40

24

EPWORTH

3

0.87

25

WYNBERG GH

7

0.76

26

LADY FATIMA

3

0.43

27

ROEDEAN

8

0.35