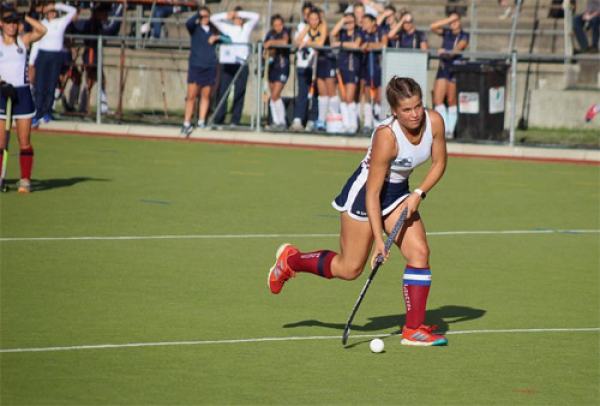 Rhenish seized their moment in the sun with a stunning run of form at the All Girls Tournament last week and against some of the best in the country walked away with the title.
The win by Rhenish, who just edged out Collegiate in the final, has moved them up the table and they are now knocking on the door of the Top 5 zone on this week's TurfTech Girls Top 90 Hockey Rankings.
Oranje Meisies however grimly hold on to the No.1 spot on the table with a 3rd place finish at the All Girls Tournament where Collegiate handed them their first defeat of the year in what was in all respects a good display from the Bloemfontein team.
Several teams took advantage of the matches played last week and have made some progress northwards on the rankings table as the race to see who gets invited to the Oranje Meisies Super 12 Tournament is now only 4 weeks away!
Please send through your team's results to [email protected]
GIRL'S 1st HOCKEY RANKINGS 7 MAY, 2019

RANK

TEAM

PLAYED

AVG BONUS PTS

1

ORANJE MEISIES

29

4.09

2

HERSCHEL

15

3.83

3

ST MARYS KLOOF

26

3.70

4

MENLOPARK

27

3.61

5

ST ANNES

30

3.58

RHENISH

20

3.58

7

PAARL GIM

22

3.50

8

COLLEGIATE

26

3.34

9

ST MARYS WAVERLEY

14

3.24

10

VOORTREKKER BETH

17

3.23

11

BLOEMHOF

24

3.20

12

ST CYPRIANS

19

3.20

13

CLARENDON

24

3.15

14

EUNICE

23

3.06

15

PEARSON

20

3.03

16

DURBAN GC

14

3.00

17

DSG

14

2.99

18

HUDSON PARK

21

2.94

19

WATERKLOOF

15

2.65

20

RUSTENBURG

12

2.63

21

MILNERTON

15

2.58

22

PAARL GIRLS HIGH

23

2.55

23

AFFIES

25

2.54

24

KINGSWOOD

17

2.49

25

WITTEBERG

13

2.49

26

PINELANDS

7

2.49

27

NOORDHEUWEL

17

2.45

28

ST STITHIANS

20

2.44

29

GARSFONTEIN

20

2.39

30

MIDDELBURG HS

13

2.38

31

SPRINGFIELD

12

2.37

32

WOODRIDGE

15

2.26

33

CRAWFORD LA LUCIA

12

2.22

34

WYNBERG GH

8

2.18

35

KINGSRIDGE

21

2.15

36

BRESCIA

12

2.14

37

STELLENBERG

9

2.10

38

JIM FOUCHE

20

2.07

39

YORK HIGH

17

2.05

40

LADY FATIMA

18

2.01

41

PAREL VALLEI

12

1.98

42

CRADOCK

21

1.97

43

EPWORTH

9

1.96

44

THOMAS MORE

8

1.83

45

FAIRMONT

9

1.82

46

PMB GIRLS

16

1.81

47

OUTENIQUA

13

1.77

48

TRANSVALIA

10

1.75

49

KEMPTON PARK

13

1.75

50

WYKEHAM COLLEGIATE

15

1.68

51

ST MICHAELS

8

1.66

52

ELDORAIGNE

7

1.64

53

ST ANDREWS GIRLS

12

1.62

54

LICHTENBURG

13

1.62

55

DANVILLE

8

1.59

56

PRETORIA GH

18

1.58

57

MONUMENT

20

1.58

58

STRAND

7

1.57

59

ALEXANDER ROAD

7

1.51

60

KINGSMEAD

11

1.46

61

DF MALAN

21

1.46

62

JEPPE

6

1.42

63

STIRLING

19

1.40

64

CORNWALL HILL

13

1.37

65

WESTERFORD

8

1.35

66

HELPMEKAAR

13

1.32

67

UNION HIGH

22

1.29

68

UPLANDS

6

1.27

69

TREVERTON

19

1.25

70

HTS DROSTDY

11

1.25

71

PENRYN

13

1.24

72

PIETERSBURG

6

1.23

73

HANS MOORE

18

1.20

74

GOUDVELD

18

1.20

75

ST DOMINICS

11

1.15

76

POTCH GIRLS

12

1.10

77

ROEDEAN

11

1.07

78

HERMANUS

11

1.06

79

CAMBRIDGE

16

0.98

80

CHARLIE HOFMEYR

12

0.93

81

WESTVILLE GH

10

0.92

82

BELLVILLE

7

0.91

83

CURRO DURBANVILLE

12

0.90

84

ST MARYS PRET

12

0.89

85

FRAMESBY

20

0.85

86

DR MALAN

7

0.70

87

REDDAM

6

0.70

88

THE SETTLERS

6

0.67

89

QUEENSTOWN GHS

10

0.51

90

GLENWOOD HOUSE

12

0.44

91

VICTORIA GIRLS

7

0.07