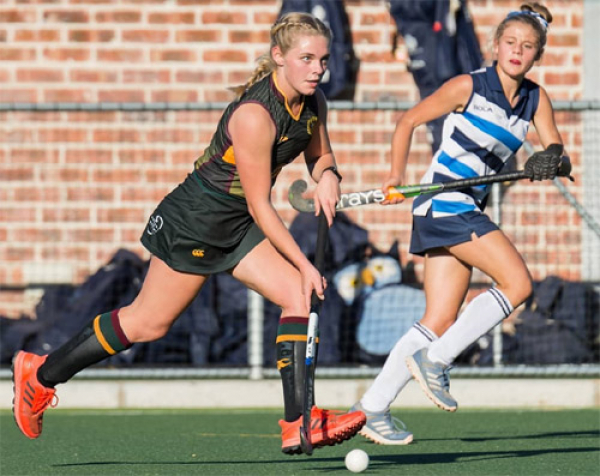 With an automatic invitation to the Super 12 Tournament hosted by Oranje Meisies on the line, teams from around the country were ignited into action to send through their backdated results and organise matches in the hope of qualifying.
In the frenetic efforts from many teams we have this week's Girls TurfTech Top 90 Rankings which shows that the leading teams are exceptionally close.
Oranje Meisies are still at the top of the field by there has been some jostling for positions with St Anne's moving up a place and St Mary's Waverley surging into the top 5 zone.
As is always the case some very good teams who have battled bravely to get in amongst the leading group of ten will be desperately disappointed but for those that will be invited to the Super 12 Tournament congratulations are richly deserved.
The season is not over so please continue to send through your results to [email protected]
GIRL'S 1st HOCKEY RANKINGS 31 MAY, 2019

RANK

TEAM

PLAYED

AVG BONUS PTS

1

ORANJE MEISIES

31

4.132

2

HERSCHEL

19

3.911

3

ST MARYS KLOOF

36

3.653

4

ST ANNES

35

3.594

5

ST MARYS WAVERLEY

27

3.556

6

PAARL GIM

26

3.550

7

MENLOPARK

33

3.500

8

RHENISH

24

3.350

9

COLLEGIATE

29

3.338

10

BLOEMHOF

33

3.230

11

VOORTREKKER BETH

17

3.229

12

ST CYPRIANS

30

3.160

13

DSG

17

3.159

14

CLARENDON

31

3.094

15

HUDSON PARK

25

3.088

16

PAARL GIRLS HIGH

32

3.088

17

DURBAN GC

18

3.028

18

EUNICE

27

2.963

19

PEARSON

22

2.923

20

BEAULIEU COLLEGE

12

2.858

21

STELLENBERG

21

2.776

22

ST STITHIANS

23

2.774

23

PAREL VALLEI

25

2.724

24

GARSFONTEIN

27

2.659

25

AFFIES

31

2.581

26

WITTEBERG

14

2.550

27

WOODRIDGE

19

2.516

28

NOORDHEUWEL

18

2.472

29

MILNERTON

21

2.452

30

WESTERING

4

2.450

31

MIDDELBURG HS

14

2.436

32

SPRINGFIELD

20

2.425

33

KINGSWOOD

18

2.339

34

ST ANDREWS GIRLS

13

2.331

35

PINELANDS

8

2.275

36

RUSTENBURG

15

2.207

37

WATERKLOOF

19

2.200

38

GRAAF-REINET

8

2.150

39

KINGSRIDGE

21

2.148

40

SASOLBURG

10

2.120

41

CRAWFORD LA LUCIA

17

2.047

42

JIM FOUCHE

21

2.014

43

LADY FATIMA

18

2.011

44

CRADOCK

21

1.971

45

BRESCIA

13

1.954

46

YORK HIGH

18

1.917

47

FAIRMONT

21

1.824

48

CORNWALL HILL

20

1.795

49

WYNBERG GH

10

1.790

50

KEMPTON PARK

14

1.736

51

EPWORTH

10

1.730

52

PMB GIRLS

18

1.722

53

WESTERFORD

11

1.718

54

WYKEHAM COLLEGIATE

17

1.712

55

OUTENIQUA

14

1.707

56

SOMERSET

16

1.706

57

ELDORAIGNE

9

1.678

58

LICHTENBURG

17

1.671

59

ST MICHAELS

8

1.663

60

TRANSVALIA

12

1.617

61

PRETORIA GH

19

1.547

62

MONUMENT

21

1.543

63

DANVILLE

10

1.460

64

GOUDVELD

21

1.443

65

THOMAS MORE

11

1.436

66

HELPMEKAAR

14

1.436

67

KINGSMEAD

12

1.417

68

STRAND

9

1.411

69

DF MALAN

23

1.409

70

UNION HIGH

24

1.392

71

TREVERTON

25

1.388

72

STIRLING

22

1.386

73

PENRYN

18

1.350

74

HANS MOORE

20

1.270

75

ALEXANDER ROAD

8

1.263

76

HERMANUS

15

1.180

77

CHARLIE HOFMEYR

20

1.175

78

CAMBRIDGE

23

1.143

79

POTCH GIRLS

12

1.100

80

HTS DROSTDY

15

1.087

81

ST DOMINICS

12

1.025

82

HUGENOTE SPRINGS

18

0.994

83

WESTVILLE GH

13

0.900

84

FRAMESBY

25

0.852

85

CURRO DURBANVILLE

18

0.850

86

ST MARYS PRET

13

0.777

87

ROEDEAN

13

0.738

88

THE SETTLERS

10

0.720

89

BELLVILLE

11

0.709

90

DR MALAN

7

0.700

91

REDDAM

10

0.610

92

ST JOHNS DSG

4

0.600

93

GLENWOOD HOUSE

12

0.442

94

QUEENSTOWN GHS

12

0.350

95

VICTORIA GIRLS

10

0.150