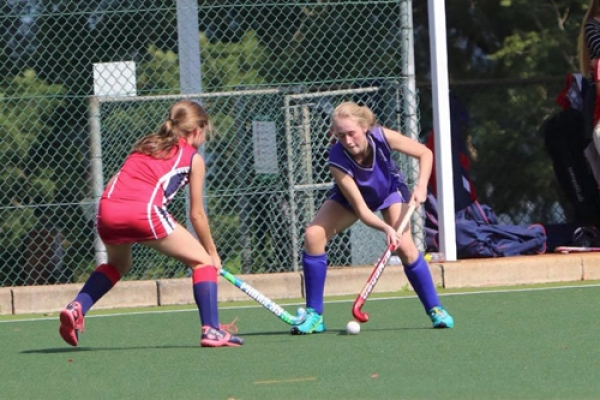 Paarl Gim are the only team that inch forward on this week's Girls Belgotex Sports Top 70 Rankings as they move into their season best to position 7.
However the real tussle is developing between positions 6-20 with most of those teams only a couple of wins away from making it into a top 10 position and with it the chance to get invited to the FNB Top 12 Tournament hosted by Oranje Meisies.
There is bound to be some heartbreak for those teams that narrowly miss out but there is still plenty of opportunity to make up some ground in the weeks that are ahead.
Please bear in mind that the rankings are based on a formula that takes into consideration several key factors including the strength of the opposition, margin of victory, margin of loss, home and away status of matches, actual goals scored during the match to mention a few. These factors all garner a team a prescribed amount of bonus points which are accumulated and divided by the matches played to render an average.
It is most important that a team sends in all their matches even against weaker opposition as all results have a bearing on the final outcome.
Please send your results to [email protected]
GIRL'S 1st HOCKEY RANKINGS 9 MAY, 2018

RANK

TEAM

PLAYED

AVG BONUS PTS

1

ORANJE MEISIES

33

4.37

2

HERSCHEL

12

4.33

3

ST MARYS KLOOF

16

4.22

4

MENLOPARK

23

3.90

5

COLLEGIATE

23

3.89

6

CLARENDON

25

3.73

7

PAARL GIM

17

3.68

8

ST MARYS WAVERLEY

15

3.68

9

VOORTREKKER BETH

16

3.58

10

GARSFONTEIN

27

3.51

11

RHENISH

13

3.45

12

EUNICE

26

3.43

13

DSG

18

3.32

14

ST ANNES

22

3.23

15

RUSTENBURG

13

3.23

16

ST STITHIANS

15

3.21

17

DF MALAN

12

3.20

18

HUDSON PARK

14

3.17

19

DURBAN GC

10

3.15

20

BLOEMHOF

24

3.13

21

KINGSMEAD

10

3.10

22

FAIRMONT

11

2.97

23

PAREL VALLEI

12

2.90

24

PEARSON

21

2.90

25

ST JOHNS DSG

15

2.89

26

SPRINGFIELD

15

2.89

27

KINGSRIDGE

13

2.87

28

CORNWALL HILL

14

2.73

29

AFFIES

17

2.71

30

PAARL GIRLS HIGH

23

2.64

31

EPWORTH

10

2.63

32

OAKHILL

14

2.54

33

KINGSWOOD

18

2.49

34

WOODRIDGE

7

2.43

35

BRESCIA

12

2.41

36

ALEXANDER ROAD

11

2.37

37

PMB GIRLS

17

2.37

38

MONUMENT

19

2.26

39

NOORDHEUWEL

17

2.25

40

YORK HIGH

21

2.23

41

GLENWOOD HOUSE

7

2.20

42

STIRLING

11

2.15

43

LADY FATIMA

13

2.15

44

WYKEHAM COLLEGIATE

14

2.13

45

ORANJE MEISIES 2NDS

20

2.11

46

THOMAS MORE

18

2.10

47

WESTVILLE GH

10

2.04

48

ROEDEAN

14

2.03

49

CRADOCK

22

1.95

50

UNION HIGH

8

1.81

51

DIAMANTVELD

17

1.81

52

WATERKLOOF

21

1.80

53

STELLENBERG

17

1.71

54

QUEENSTOWN GHS

9

1.68

55

CRAWFORD LA LUCIA

12

1.65

56

HUGENOTE SPRINGS

9

1.59

57

ST CYPRIANS

12

1.58

58

KEMPTON PARK

21

1.56

59

ST ANDREWS GIRLS

15

1.52

60

KRUGERSDORP

11

1.40

61

SASOLBURG

10

1.34

62

PRETORIA GH

17

1.33

63

VICTORIA GIRLS

6

1.17

64

GOUDVELD

11

1.10

65

CAMBRIDGE

20

0.91

66

FRAMESBY

16

0.89

67

HELPMEKAAR

10

0.75

68

PENRYN

13

0.55

69

TREVERTON

12

0.20