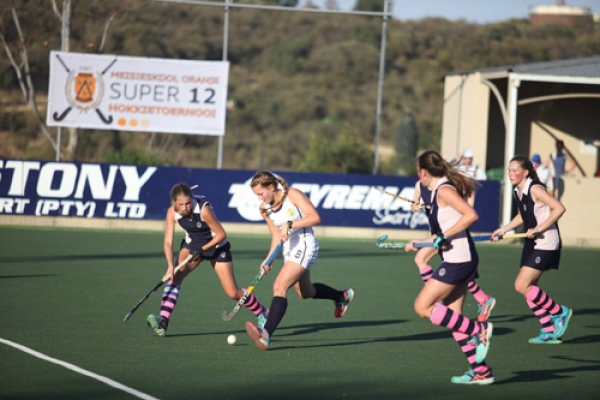 The question as to who will be invited to the annual Oranje Meisies Super 12 Tournament this year has been answered with this week's rankings.
The tournament criteria stipulated that the top 10 teams on the rankings at midnight on the 31st of May, 2018 will automatically get an invite to this spectacle of school hockey.
Leading the 'Drag Flick Dozen' are the hosts, Oranje who have been at the pinnacle of girl's hockey for several seasons now and are defending champions of the title. However the other participants will be heartened by the fact that Oranje have been beaten this year and held to a couple of draws so a good performance could well upset the apple cart.
Herschel, who previously were able to hold Oranje to a goalless draw will be motivated to go one better this time around and will relish the chance to lift the title and capture the No.1 position on the rankings.
However any of the leading teams on their day will pose a threat and the likes of KZN representative, St Mary's Kloof are capable of matching any team in the country.
The Super 12 Tournament takes place on the 8th of August and it will unquestionably be another huge success for school hockey.
Still many more hockey matches to play this season so please continue to send your results to [email protected]
GIRL'S 1st HOCKEY RANKINGS 31 MAY, 2018

RANK

TEAM

PLAYED

AVG BONUS PTS

1

ORANJE MEISIES

35

4.369

2

HERSCHEL

18

4.111

3

ST MARYS KLOOF

19

4.037

4

MENLOPARK

27

3.863

5

COLLEGIATE

27

3.774

6

ST MARYS WAVERLEY

24

3.717

7

CLARENDON

28

3.675

8

PAARL GIM

23

3.657

9

VOORTREKKER BETH

20

3.630

10

DSG

21

3.433

11

ST STITHIANS

26

3.419

12

GARSFONTEIN

30

3.417

13

DURBAN GC

17

3.371

14

BLOEMHOF

32

3.366

15

RHENISH

21

3.362

16

RUSTENBURG

20

3.360

17

EUNICE

27

3.337

18

ST ANNES

27

3.304

19

HUDSON PARK

19

3.142

20

DF MALAN

15

2.960

21

WOODRIDGE

13

2.915

22

KINGSRIDGE

15

2.907

23

PAREL VALLEI

15

2.900

24

PEARSON

22

2.809

25

KINGSMEAD

12

2.808

26

ST JOHNS DSG

16

2.763

27

SPRINGFIELD

17

2.753

28

BEAULIEU COLLEGE

17

2.706

29

AFFIES

19

2.679

30

PAARL GIRLS HIGH

29

2.662

31

CORNWALL HILL

18

2.572

32

EPWORTH

11

2.564

33

KINGSWOOD

20

2.540

34

OAKHILL

16

2.413

35

WYNBERG GH

8

2.388

36

ALEXANDER ROAD

17

2.359

37

FAIRMONT

20

2.355

38

YORK HIGH

24

2.279

39

WITTEBERG

15

2.273

40

MONUMENT

19

2.258

41

PMB GIRLS

18

2.222

42

NOORDHEUWEL

19

2.211

43

BRESCIA

13

2.192

44

THOMAS MORE

19

2.142

45

WYKEHAM COLLEGIATE

14

2.129

46

ORANJE MEISIES 2NDS

20

2.110

47

ST DOMINICS

16

2.069

48

BELLVILLE

8

2.050

49

STIRLING

15

1.960

50

CRADOCK

25

1.896

51

LADY FATIMA

15

1.873

52

STELLENBERG

20

1.845

53

WESTVILLE GH

11

1.827

54

DIAMANTVELD

20

1.810

55

WATERKLOOF

24

1.804

56

ROEDEAN

16

1.694

57

CRAWFORD LA LUCIA

15

1.627

58

HUGENOTE SPRINGS

9

1.589

59

UNION HIGH

9

1.578

60

KEMPTON PARK

21

1.562

61

GLENWOOD HOUSE

10

1.530

62

HOLY ROSARY

8

1.488

63

ST CYPRIANS

14

1.479

64

ST ANDREWS GIRLS

16

1.475

65

QUEENSTOWN GHS

11

1.400

66

KRUGERSDORP

11

1.400

67

SASOLBURG

10

1.340

68

CURRO DURBANVILLE

9

1.222

69

PRETORIA GH

18

1.183

70

GOUDVELD

15

1.073

71

CAMBRIDGE

24

0.938

72

FRAMESBY

16

0.888

73

HELPMEKAAR

12

0.842

74

VICTORIA GIRLS

8

0.713

75

PENRYN

13

0.554

76

TREVERTON

13

0.085