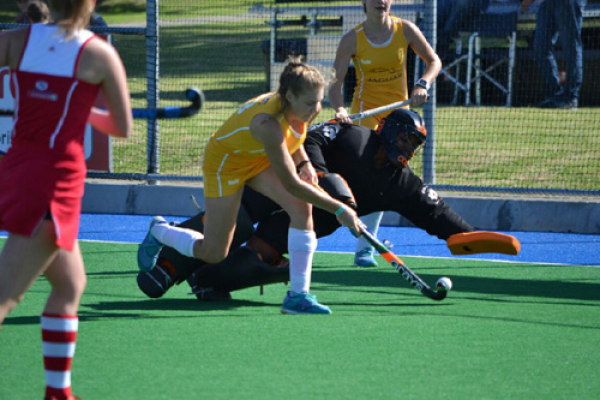 It was a tough day at the office for Collegiate who took on the leading team in the country, Oranje Meisies it what resulted in a strong win for the Bloemfontein team.
Oranje have led the Girl's First Team Rankings since the whistle was blown at the start of the season and still after nearly 40 matches showed their class in beating Collegiate 5-2 in a powerful display. It augurs well for the upcoming Super 12 Tournament where they will be looking to successfully defend their title.
Collegiate also slipped up against perhaps one of the most improved teams in the country in Woodridge College (1-0) but grimly cling on to the top 10 zone and will be hoping their performance at the Super 12 demonstrates just what a talented side they are and they will be looking to hopefully get another crack at Oranje to set the record straight.
Please send through your results to [email protected]
GIRL'S 1st HOCKEY RANKINGS 3 AUGUST, 2018

RANK

TEAM

PLAYED

AVG BONUS PTS

1

ORANJE MEISIES

36

4.39

2

HERSCHEL

21

4.09

3

ST MARYS KLOOF

24

4.01

4

MENLOPARK

29

3.89

5

VOORTREKKER BETH

20

3.63

6

CLARENDON

32

3.60

7

PAARL GIM

30

3.60

8

ST MARYS WAVERLEY

28

3.58

9

COLLEGIATE

31

3.57

10

ST ANNES

35

3.47

11

DSG

26

3.45

12

RUSTENBURG

26

3.42

13

GARSFONTEIN

30

3.42

14

EUNICE

28

3.40

15

RHENISH

29

3.37

16

BLOEMHOF

37

3.31

17

WOODRIDGE

19

3.30

18

ST STITHIANS

30

3.22

19

DURBAN GC

22

3.16

20

PAREL VALLEI

26

2.90

21

KINGSRIDGE

18

2.87

22

SPRINGFIELD

22

2.81

23

HUDSON PARK

27

2.81

24

AFFIES

21

2.79

25

PEARSON

34

2.74

26

BEAULIEU COLLEGE

17

2.71

27

CORNWALL HILL

21

2.70

28

ST JOHNS DSG

19

2.67

29

EPWORTH

15

2.59

30

KINGSWOOD

23

2.59

31

PAARL GIRLS HIGH

34

2.53

32

KINGSMEAD

15

2.50

33

ALEXANDER ROAD

17

2.36

34

DF MALAN

24

2.34

35

WESTVILLE GH

15

2.33

36

WITTEBERG

15

2.27

37

STELLENBERG

26

2.27

38

MONUMENT

19

2.26

39

OAKHILL

17

2.25

40

PMB GIRLS

18

2.22

41

YORK HIGH

25

2.22

42

NOORDHEUWEL

19

2.21

43

FAIRMONT

33

2.19

44

UNION HIGH

14

2.18

45

LADY FATIMA

19

2.13

46

BRESCIA

17

2.11

47

ORANJE MEISIES 2NDS

20

2.11

48

WYNBERG GH

11

2.08

49

THOMAS MORE

20

2.08

50

WYKEHAM COLLEGIATE

19

2.00

51

ST CYPRIANS

20

1.94

52

CRADOCK

28

1.86

53

STIRLING

22

1.81

54

DIAMANTVELD

21

1.80

55

ROEDEAN

23

1.79

56

BELLVILLE

9

1.72

57

WATERKLOOF

25

1.72

58

ST DOMINICS

19

1.66

59

ST ANDREWS GIRLS

20

1.64

60

HUGENOTE SPRINGS

9

1.59

61

KEMPTON PARK

21

1.56

62

GLENWOOD HOUSE

10

1.53

63

CRAWFORD LA LUCIA

16

1.49

64

HOLY ROSARY

8

1.49

65

QUEENSTOWN GHS

11

1.40

66

KRUGERSDORP

11

1.40

67

SASOLBURG

10

1.34

68

GOUDVELD

16

1.24

69

FRAMESBY

23

1.23

70

CURRO DURBANVILLE

9

1.22

71

PRETORIA GH

19

1.10

72

CAMBRIDGE

32

1.04

73

REDHILL

15

0.92

74

HELPMEKAAR

19

0.92

75

VICTORIA GIRLS

8

0.71

76

PENRYN

13

0.55

77

TREVERTON

13

0.09