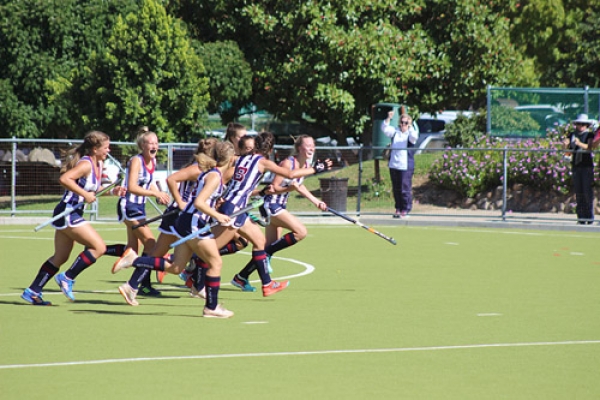 Bloemhof put in one of their finest results of the season when they took on and beat the high-flying Herschel team which has resulted in a minor reshuffling of teams on this week's Girls Hockey Belgotex Sports Top 70 Rankings.
St Mary's Kloof benefit from the slip by Herschel and also from the win the got over the past week to recapture the second spot and keep the pressure on Oranje who they narrowly lost to earlier this season.
The big mover this week was undoubtedly Rhenish who may have timed their run to the top perfectly. Now positioned 8th after their successful victories over Paarl Gym and Springfield, Rhenish are poised to climb up even further if their rich vein of form continues.
They may a dark horse by Bloemhof have reignited their hopes of a top 10 finish with their win over Herschel and they prove that on the day they can beat the best on offer.
With the lucrative invitation to Oranje Meisies annual FNB Super 12 Tournament up for grabs it is as tight as you are going to find it on the top of the table with the next couple of week's matches leading to heartache or elation depending on how the results go.
Please send through your team's results to [email protected]
GIRL'S 1st HOCKEY RANKINGS 17 MAY, 2018

RANK

TEAM

PLAYED

AVG BONUS PTS

1

ORANJE MEISIES

33

4.37

2

ST MARYS KLOOF

17

4.12

3

HERSCHEL

15

4.01

4

MENLOPARK

25

3.85

5

COLLEGIATE

25

3.73

6

CLARENDON

25

3.73

7

ST MARYS WAVERLEY

18

3.63

8

RHENISH

15

3.63

9

VOORTREKKER BETH

17

3.59

10

PAARL GIM

19

3.57

11

GARSFONTEIN

28

3.52

12

EUNICE

26

3.43

13

DSG

19

3.33

14

ST ANNES

24

3.31

15

DURBAN GC

13

3.26

16

BLOEMHOF

26

3.21

17

ST STITHIANS

15

3.21

18

DF MALAN

13

3.18

19

RUSTENBURG

14

3.17

20

KINGSMEAD

10

3.10

21

HUDSON PARK

15

3.02

22

KINGSRIDGE

14

2.92

23

PEARSON

21

2.90

24

ST JOHNS DSG

15

2.89

25

PAREL VALLEI

13

2.83

26

FAIRMONT

12

2.80

27

AFFIES

18

2.78

28

BEAULIEU COLLEGE

14

2.70

29

WOODRIDGE

9

2.70

30

SPRINGFIELD

16

2.69

31

PAARL GIRLS HIGH

23

2.64

32

KINGSWOOD

19

2.63

33

EPWORTH

11

2.56

34

OAKHILL

15

2.52

35

CORNWALL HILL

16

2.43

36

ALEXANDER ROAD

14

2.41

37

BRESCIA

12

2.41

38

PMB GIRLS

17

2.37

39

MONUMENT

19

2.26

40

NOORDHEUWEL

17

2.25

41

WESTVILLE GH

11

2.23

42

STIRLING

12

2.18

43

YORK HIGH

22

2.16

44

WYKEHAM COLLEGIATE

14

2.13

45

ORANJE MEISIES 2NDS

20

2.11

46

THOMAS MORE

18

2.10

47

LADY FATIMA

14

2.05

48

GLENWOOD HOUSE

8

2.04

49

ROEDEAN

14

2.03

50

DIAMANTVELD

19

1.94

51

CRADOCK

24

1.88

52

STELLENBERG

18

1.81

53

WATERKLOOF

21

1.80

54

CRAWFORD LA LUCIA

12

1.65

55

QUEENSTOWN GHS

10

1.60

56

HUGENOTE SPRINGS

9

1.59

57

UNION HIGH

9

1.58

58

KEMPTON PARK

21

1.56

59

ST CYPRIANS

13

1.52

60

ST ANDREWS GIRLS

15

1.52

61

KRUGERSDORP

11

1.40

62

SASOLBURG

10

1.34

63

PRETORIA GH

17

1.30

64

GOUDVELD

12

1.07

65

HELPMEKAAR

11

0.95

66

VICTORIA GIRLS

7

0.91

67

FRAMESBY

16

0.89

68

CAMBRIDGE

21

0.84

69

DANVILLE

6

0.75

70

PENRYN

13

0.55

71

TREVERTON

13

0.08