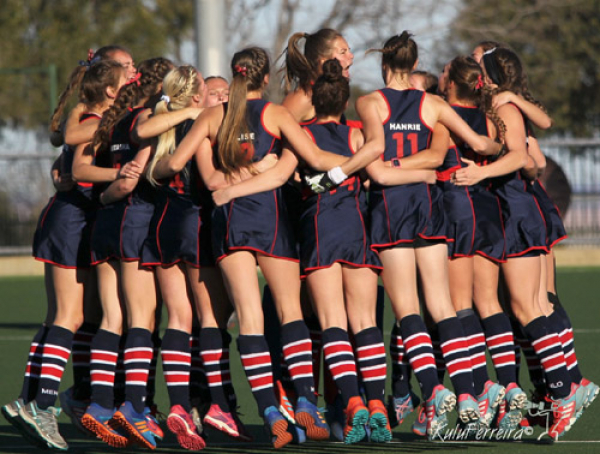 It was a motivated Menlo Park who took on the best in South Africa at the FNB Top 12 Schools Tournament hosted by Oranje Meisies and ended up champions when the dust had settled.
There were several teams who would have entertained a realistic chance of winning the tournament which boasted some of the big names in school hockey. Hosts Oranje Meisies the only previous winners, where the favourites and had been in terrific form this season. However St. Mary's Kloof are proven conquerors and would have fancied their chances alongside Herschel.
However it wasn't to be for Oranje this time around as they got beaten by St. Mary's Kloof right on full time in a fiercely contested semi-final. Herschel, who had played some terrific hockey right through the tournament not losing any of their pool matches where finally outgunned by Menlo in their semi-final to set up an appetizing showdown between Menlo and St Mary's Kloof.
With neither side in a charitable mood the final had to be settled with penalties with Menlo emerging as the winners of yet another fantastic tournament.
St. Mary's Kloof climbs into second position on the Belgotex Sports Top 70 Rankings, narrowing the gap significantly on Oranje who grimly hold on to the top spot, just.
Menlopark and Herschel share third spot with Collegiate making up the top five. Interestingly the teams finishing in the top 7 at the Top 12 Schools Tournament all feature in positions 1-7 on the rankings.
Please send through all your results to [email protected]
GIRL'S 1st HOCKEY RANKINGS 14 AUGUST, 2018

RANK

TEAM

PLAYED

AVG BONUS PTS

1

ORANJE MEISIES

43

4.27

2

ST MARYS KLOOF

31

4.15

3

HERSCHEL

29

4.11

MENLOPARK

36

4.11

5

COLLEGIATE

39

3.58

6

PAARL GIM

38

3.54

7

CLARENDON

39

3.51

8

ST ANNES

35

3.47

9

ST MARYS WAVERLEY

38

3.46

10

GARSFONTEIN

30

3.42

11

EUNICE

28

3.40

12

RHENISH

29

3.37

13

VOORTREKKER BETH

27

3.37

14

RUSTENBURG

32

3.36

15

WOODRIDGE

19

3.30

16

DURBAN GC

22

3.16

17

DSG

34

3.16

18

BLOEMHOF

44

3.07

19

PAREL VALLEI

29

3.00

20

ST STITHIANS

39

2.94

21

KINGSRIDGE

18

2.87

22

HUDSON PARK

27

2.81

23

AFFIES

21

2.79

24

SPRINGFIELD

24

2.71

25

BEAULIEU COLLEGE

17

2.71

26

CORNWALL HILL

21

2.70

27

ST JOHNS DSG

19

2.67

28

PEARSON

35

2.65

29

EPWORTH

15

2.59

30

KINGSWOOD

23

2.59

31

KINGSMEAD

15

2.50

32

PAARL GIRLS HIGH

36

2.41

33

ALEXANDER ROAD

17

2.36

34

DF MALAN

24

2.34

35

WESTVILLE GH

15

2.33

36

WITTEBERG

15

2.27

37

MONUMENT

19

2.26

38

OAKHILL

17

2.25

39

PMB GIRLS

18

2.22

40

YORK HIGH

25

2.22

41

STELLENBERG

27

2.22

42

NOORDHEUWEL

19

2.21

43

UNION HIGH

14

2.18

44

LADY FATIMA

19

2.13

45

ST CYPRIANS

22

2.12

46

BRESCIA

17

2.11

47

ORANJE MEISIES 2NDS

20

2.11

48

FAIRMONT

35

2.11

49

WYNBERG GH

11

2.08

50

THOMAS MORE

20

2.08

51

WYKEHAM COLLEGIATE

19

2.00

52

STIRLING

23

1.86

53

CRADOCK

28

1.86

54

DIAMANTVELD

21

1.80

55

ROEDEAN

23

1.79

56

WATERKLOOF

25

1.72

57

ST DOMINICS

19

1.66

58

ST ANDREWS GIRLS

20

1.64

59

KEMPTON PARK

21

1.56

60

GLENWOOD HOUSE

10

1.53

61

CRAWFORD LA LUCIA

16

1.49

62

QUEENSTOWN GHS

13

1.43

63

KRUGERSDORP

11

1.40

64

SASOLBURG

10

1.34

65

GOUDVELD

16

1.24

66

FRAMESBY

23

1.23

67

CURRO DURBANVILLE

16

1.19

68

PRETORIA GH

19

1.10

69

CAMBRIDGE

35

1.08

70

REDHILL

15

0.92

71

HELPMEKAAR

19

0.92

72

PENRYN

13

0.55

73

TREVERTON

13

0.09
Photo by Kulu Ferreira