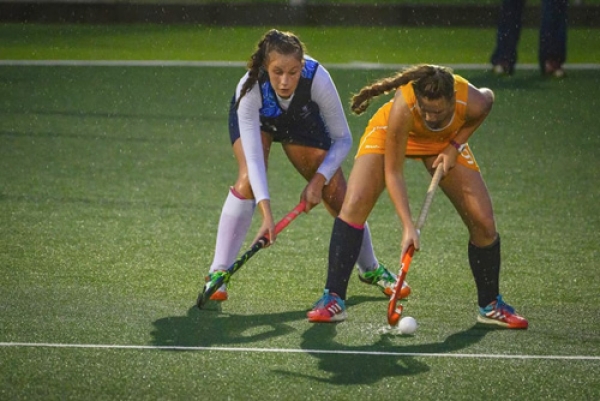 For the sixth year in a row Oranje Meisies won the All Girl's Tournament when they duelled it out with Collegiate in the final match and narrowly took the win on showdowns 2-1.
The performance by Oranje helps them back into position No.1 displacing St.Mary's Kloof who held the top spot for a couple of weeks. However it is clear that this could be the closest season we have had for a long time with very little to separate the leading teams.
Collegiate enjoyed a good run of form with only the loss to Oranje denying them a perfect All Girl's Tournament. This helps to nudge them up a couple of positions and they are now well placed amongst the top five leading school hockey teams in the country.
Fighting to get into the top 10 teams who will be invited to the Oranje Meisies Top 12 Tournament are a clutch of teams including Rhenish who made up some valuable ground on the leading group after peeling off a string of wins at the All Girl's Tournament.
It's all very close indeed and any team amongst the leading 20 still have a realistic chance of getting the nod to take part in the Top 12 Tournament.
Get your results to us by emailing them to [email protected] . You've got to be in it to win it !
GIRL'S 1st HOCKEY RANKINGS 2 MAY, 2018

RANK

TEAM

PLAYED

AVG PTS

1

ORANJE MEISIES

33

4.37

2

HERSCHEL

12

4.33

3

ST MARYS KLOOF

14

4.32

4

COLLEGIATE

23

3.89

5

MENLOPARK

22

3.88

6

CLARENDON

18

3.79

7

ST MARYS WAVERLEY

15

3.68

8

PAARL GIM

16

3.66

9

GARSFONTEIN

26

3.62

10

VOORTREKKER BETH

16

3.58

11

RHENISH

12

3.43

12

EUNICE

22

3.42

13

DSG

16

3.28

14

RUSTENBURG

12

3.28

15

ST ANNES

22

3.23

16

ST STITHIANS

15

3.21

17

DF MALAN

12

3.20

18

DURBAN GC

9

3.13

19

KINGSMEAD

10

3.10

20

BLOEMHOF

23

3.10

21

PAREL VALLEI

10

3.08

22

HUDSON PARK

12

3.03

23

SPRINGFIELD

12

2.99

24

FAIRMONT

11

2.97

25

ST JOHNS DSG

15

2.89

26

KINGSRIDGE

10

2.81

27

PEARSON

18

2.78

28

AFFIES

16

2.72

29

KINGSWOOD

16

2.68

30

CORNWALL HILL

13

2.65

31

EPWORTH

10

2.63

32

GLENWOOD HOUSE

6

2.62

33

PAARL GIRLS HIGH

14

2.46

34

WOODRIDGE

7

2.43

35

BRESCIA

12

2.41

36

ALEXANDER ROAD

11

2.37

37

PMB GIRLS

17

2.37

38

YORK HIGH

20

2.30

39

MONUMENT

19

2.26

40

LADY FATIMA

12

2.25

41

NOORDHEUWEL

17

2.25

42

ORANJE MEISIES 2NDS

19

2.24

43

WESTVILLE GH

9

2.17

44

STIRLING

11

2.15

45

WYKEHAM COLLEGIATE

14

2.13

46

ROEDEAN

14

2.03

47

CRADOCK

22

1.95

48

WATERKLOOF

20

1.91

49

UNION HIGH

8

1.81

50

DIAMANTVELD

17

1.81

51

QUEENSTOWN GHS

8

1.78

52

ST CYPRIANS

12

1.58

53

KEMPTON PARK

21

1.56

54

STELLENBERG

16

1.54

55

CRAWFORD LA LUCIA

11

1.54

56

ST ANDREWS GIRLS

15

1.52

57

PRETORIA GH

14

1.49

58

KRUGERSDORP

11

1.40

59

SASOLBURG

10

1.34

60

GOUDVELD

11

1.10

61

VICTORIA GIRLS

5

0.90

62

FRAMESBY

14

0.69

63

CAMBRIDGE

17

0.68

64

PENRYN

13

0.55

65

TREVERTON

10

0.19