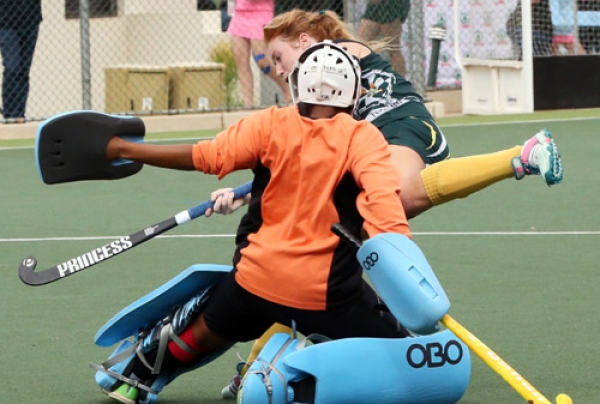 Menlopark snatched a good win over Paarl Gim last week which has nudged them into the top five zone for the first time this year.
Menlo can look back at only two defeats in their 21 matches and will be hoping to keep nibbling away at the leading teams on the Belgotex Sports Rankings and climb even higher up the table.
The profile of school hockey is on the rise in South Africa and with several key tournaments still to be played there is sure to be a tremendous amount of pressure on the top teams to maintain their form.
Please submit any outstanding results to [email protected]
GIRL'S 1st HOCKEY RANKINGS 17 APRIL, 2018

RANK

TEAM

PLAYED

AVG PTS

1

ST MARYS KLOOF

12

4.38

2

HERSCHEL

12

4.33

3

ORANJE MEISIES

25

4.30

4

CLARENDON

16

4.09

5

MENLOPARK

21

3.96

6

COLLEGIATE

15

3.96

7

ST MARYS WAVERLEY

15

3.68

8

DSG

11

3.67

9

EUNICE

20

3.65

10

GARSFONTEIN

14

3.65

11

VOORTREKKER BETH

16

3.58

12

RUSTENBURG

5

3.46

13

PAARL GIM

16

3.44

14

BLOEMHOF

14

3.26

15

ST STITHIANS

15

3.21

16

DF MALAN

12

3.20

17

ST ANNES

21

3.20

18

RHENISH

4

3.18

19

HUDSON PARK

8

3.14

20

DURBAN GC

9

3.13

21

KINGSMEAD

10

3.10

22

AFFIES

13

3.08

23

FAIRMONT

10

2.93

24

SPRINGFIELD

8

2.93

25

PAARL GIRLS HIGH

12

2.93

26

ST JOHNS DSG

15

2.89

27

PEARSON

17

2.86

28

KINGSRIDGE

7

2.76

29

KINGSWOOD

12

2.74

30

PMB GIRLS

15

2.66

31

EPWORTH

10

2.63

32

YORK HIGH

8

2.43

33

CORNWALL HILL

7

2.41

34

WESTVILLE GH

7

2.41

35

BRESCIA

12

2.41

36

MONUMENT

18

2.40

37

LADY FATIMA

12

2.25

38

NOORDHEUWEL

17

2.25

39

ORANJE MEISIES 2NDS

19

2.24

40

WYKEHAM COLLEGIATE

14

2.13

41

WOODRIDGE

4

2.10

42

ALEXANDER ROAD

9

2.07

43

ROEDEAN

14

2.03

44

DIAMANTVELD

14

1.96

45

CRADOCK

12

1.93

46

CRAWFORD LA LUCIA

9

1.88

47

UNION HIGH

8

1.81

48

CARTER

5

1.78

49

WATERKLOOF

18

1.67

50

QUEENSTOWN GHS

6

1.62

51

KEMPTON PARK

21

1.56

52

STELLENBERG

16

1.54

53

PRETORIA GH

13

1.53

54

ST ANDREWS GIRLS

15

1.52

55

STIRLING

6

1.47

56

KRUGERSDORP

11

1.40

57

SASOLBURG

10

1.34

58

GOUDVELD

9

0.90

59

FRAMESBY

13

0.78

60

CAMBRIDGE

11

0.75

61

PENRYN

13

0.55