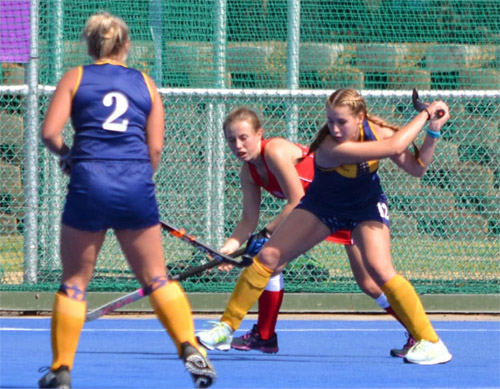 After a long, long wait school hockey is being played throughout the country and although there are still several top teams yet to play enough matches to enter the rankings, they do have a familiar look to them.
Oranje Meisies, looking to claim the No.1 spot in South Africa for the 8th consecutive year have been out of their blocks quickly with their recognizable flare and dominance. Although pushed to the edge by Eunice twice already, they have managed to get through their opening match unbeaten. Time will tell if they can keep up this impressive start.
Oranje Meisies are followed by Herschel and St Johns DSG (PMB) on the table however we can expect plenty of movement on the rankings as more results come in and some of the big names start playing.
Please ensure your results are with us by sending them to [email protected]
GIRL'S 1st HOCKEY RANKINGS 11 MAY, 2021

RANK

TEAM

PLAYED

AVG  BONUS PTS

1

ORANJE MEISIES

9

4.33

2

HERSCHEL

2

4.15

3

ST JOHNS DSG

2

4.00

4

COLLEGIATE

4

3.83

5

PAARL GIM

4

3.60

6

CLARENDON

6

3.18

7

MENLOPARK

2

3.05

8

EUNICE

7

2.93

9

ST MARYS KLOOF

7

2.90

10

JIM FOUCHE

3

2.77

11

BLOEMHOF

4

2.45

12

SPRINGFIELD

4

2.13

13

PIETERSBURG

9

2.09

14

ST ANNES

3

1.77

15

STELLENBERG

2

1.60

16

HUDSON PARK

6

1.55

17

CRAWFORD LA LUCIA

5

1.54

18

VOORTREKKER BETH

5

1.52

19

CURRO DURBANVILLE

5

1.50

20

DURBAN GC

3

1.43

21

LADY FATIMA

2

1.35

22

FAIRMONT

2

1.20

23

CAMBRIDGE

7

1.11

24

ST MARYS WAVERLEY

4

1.10

25

WITTEBERG

2

1.10

26

CURRO HILLCREST

5

1.00

27

WORCESTER GYM

3

1.00

28

PAARL GIRLS HIGH

2

0.95

29

THOMAS MORE

4

0.88

30

MONUMENT

4

0.60

31

STIRLING

4

0.58

32

DF MALAN

3

0.47

33

SASOLBURG

11

0.37

34

BRIDGEHOUSE

2

0.35

35

RHENISH

2

0.25

36

STRAND

2

-0.60

37

POTCH VOLKSKOOL

3

-1.13
CHECK OUT THE HOCKEY RESULTS FOR LAST WEEK
Girls' First Team School Hockey Rankings 2021