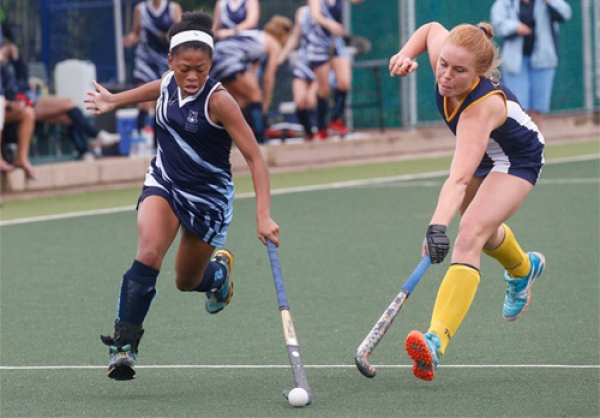 The season is still very fresh but already we are looking at a two horse race between Menlopark and Oranje Meisies who have started the year in impressive form.
Last year it was Oranje who managed to hang on to the No. 1 spot on the SA School Sports Girls Hockey Rankings despite some strong challengers from the likes of St. Mary's Kloof , Herschel and Menlopark and it looks like the usual suspects may well be challenging for the leading spot in 2019.
Menlo who won the prestigious Super 12 Tournament last year from Oranje Meisies look determined to continue that rich vein of form in 2019 but there is still plenty of high class hockey to be played with several teams in the chasing pack that are capable of taking a few scalps of the big names.
Please send through your results to [email protected]
GIRL'S 1st HOCKEY RANKINGS 22 MARCH, 2019

RANK

TEAM

PLAYED

AVG BONUS PTS

1

MENLOPARK

7

4.59

2

ORANJE MEISIES

9

4.21

3

ST CYPRIANS

5

3.88

4

PEARSON

4

3.78

5

ST MARYS KLOOF

10

3.47

6

EUNICE

2

3.45

7

HUDSON PARK

4

3.35

8

PAARL GIM

7

3.30

9

ST ANNES

13

3.03

10

RUSTENBURG

6

3.02

11

YORK HIGH

2

3.00

12

CORNWALL HILL

2

2.80

13

BLOEMHOF

2

2.80

14

MIDDELBURG HS

8

2.78

15

NOORDHEUWEL

6

2.70

16

PINELANDS

5

2.68

17

DSG

4

2.63

18

COLLEGIATE

4

2.58

19

GRAAF-REINET

3

2.37

20

VOORTREKKER BETH

4

2.28

21

KINGSRIDGE

13

2.21

22

AFFIES

2

2.20

23

SPRINGFIELD

2

2.20

24

DIE BRANDWAG

2

2.10

25

SASOLBURG

3

2.10

26

CRADOCK

19

2.03

27

CAMBRIDGE

5

1.78

28

WOODRIDGE

4

1.73

29

EPWORTH

3

1.50

30

MONUMENT

5

1.42

31

UNION HIGH

3

1.40

32

OUTENIQUA

3

1.23

33

STELLENBERG

2

0.95

34

BELLVILLE

2

0.90

35

ST JOHNS DSG

2

0.30

36

PMB GIRLS

3

0.27

37

FRAMESBY

3

0.00

38

WYKEHAM COLLEGIATE

3

-0.20