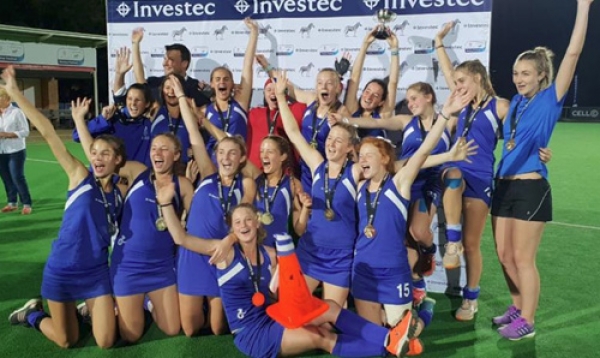 St.Mary's Kloof put a historic performance at this year's St.Mary's Waverley Festival as they fought their way into the final match in a showdown with Collegiate which they managed to win in dramatic fashion.
The strong showing by St.Mary's Kloof has seen them enter the Belgotex Sports Top 50 Rankings in the number one spot, disposing of Oranje Meisies for the first time in over 3 years. The Final against Collegiate was a tense affair with the teams locked at 0-0 at the end of full time and they remained like that at the end of extra time. The lottery of the dreaded shootout decided matters with the Saints keeper doing a great job in keeping out the first two shots.
Collegiate will count themselves unfortunate on losing the final match in this way but will take confidence in their win over Oranje Meisies and getting into the final match despite losing to St.Annes in the earlier stages.
It was a festival of very small margins for Oranje Meisies who only conceded a single goal in the entire tournament but unfortunately it came in the semi-finals and they had to settle for 3rd place. Oranje were hoping to win the tournament for the fifth year in a row but it was not be and they will be fighting hard to regain the top spot in the long season that lays ahead.
Please ensure you send your team's results to [email protected]
GIRL'S 1st HOCKEY RANKINGS 11 APRIL, 2018

RANK

TEAM

PLAYED

AVG PTS

1

ST MARYS KLOOF

12

4.38

2

ORANJE MEISIES

24

4.35

3

HERSCHEL

12

4.33

4

CLARENDON

16

4.09

5

COLLEGIATE

15

3.96

6

MENLOPARK

20

3.94

7

EUNICE

18

3.89

8

GARSFONTEIN

12

3.77

9

ST MARYS WAVERLEY

15

3.66

10

PAARL GIM

13

3.65

11

VOORTREKKER BETH

16

3.58

12

DSG

12

3.55

13

RUSTENBURG

5

3.46

14

BLOEMHOF

14

3.26

15

ST STITHIANS

15

3.21

16

ST ANNES

21

3.20

17

DF MALAN

12

3.17

18

HUDSON PARK

7

3.17

19

DURBAN GC

9

3.13

20

KINGSMEAD

10

3.10

21

AFFIES

12

3.04

22

PAARL GIRLS HIGH

12

3.01

23

FAIRMONT

10

2.93

24

SPRINGFIELD

8

2.93

25

ST JOHNS DSG

15

2.89

26

PEARSON

16

2.83

27

KINGSRIDGE

7

2.76

28

KINGSWOOD

12

2.74

29

PMB GIRLS

15

2.66

30

EPWORTH

10

2.63

31

YORK HIGH

7

2.31

32

BRESCIA

12

2.31

33

ORANJE MEISIES 2NDS

19

2.24

34

NOORDHEUWEL

15

2.19

35

LADY FATIMA

12

2.14

36

WYKEHAM COLLEGIATE

14

2.13

37

ROEDEAN

13

2.12

38

ALEXANDER ROAD

9

2.07

39

DIAMANTVELD

14

1.96

40

CRADOCK

12

1.93

41

UNION HIGH

8

1.81

42

WATERKLOOF

15

1.69

43

MONUMENT

6

1.67

44

QUEENSTOWN GHS

6

1.62

45

ST ANDREWS GIRLS

14

1.57

46

STIRLING

6

1.47

47

PRETORIA GH

12

1.41

48

KRUGERSDORP

10

1.34

49

FRAMESBY

12

1.02

50

CAMBRIDGE

10

0.91

51

PENRYN

12

0.65