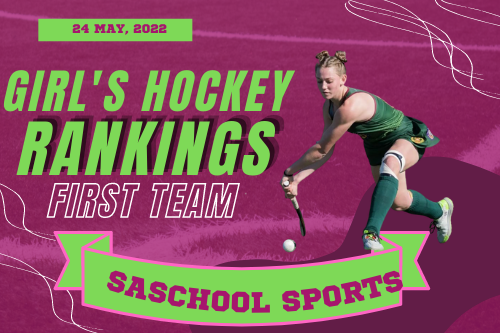 This Week's Girls First Team Hockey Rankings shows some minor changes at the top of the table as several teams jostle to get in to the top 12 zone.
The cut off date to qualify for the Super 12 Tournament hosted by Oranje Meisies is only days away now and there are still several teams that are in the running to get over the line.
The final day to qualify is the 31st of May, 2022 so this week's matches will almost certainly decided who gets the automatic invite.
Please continue to send through your results to [email protected]
GIRL'S 1st HOCKEY RANKINGS 24 MAY, 2022

RANK

TEAM

PLAYED

AVG  BONUS PTS

1

ORANJE MEISIES

28

3.77

2

EUNICE

30

3.64

3

VOORTREKKER BETH

20

3.11

4

ST MARYS WAVERLEY

24

3.03

5

PAARL GIM

20

3.01

6

HERSCHEL

19

2.94

7

BEAULIEU COLLEGE

16

2.90

8

COLLEGIATE

27

2.86

9

PEARSON

33

2.81

10

RHENISH

19

2.80

11

MENLOPARK

32

2.76

12

DURBAN GC

24

2.71

13

ST STITHIANS

20

2.67

14

WATERKLOOF

32

2.61

15

BLOEMHOF

26

2.58

16

ST CYPRIANS

29

2.50

17

AFFIES

25

2.49

18

ST MARYS KLOOF

20

2.48

19

SOMERSET COLLEGE

34

2.43

20

NOORDHEUWEL

19

2.42

21

CLARENDON

22

2.34

22

FAIRMONT

21

2.25

23

ST JOHNS DSG

27

2.20

24

EG JANSEN

8

2.19

25

PIETERSBURG

22

2.18

26

GARSFONTEIN

22

2.18

27

ORANJE 2NDS

12

2.16

28

DSG

24

2.15

29

NELSPRUIT

13

2.13

30

OUTENIQUA

21

2.12

31

SASOLBURG

19

2.08

32

UPLANDS

5

2.00

33

GRAAF-REINET VOLK

7

1.96

34

KINGSWOOD

14

1.94

35

UNION HIGH

12

1.94

36

PAARL GIRLS HIGH

21

1.92

37

HUDSON PARK

17

1.92

38

MIDDELBURG HS

10

1.90

39

RUSTENBURG

17

1.89

40

MERENKSY

14

1.87

41

WORCESTER GYM

19

1.86

42

WOODRIDGE

9

1.84

43

LANGENHOVEN GIM

8

1.83

44

REDHILL

11

1.78

45

PAREL VALLEI

17

1.77

46

CURRO HILLCREST

11

1.76

47

ST ANNES

29

1.75

48

ZWARTKOP

23

1.75

49

STIRLING

22

1.74

50

OUR LADY FATIMA

12

1.67

51

PIETERMARITZBURG

29

1.65

52

WYKEHAM COLLEGIATE

25

1.64

53

STELLENBERG

16

1.63

54

ROEDEAN

12

1.60

55

PRETORIA GH

16

1.58

56

THOMAS MORE

7

1.57

57

CURRO DURBANVILLE

13

1.57

58

HTS DROSTDY

25

1.53

59

YORK HIGH

17

1.53

60

CRADOCK

18

1.48

61

LINDEN

19

1.43

62

ASHTON

21

1.42

63

BRIDGEHOUSE

13

1.41

64

WITTEBERG

18

1.37

65

HUGENOTE SPRINGS

19

1.35

66

CAMBRIDGE

18

1.35

67

DANVILLE

8

1.35

68

DF MALAN

25

1.35

69

CORNWALL HILL

18

1.33

70

DR MALAN

11

1.33

71

DURBANVILLE

8

1.26

72

PAUL ERASMUS

8

1.25

73

TRANSVALIA

17

1.25

74

ST ANDREWS GIRLS

10

1.23

75

BELLVILLE

12

1.19

76

MONUMENT

23

1.19

77

SPRINGFIELD

20

1.18

78

FRAMESBY

17

1.17

79

MIDSTREAM

8

1.16

80

EDENVALE

16

1.14

81

ELDORAIGNE

8

1.13

82

FOURWAYS

6

1.12

83

POTCH VOLKSKOOL

16

1.08

84

HELPMEKAAR

11

1.04

85

ST MARYS PRET

8

1.00

86

WATERSTONE

9

0.99

87

BERGSIG

9

0.96

88

EPWORTH

14

0.95

89

PINELANDS

11

0.86

90

GLENWOOD HOUSE

5

0.78

91

MILNERTON

14

0.76

92

BRYANSTON

8

0.74

93

EL SHADDAI

6

0.62

94

KINGSMEAD

12

0.60

95

QUEENSTOWN GHS

9

0.56

96

HERMANUS

8

0.53

97

BRESCIA

18

0.47

98

OUDSTHOORN

11

0.46

99

ST DOMINICS

16

0.15

100

STRAND

11

-0.10
Photo: Lookonimages