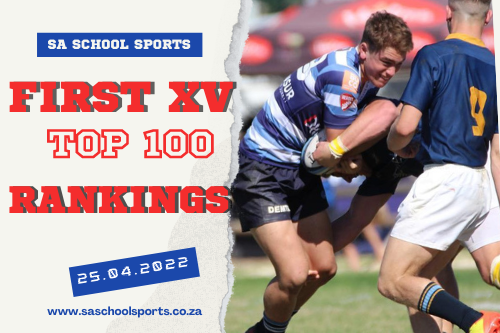 Oakdale dug deep to come within seconds of claiming the rarest of wins against Grey College but at the end had to share the spoils 17-17. A much-needed boost to an Oakdale side that has fired hot and cold so far this season.
There were several other interesting results, with Rondebosch getting over the line 22-19 against Paarl Boys High, Durban High School recording their biggest win over Maritzburg College at Goldstones 38-14 and Affies doing enough to hand Paarl Gim their first defeat of 2022, 29-26.
The somewhat unexpected results by the leading teams have had some effect on this Week's First XV Top 130 Rankings. Grey College remain at the top with Bishops, who were locked in a 38-38 draw with Paul Roos Gym, following closely in the second position.
Rondebosch climb closer to a Top 5 finish with DHS now with a realistic opportunity to move into the leading 20 after their successful run at the Kearsney Easter Festival and the recent win of Maritzburg College.
With still plenty of matches to be played there will still be some movement on the First XV Rankings in the weeks to come.
Please send through your First XV results to [email protected]
FIRST XV RANKINGS 25 APRIL, 2022

RANK

TEAM

PLAYED

AVG BONUS POINTS

1

GREY COLLEGE

6

8.933

2

BISHOPS

8

8.280

3

PAARL GIM

5

8.200

4

 GARSFONTEIN

5

8.120

5

AFFIES

7

7.729

6

PAARL BOYS HIGH

7

7.729

7

HILTON COLLEGE

5

7.700

8

RONDEBOSCH

6

7.233

9

BOLAND LANDBOU

7

6.514

10

MONUMENT

8

6.363

11

 PAUL ROOS GYM

6

6.350

12

KES

7

5.986

13

STELLENBERG

6

5.883

14

WYNBERG BH

7

5.871

15

MICHAELHOUSE

8

5.513

16

FRAMESBY

7

5.500

17

OUTENIQUA

5

5.420

18

SELBORNE COLLEGE

9

5.400

19

NORTHCLIFF

6

5.317

20

OAKDALE

4

5.300

21

GLENWOOD

8

5.250

22

ST ANDREWS COLLEGE

8

5.225

23

DHS

7

5.157

24

MARITZBURG COLLEGE

9

5.100

25

MERENSKY

7

5.071

26

 HELPMEKAAR

7

4.957

27

 NOORDHEUWEL

9

4.844

29

QUEENS COLLEGE

7

4.714

30

WESTVILLE

9

4.567

31

HUDSON PARK

8

4.488

32

WORCESTER GYM

7

4.486

33

HTS DROSTDY

10

4.450

34

 ELDORAIGNE

10

4.410

35

BASTION

7

4.343

36

KINGSWOOD COLLEGE

6

4.217

37

PEARSON

8

4.213

38

GRAEME COLLEGE

8

4.213

39

BURGERDORP

5

4.120

40

 MARLOW

8

4.113

41

SACS

6

4.083

42

WITTEBERG

6

4.083

43

DIE BRANDWAG

10

4.050

44

HTS WITBANK

5

4.000

45

DF MALAN

5

3.960

46

LIGBRON

4

3.950

47

MIDDELBURG HS

9

3.944

48

FLORIDA

5

3.900

49

RANDBURG

6

3.833

50

DIAMANTVELD

6

3.733

51

CHARLIE HOFMEYR

10

3.730

52

MONTANA PTA

8

3.725

53

UNION HS

6

3.700

54

GREY HIGH SCHOOL

7

3.700

55

JEPPE

8

3.650

56

WATERKLOOF

7

3.643

57

SECUNDA

7

3.629

58

 NELSPRUIT

8

3.550

59

FRIKKIE MEYER

7

3.543

60

HTS MIDDELBURG

8

3.513

61

DIE ANKER

8

3.450

62

PRETORIA BOYS HIGH

7

3.343

63

MELKBOSSTRAND

9

2.767

64

MUIR

5

3.260

65

VOORTREKKER BETH

9

3.133

66

ST JOHNS COLLEGE

8

3.113

67

 RUSTENBURG

8

3.113

68

SWARTLAND

5

3.100

69

OOS MOOT

7

3.086

70

HUGENOTE WELL

5

3.040

71

STRAND

10

2.970

72

EG JANSEN

8

2.838

73

KEARSNEY COLLEGE

10

2.790

74

FRANS DU TOIT

4

2.775

75

BEN VILJOEN

4

2.750

76

ERMELO

7

2.743

77

WESVALIA

6

2.650

78

LEEUWENHOF

7

2.643

79

LABORI

7

2.600

80

PENRYN COLLEGE

6

2.600

81

KLERKSDORP

5

2.580

82

DURBANVILLE

10

2.500

83

ROBERTSON

7

2.457

84

LANDBOUDAL

8

2.413

85

HEIDELBERG VOLKIES

6

2.383

86

CURRO NELSPRUIT

5

2.380

87

CLIFTON

6

2.367

88

DINAMIKA

7

2.357

89

WELKOM GYM

8

2.350

90

 NICO MALAN

9

2.278

91

NORTHWOOD

9

2.233

92

ST ALBANS COLLEGE

5

2.200

93

OTTO DU PLESSIS

8

2.200

94

MENLOPARK

4

2.175

95

BEN VORSTER

5

2.160

96

ST ANDREWS SCHOOL

7

2.157

97

LANGENHOVEN GIM

7

2.043

98

BRACKENFELL

7

2.043

99

POINT

4

2.025

100

OVERBERG

5

1.982

101

PORTERVILLE

8

1.975

102

GOUDVELD

4

1.975

103

HS ALBERTON

4

1.975

104

TRANSVALIA

6

1.917

105

CURRO HILLCREST

7

1.814

106

HOPEFIELD

7

1.814

107

DUINEVELD

5

1.800

108

Graaf Reinet Volk

5

1.800

109

MIDSTREAM

5

1.740

110

BRITS

6

1.683

111

CENTURION

7

1.614

112

DALE COLLEGE

5

1.580

113

HTS LOUIS BOTHA

4

1.575

114

GELOFTE

4

1.575

115

HERMANUS

5

1.560

116

ELLISRAS

5

1.520

117

SENTRAAL

5

1.440

118

BREDASDORP

5

1.400

119

ZWARTKOP

8

1.250

120

PARKTOWN

7

1.243

121

JIM FOUCHE

5

1.180

122

HANS STRIJDOM

5

1.140

123

ROB FERREIRA

6

1.133

124

BERGSIG

6

1.117

125

TYGERBERG

4

1.075

126

POTCH GIM

7

1.071

127

HANS MOORE

8

0.975

128

ST STITHIANS

8

0.900

129

ST DAVIDS

6

0.883

130

ALIWAL NORTH

4

0.850

131

KEMPTON PARK

7

1.157

132

 MARAIS VILJOEN 

4

0.725

133

TRIO

5

0.680

134

EMPANGENI

6

0.550

135

DR MALAN

6

1.017

136

LICHTENBURG

8

0.413
Check out last week's Rugby Results
photo – D.Redelinghuys