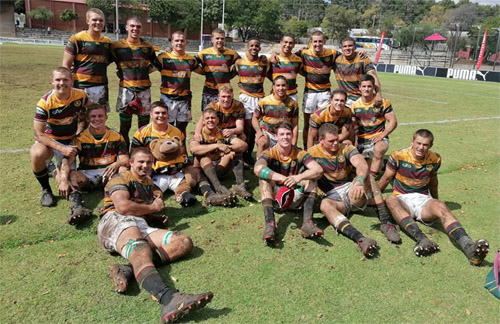 After waiting for over a year school rugby is virtually back in full swing with many of the rugby playing schools back in action.A look at the first SA SchoolSports First XV Rugby Rankings of 2021 shows us several things.
Firstly we are at the very early stages of what will be a shorter than normal rugby season and so we should wait for more matches and teams to play before we can see more clearly who the leading teams are this year.
Secondly, when we look at the top 10 on First XV Rugby Rankings table it is difficult not to see the absence of the Northern teams. The Cape dominate the top half of the table with Paarl Gim way out in front in these early exchanges and with their win over Grey College and thumping victories over Garsfontein and Helpmekaar few would dispute their status.
There have been several explanations as to the poor showing of the Northern teams, but cream always rises to the top and we can expect the traditional powerhouses from this region to be back to their best as the season progresses.
Bear in the mind the rankings equation takes into consideration several key factors such as: strength of opposition, margin of victory, margin of loss, home/away status and others.
Please send your teams results to [email protected]
FIRST XV RANKINGS 3 MAY, 2021

RANK

TEAM

PLAYED

AVG BONUS POINTS

1

PAARL GIM

3

11.267

2

OAKDALE

2

8.950

3

PAARL BOYS HIGH

3

8.700

4

DURBANVILLE

2

8.400

5

OUTENIQUA

3

8.033

6

STELLENBERG

3

7.733

7

GREY COLLEGE

3

7.421

8

GREY HIGH SCHOOL

2

7.350

9

MARITZBURG COLLEGE

3

5.833

10

KEARSNEY COLLEGE

2

4.650

11

 NELSPRUIT

3

4.467

12

EG JANSEN

3

4.367

13

HTS DROSTDY

2

4.300

14

MONUMENT

2

4.100

15

AFFIES

3

4.100

16

DHS

2

3.767

17

DIAMANTVELD

2

3.700

18

MENLOPARK

2

3.300

19

ST JOHNS COLLEGE

2

2.650

20

WITTEBERG

2

2.500

21

DUINEVELD

3

2.067

22

 GARSFONTEIN

3

1.950

23

WELKOM GYM

3

1.750

24

HTS MIDDELBURG

2

1.500

25

NOORD KAAP

2

1.250

26

PRETORIA BOYS' HIGH

2

0.430

27

LIGBRON

2

0.200

28

FICHARDTPARK

2

0.150

29

HELPMEKAAR

3

-0.250

30

GOUDVELD

2

-0.533

31

BEN VORSTER

2

-0.600

32

NOORDHEUWEL

3

-0.900

33

 MARAIS VILJOEN 

3

-1.767

34

WESVALIA

2

-1.767